I'm fed up. When I bought this house I had no idea what a money pit it was. I have a well. It smells and tastes like sulfur. I spent over $3000 at Culligan for a water softener and a hydrogen peroxide unit. Not only is the peroxide expensive I still smell it when I do laundry.
They could never figure that out. Meanwhile you can't drink the water it tastes so bad. Then they say, oh you need an osmosis unit. Are you high? I'm a 40 yr old widow on disability. I cannot afford anymore. Isn't there another solution?
Answers

February 6, 2018
1

found this helpful
Best Answer
I'm sorry you've had such water trouble. Having lived in an area with a lot of sulphur in the water table, I can truly relate. The only real good way to get rid of the smell and reduce/eliminate this from your water is to run it through a charcoal or carbon filter. These are usually fairly reasonably priced. You can purchase one that can be installed on the main water line at the well or inside the house and has a cartridge that you replace when needed. This method is fairly inexpensive and can be installed by anyone that is of the mind to do it yourself or has a friend that can do such for them.

poehere
Bronze Post Medal for All Time! 105 Posts
February 8, 2018
0

found this helpful
Best Answer
Well water can get sulfur in it from the surrounding and there isn't much you can do with the well itself. However, you can use a charcoal filtering system on your main water line that goes to your home. This can filter out some of the smell and could help.
I don't think you can ever drink this water again. If this isn't your property, I ask the owner if there is a way to drill a new well or fix this for you. It is awful that you need to live with this.

February 8, 2018
0

found this helpful
Best Answer
If you have a fairly new Culligan unit you should contact the company that installed the unit and tell them it is not working properly.
Culligan is a pretty reputable company but most of their units are installed by franchise owners. They should have tested your water and recommended a system that would do what you wanted.
You should review your contract and be sure that you specified "sulfur taste and odor removal".
You may have to push your local company/installer and if they have not lived up to the contract then you have to take further steps.
There are usually several senior centers that can give you advice on what steps you can take. Even to free attorney services if you qualify.
You can try other suggestions with another filtered system but most of these will not cover your whole house.
Google senior citizen services with your zip and hopefully you will find a list of agencies to contact.
Answer

this Question

We have moved into a house in the country with a well. Shortly after moving in, we began to smell an egg smell in our water as it comes out of the tap. I read elsewhere that this is an aeration problem in the water supply, but no advice was given for a homeowner to remedy this. Any solutions out there?
Rebecca from North Branch, MN
Answers

Harlean
Bronze Post Medal for All Time! 148 Posts
January 8, 2007
1

found this helpful
Best Answer
The odor is caused by minerals in your water. The "egg" smell is sulphur. If your dishes and clothes turn orange when you wash them, you have iron, also. This does not mean your water is bad or unsafe, but you should put a filter on your well, preferably between the pump and the holding tank. You may also buy a filter that fits right on the cold water faucet of your kitchen sink, but will still have the odor in the shower, washing machine, etc. We have many minerals in our well water, so we have a large filter at the holding tank, and another filter on the cold water in the kitchen.
It is a PUR filter, and you can't filter hot water with it, but it swings down to filter cold water, and then when not in use it flips up and out of the way. You can find these filters at Lowe's, Home Depot, and Walmart. If you are confused with all the different filters available, ask someone to help you. The Pur filters for the kitchen faucet are the easiest to install, so you might want to begin to solve your problem in that area to have more palatable water for drinking and cooking.
Harlean from Arkansas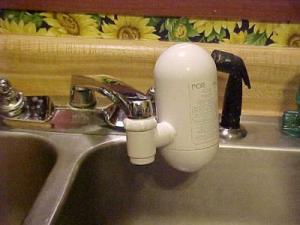 By Sherry Nelson (Guest Post)
January 10, 2007
5

found this helpful
Best Answer
It is definitely sulpher. Bought a brand new house, new well, etc. First night there, rotton egg smell. We bought an under the house filtration system for $2000. A charcoal filtration system that backwashes is the ONLY way to eliminate it before it comes in the home. But if you can stand the smell, it is perfectly safe to use and drink. If you run some in a glass and let it sit for about 30 minutes, you will find that the smell will evaporate.
Chloryne is a short term cure and will make your skin EXTREMELY dry. Ifyou would like more info, please email me and I can give you the website and name of the guy who fixed my situation. I feel for you and I hope this helps. Sherry
Answer

this Question
I just purchased a rental property and the well water has a strong sulphur smell. My concern is that the house is old and the septic system is within 10 yards of well. Could the septic have compromised the well?
By Vito L.
Answers

April 16, 2013
0

found this helpful
Best Answer
Hi - do I understand you correctly - you have purchased a house that you intend to rent out? If that is the case then you will be the landlord.
I believe you should should have your hot and cold water tested just to be sure of what you are dealing with. Many stores have kits you can buy to use to collect water and mail to a testing lab. Most counties have a testing lab also. Not sure of the cost but well worth it for the information you receive.
Many older wells may not be very deep but may still have good water. Sulfur smell is still common in older wells and does not mean there is something wrong with the water. I have some rural property that has a very deep, rather new well, that still has some slight sulfur smell. People who live with it soon grow accustomed to the smell but visitors notice it right away.
Many people say it smells like a water treatment plant and well it might as sulfur is a cleansing agent.
Have your water tested and then find out what is the best course to pursue and then decide how much money you will need to spend to change it (lots!).
Good luck and post back on your progress.
Answer

this Question

Our house is currently on a well system. We have sulfur in our water, which gives it a rotten egg smell. At this time, we have a system from Eco Water that uses food-grade hydrogen peroxide to reduce the sulfur in the water. This system was in the house when we bought it 3 plus years ago. We are thinking of replacing this unit and was wondering if anyone has any input on other systems available for this and how they work. We are trying to get rid of the need for the hydrogen peroxide.
Mary from Wilmington, IL
Answers
By Kathy (Guest Post)
July 18, 2008
0

found this helpful
Are you sure you don't just need a new tank? When our tank was shot, our water smelled like sulfur too. It was due to water staying in the tank and not getting pumped out like it should. Before you invest in water treatments, maybe you should have your tank checked first.
By Sherry Nelson (Guest Post)
July 18, 2008
1

found this helpful
I had the same problem when I built a new home on new land, You need a carbon filter system. They are not cheap but work perfect and last a long time. I know you live in a different state, but if you call Talley Water Treatment in Greensboro, NC he will tell you all you need to know. This is very rare in our state and he was the only person that cured our problem and was honest. He also has a website. www.talleywater.com. This will solve your problem.

July 18, 2008
0

found this helpful
We did ours on the cheep, by using undersink sized units about 15" long, and we put three of those in a row. The filter is changed every week in the first one, every month or so in the second one, and whenever for the third one. We still like a Brita pitcher for drinking water, but we never smell that sulfur any more when running tap water. The filters were cheapest, and that was the deciding factor.

July 20, 2008
0

found this helpful
Sulfur can get into your water from a variety of sources. It also occurs in a wide range of concentrations.
Carbon can only remove it in low concentrations and is completely worthless if it is coming from sulfur bacteria.
Most likely the original installation was done by knowledgeable professionals that know and understand your local needs for removing sulfur. I would continue using the current system if it is doing the job. Hydrogen peroxide is a good, safe method of doing the job.
Kirt
Certified Water Specialist IV

July 21, 2008
2

found this helpful
We moved into our house two years ago and every house in our neighborhood has strong sulphur smell in the water. It absolutely made me sick. We had to dig a new well and after a couple months, that well turned up with sulphur smell too so it is in the water source. Neighbors of mine use carbon filters bought at the warehouse stores but the smell is so strong that they have to be changed often and leads to more expense. I was so intolerant of the smell that we invested in an expensive mixing system from Culligan that uses bleach to kill the sulphur then filters through carbon to remove the bleach. It was a Godsend. If you are using something that works, stick with it. Cheaper filters will cost you in the long run if you have to change them more frequently. Good luck!
By Lesley (Guest Post)
July 21, 2008
0

found this helpful
Hi,
We have a well that has a high iron content which creates a hydrogen sulfide "rotton egg smell" There isnt much we can do about it besides shock chlorinating the well. Now we are dropping concentrated swimming pool chlorine tablets in the well on a regular basis and home testing the chlorine levels. Wish there was a better solution
Read More

Answers

I live in an apartment with non filtered well water. The landlord says the water just hit a sulphur patch, but it is safe to drink. It smells like rotten eggs hot or cold. It tints everything and has a yellow color to it at times. I have small children and I believe it is giving us stomach issues. We buy drinking water. Is there a way to boil my tap water to make it safe for drinking again?
Answers

DCA
Bronze Answer Medal for All Time! 220 Answers
June 3, 2015
1

found this helpful
Best Answer
The site below explains what happens when sulphur is introduced into drinking water. Some drinkers may experience diarrhea, especially infants.
You certainly have a reason to complain about the sulphur stink in your water as it wasn't a problem before and there is no way to know just how long the problem will last. The site further explains:
Sulfur-containing water can be treated with chlorine to remove the sulfur. Chlorinated bleach can be added to water, and the hydrogen sulfide gas will react with the chlorine and settle out as yellow particles, which can be mechanically filtered out of the water.
This action should be performed by a professional water treatment service to ensure the water you drink is sulphur free. I hope your landlord will fix the problem and that you do not have to move to find better water.
Answer

this Question
I live in Kalanki, Nepal. I have my own house. My well water was fine a couple of months ago. But now it smells really bad. When I smell it, I feel like vomiting. What should I do?
By Neermal
Answers

November 2, 2014
0

found this helpful
Best Answer
You need to get in touch with Nirdhan Utthan Bank Limited in your country and ask for a small loan to get a water filter for your well.
See if you can talk to General Manager Mr. Prakash Raj Sharma or get a message to him that you need a small loan for a filter for your well because you have bad water.
Good luck!
Answer

this Question
We live in Florida and have well water. The sulfur in the water is destroying all the piping in the house and our clothes. Is there are way to treat this? Thank you.
By Robin W
Answers

September 30, 2014
2

found this helpful
Best Answer
Hello, I also live in Florida and HAD the same problem! My water softener cured the problem but it was almost due for a service (500$) and I was going through 7$ a week in salt! After referring to my water operator books I learned that sodium hypo chloride is what is used to cure the problem in industrial plants, so why couldn't I do the same at my house! I installed a 8gpd cl2 pump wired to my well pressure switch and mixed pool chlorine 1/4 with water! I no longer have the issue and it cost me about 250$ to install and costs about 1$ a week in cl2.
All that is needed is weekly testing to make sure that you stay with in safe drinking water cl2 levels (.01-2.5 ppm) and your good to go! I run mine at 0.5 ppm just remember, it takes 7ppm sodium hypo chloride to eat 1ppm suffer! I am a certified operator 8 years in the field! Hope this helped!
Answer

this Question

The cold water in our bathroom has taken to smelling like sulfur when you turn it on. After a minute or two, it smells and tastes fine. The hot water is normal.
We have our own well. The faucet is new. We have had this problem before and it went away. This seems to linger on. Any suggestions?
By sheila from NE
Read More

Answers