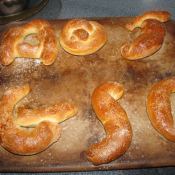 These soft pretzels are super tasty and shaping them is a family affair. We always do a pretzel with the first letter of everyone's name, then everyone has free reign to make whatever they desire. The kids have a blast making and eating their creations. So much so, that I often make a double batch.
Ingredients:
1 1/2 cups whole milk (I use skim)
3 Tbsp. vegetable oil
1 pkg. active dry yeast
2 Tbsp. light brown sugar
4 cups all-purpose flour
1 tsp. salt
1 large egg
1 1/2 tsp. kosher salt
Directions:
Heat milk in small saucepan over medium-low heat until warm (about 110 degrees F). Remove from heat.
Combine 1 tablespoon oil with the yeast and sugar in a large mixing bowl. Pour in warm milk and stir until the yeast and sugar are dissolved (recipe says to use wooden spoon or plastic spatula). After a few minutes you should see bubbles appear on the surface on the mixture. Let rest until mixture is slightly foamy, about 5 minutes. Add the flour and salt to the yeast mixture, stirring well until all the flour is mixed in.
Place the dough on an unfloured surface and knead until smooth, about 3 to 5 minutes (or you can use the dough hook on an electric mixture). Grease a large mixing bowl with remaining 2 Tbsp oil (I find I only need half). Place dough in the bowl, and turn to coat lightly with the oil. Cover with plastic wrap and let stand in a warm draft-free place (I use the oven set to 110 degrees F). Let rise until doubled in size, about 2 hours.
Put oven rack in the center position and preheat oven to 425 degrees F.
Beat egg in a small bowl and set aside.
Remove the dough from the bowl. You can either divide it into 16 similar sized pieces by eye-balling it (my lazy method) or roll the dough out into a 10x12 inch rectangle and divide in fourths, then divide each of those pieces into fourths.
Roll each piece between your hands and counter to form a "snake" and shape. If you want to make pretzel shapes, the "snake' should be about 14 inches long and 1/2 inch in diameter. If dough gets too dry and will not stretch, wet hands slightly and try rolling again.
Place formed pretzels on an ungreased baking sheet at least an inch apart. With pastry brush, brush each pretzel with the beaten egg and sprinkle with kosher salt.
Bake until golden brown, about 20 minutes.
Try to be patient and not burn your mouth!
Servings:
16
Time:
2 1/2 Hours Preparation Time
20 Minutes Cooking Time
Source: Emeril's "There's a Chef in My Soup!"
By Stephanie from Hillsboro, OR
Read More Comments
Shape refrigerated bread dough into a 15 inch rope; twist into a pretzel shape. Brush lightly with some egg white from 1 egg, sprinkle with 1/4 tsp salt (or to taste) and bake at 350 degrees F in a toaster oven until golden, 9-10 minutes.
Prep time: 5 min. 2 points for Weight Watchers
By Evelyn from Greeley, CO
Read More Comments
Ingredients
4 - 4 1/2 cups flour
2 Tbsp. yeast
1 1/2 cups warm water
1 1/2 tsp. salt
Directions
Dissolve yeast in water. Add flour and salt. Flour can be scant. Let rise for 15 minutes. Knead well and then make pretzels. Dip in 1/4 cup water with 2 tsp. soda. Bake at 400 degrees F for 15-20 minutes. Dip in melted butter after they are baked. Delicious served warm.

Topping Suggestions
caramel sauce
pizza sauce
Cheese Whiz
brown sugar and cinnamon
cream cheese
mustard
jam
By Robin from Washington, IA

Answers:
Soft Pretzels
Thanks Robin, I love soft pretzels though I've never tried making them. I used to buy the frozen ones and they were pretty decent, and a friend told me a trick for mustard. His trick: mix Coleman's dry mustard with just enough beer to get the consistency you want. That works great for flavor but the texture leaves something to be desired, so I started playing with it. Mixing the mustard/beer a bit thick, I added various liquids to get the smoothness I wanted. Honey works pretty well but for pretzels, olive oil seems best. Anyway, can't wait to try your pretzel recipe! (09/05/2006)