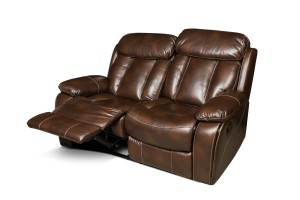 Does anyone know where I can purchase a slipcover for a dual reclining loveseat with a center console? I have looked everywhere and can't find anything remotely close. Sewing one is "not" an option, as I have no talent for that at all.
If all else fails, has anyone tried covering a loveseat like mine with a normal loveseat cover? Does/would it look stupid with the console poking up through the fabric?
Any input would be so appreciated. Our dogs tore up the side of our loveseat and we can't afford to have it reupholstered right now, but we are so tired of looking at their handy work!
By Jennifer
Answers

March 22, 2013
4

found this helpful
You can tack a matching or complimentary piece of heavy duty fabric or upholstery fabric to the damaged side, look for something in the remnants bin at the fabric store or on the remnants pages at JoAnn, Hancocks, or a similar fabric site to save money.
Measure the area you need to hide and add 1/2" to a full 1" all around-this is the size fabric 'patch' that you'll need. After you find it and bring it home, fold over the raw edges that 1/2"-1" extra, then use a tack gun or hammer in upholstery tacks to hold the fabric onto the frame. Don't be afraid to use a lot of tacks to get a taut application.
Depending on the dogs and quality of fabric, this should last you several years.
There are upholstery shops that can redo the entire sofa, or you can search the classifieds and bulletin boards for a seamstress who can make custom machine washable slip covers-consider having at least two sets made so that you have a set to put on whilst the other is in the laundry.
And do consider learning to sew and make your own slipcovers-they actually aren't that hard to do if you take your time and measure carefully, and you can save hundreds on the cost. Here's a good teaching site to have a look at:
sewing.about.com/.../Upholstery_Information.htm

March 23, 2013
3

found this helpful
A cheap slipcover for lazyboy recliner is... those tee-shirt material sheets. A single fitted sheet size will fit one lazy boy recliner/rocker. Since you have the divider in the middle, you might get two, one for each side instead of a full size sheet. The single fitted sheet fits the chair and you could use the flat sheet to cover the ends the dogs have customzed for you.
You could do a little creative folding to make the flat sheets to fit. Regular fabric sheets were my first choice but the tee-shirt fabric is SO comfortable.

April 26, 2013
5

found this helpful
I have the same problem and after hours of searching I have decided to use two reclining chair slipcover and tuck the unused arm between seat and console. For console I will cover/ sacrifice the cupholder and cover everything with same slipcover made for long dining room chair. Once I do this I will update if it worked or not.

December 6, 2013
2

found this helpful
You could try getting a sofa cover that will fit the length/width of your loveseat and then cutting a slit or two (just enough) for the console to fit through.

September 2, 2016
6

found this helpful
I bought two high back recliner pet covers and tucked the extra arms down between the two bottom cushions. The ones I bought were rubber back so they don't slip on my leather loveseat.

October 22, 2016
0

found this helpful
Did it work?

March 5, 2017
0

found this helpful
I took a large fitted sheet put it over and then cut slits to get into the cup holders and the middle console area but the material moves whenever we sit so the slits that I cut look really bad and don't stay in place.
Read More

Answers

I have a microfiber dual reclining loveseat and I am looking for a slipcover. Can any one help? Surefit did not offer anything. Everyone one else has single reclining chairs.
By teresa from Philadelphia, PA
Answers

September 28, 2016
0

found this helpful
I am trying the same thing. The full couch cover that was suggested here would never work for me because I want to recline and mine rock too. So I think Im going to do this. Im going to take two of these stretch recliner covers. They come in four pieces. Two arms one top and one for the pull out part. I plan to just use one arm for each recliner part.
I don't really have a problem with the middle enter. Mine aren't damaged in fact they are new but I really want to protect it. Hope this idea helps you.
March 7, 2017
0

found this helpful
tried this site, they had zero sites for slip covers.
Read More

Answers
I can't find a sofa cover for a dual reclining sofa without a center console. The hardest part is the footrests, the bottom needs to be split for practical use.
By Donna
Answers

April 4, 2015
1

found this helpful
I don't know how old you are, but, you might consider trying to learn to sew and make your own. The learning process will give you good skills in your future life. If you don't have a sewing machine, there are lots of ways you could consider.
Borrowing one, buying a used one, ads, freecycle, craigs list, ask about one to friends.
Read More

Answers

I have an old and very comfortable dual recliner. I'm having an awful time finding a slip cover for it. Can anyone help me?
By Dianna

Answers

September 6, 2011
0

found this helpful
Try SureFit Slipcovers. You can check them online or order a catalog. Hope this helps. : )

Sherri
Bronze Feedback Medal for All Time! 180 Feedbacks
September 7, 2011
0

found this helpful
Call SureFit. They have just what you need. Good luck
April 26, 2016
0

found this helpful
No, SureFit (spoke to someone on the phone) says that they don't have covers like this.

January 17, 2017
0

found this helpful
I have tried the Sure-Fit slipcovers on my loveseat recliners with console in the middle as our leather has been peeling since day one. They are fine over the back but the middle is too much material. I have nothing yet to cover unless having it completely covered.
Read More

Answers
I have a dual reclining full sized reclining sofa. I am looking for slipcovers. I see no one who sells such a product, any ideas?
By Jack F. from Sevierville, TN

Answers

April 16, 2012
0

found this helpful
Make your own? The satisfaction of knowing you made the slip covers yourself is incredible! You can also save a huge amount of money. Sewing your own slipcovers is not complicated or difficult-if you can read and follow directions, and can sew a straight line on a sewing machine (also an easy skill to learn:), the creative possibilities are almost endless.
Read More

Answers

I desperately need to find covers for sofa recliners. Any thoughts?
By moena from fayetteville, TN

Answers

Sherri
Bronze Feedback Medal for All Time! 180 Feedbacks
November 25, 2010
0

found this helpful
Yes! Go to surefit.com, they have all the items you will need. They have wonderful styles & colors.

December 31, 2012
0

found this helpful
La-z-boy.com suggests surefit.com
That's where I'll be getting mine for my La-z-boy reclining sofa. What you want is a one piece slipcover. We bought the Jenna for our informal living room.

October 22, 2016
0

found this helpful
Did it work out?
Answer

this Question