Friends and family have called me a tightwad or a cheapskate. I prefer to be called "frugal"! About 12 years ago, my husband and I came to the bright conclusion that we had too much debt (after only 3 years of marriage!) We also realized, given our current debt to income ratio, we would NEVER be out of debt. So, we got a consolidation loan to cure our problem. Our cure didn't work because, as a lot of people do, we continued to accrue debt. It was growing quickly! Our second problem was that I desperately wanted to quit work and stay at home with our baby daughter.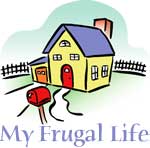 By this point we were coming to the realization that we needed to do some things drastically different! So, we cut up all of our credit cards and tried to pay down our debts as much as we could (we started using Mary Hunt's Rapid Debt Repayment Plan). I was learning that paying down debt is like dieting: It's great to lose weight but if you don't CONTINUE your new healthy eating and exercising, the weight will come right back on (and usually twice as much!) It was at this time that I realized getting out of debt and STAYING debt free was more than a budget on paper but it was a heart issue; learning about contentment, thankfulness and frugality.
We were able to get completely debt free in about 3 years (with only my husband's income). We lived on A LOT less and learned to love it! During those 3 years, I read all of Mary Hunt's books, "The Tightwad Gazette" by Amy Dacyczyn, and "Living On Less and Liking It More" by Maxine Hancock. When someone has had a negative behavior, they can't just stop it and continue living like they had before. It helps to have something new, a new positive habit to replace the bad. That, my friends, is exactly what becoming frugal did for me!
At first, it was a game (How much money can I save with coupons this week). However, it quickly became a lifestyle. Since we have become debt free, we have built our own home in the country with acreage. We raise pigs, our own chickens, and we have our own orchard and garden. I've always loved to garden but recently I read "Growing Your Own Groceries" by Kimberley Eddy. This book was very encouraging and informative on how to grow and can enough food for your family for a year. We have 4 children, so saving on groceries is a constant challenge for me. Leaving the grocery store, knowing I've only spent $75, gives me a greater high than I ever received from charging stuff at the mall!
One major tip I have about being frugal is: Give away a portion of all that you make. When you give, it always comes back as a blessing! Don't confuse being frugal with being stingy or selfish. Instead, being frugal frees up money so you can give more away. Once you become a frugal minded person, there is no turning back. I know some people may roll their eyes, thinking one can go too far in being a tightwad. I agree with Maxine Hancock in "Living on Less and Liking it More", she says: "We sit in our living rooms and look into the unseeing eye of our TV sets and see not just individuals but entire cities and nations going bankrupt. And at the same time, we look into the empty eyes of swollen-bellied children of famine who are somehow, impossibly, still alive. And we know that somewhere, in some way, we are all personally responsible."
But just sitting around with vague guilt feelings haunting us is hardly a sufficient response. We need to seriously reevaluate our whole set of life goals and to ask ourselves, "Where are we now? And where are we going?" We must put to ourselves the question worded by World Vision director, W. Stanley Mooneyham, "Is my life style supporting a famine somewhere in the world today? If we are, indeed, people not content to sit back and wait in helplessness for the breakers of present and future shock to overwhelm us, we need to become actively involved in adjusting our goals, expanding our ethic, and moderating our life-style to meet the needs of this changing age."
Aleksandr Solzhenitsyn spent 7 years at a Soviet prison camp; the world would be a better place if we would follow his advice. He says, "What about the main thing in life, all its riddles? If you want I'll spell it out for you right now. Do not pursue what is illusory- property and position: all that is gained at the expense of your nerves, decade after decade, and is confiscated in one fell night. Live with a steady superiority over life - don't be afraid of misfortune and do not yearn after happiness. Our envy of others devours us most of all. Rub your eyes and purify your heart - and prize above all else in the world those who love you and wish you well."
I love my frugal life!
By Christy Brashers
Do you have a frugal story to share with the ThriftyFun community? Submit your essay here: http://www.thriftyfun.com/post_myfrugallife.ldml