This budget remodel was the first project I have ever taken on and I couldn't be more pleased with the results. Using the tips I've found here, for just under $2,000 I have a marvelous fashionable new kitchen.
At first, all I intended to tackle was painting the dark oak kitchen cabinets. But then I got carried away and decided to tear down the the laminate backsplash, which I expected to be a horrible job, but it took me less than two hours to do it. I bought ceramic subway tiles from Menards and did the work myself. Of course, then my pock-marked white laminate cabinets were no longer good enough. I wish I would have taken this before I took down the cabinet doors. They were dark oak, making the kitchen look dreary.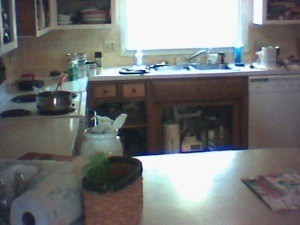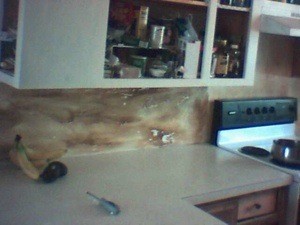 I first joined TF when looking for an economical way to replace them. I was scared, but too the plunge, using the painting technique with the Enviro-Tex coating as per instructions from this website. With the painting and some new moulding, a new range to boot (which I wasn't planning on, but it broke), it's been a big project, taking me all summer, but the results make it worth it.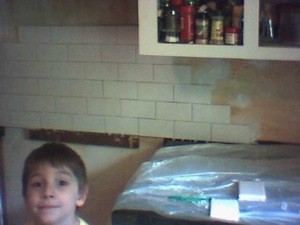 For the cabinet paint I used an oil/latex mix (because I hate working with pure oil paint). The color is called Sugared Almond. For the countertops I coated with the same primer I used on the cabinets just because it was already on hand. Then a rolled on a coat of black enamel, followed by Rustoleum Stone Accents spray (granite-look). After completely dry (very important), I sprinkled liberal amounts of silver gold glitter (yep, the same kind the kids use to sprinkle on glue and paper). Then I used the Enviro-Tex.
Unfortunately, though, I had to do two coats of the stuff because of a "glitter situation". I had both slivered glitter and square glitter. After apply the Enviro-Text, the square glitter stood on end in places. I had a problem when the glitter stood on end in the Enivro-Tex and left bumps after drying. I had to coat it twice with the Enviro-Tex. Also, be diligent with the Enviro-Tex. Unbeknownst to me, some dripped beneath the plastic I had on the floor and it died there. Now my engineered hardwood floor is ruined in a couple of places.
Part of the cost of the redo was the range hood, which was under $200 at Lowes, and a new kitchen sink and faucet. I bought them online and saved bookoo bucks! Same with the glass cabinet knobs. Much cheaper online than in the stores.
Subway Tile: I borrowed my brother-in-law's electric tile cutting saw. He also had a non-electric rail cutter and a hand snip, but I couldn't master either one. The electric one was messy, leaving my hair coated in tile dust, but much easier to use in my opinion. My son is standing where the range normally sits. They say tiling is easy, but I thought it was the toughest part.
I still marvel that I was able to pull this off with almost no help. My husband installed the sink and put in the new light fixture above it . . . and all the rest was done by lil' ole me with almost no carpenter experience whatsoever. Half the battle in budget home maintenance, I now realize, is not being afraid to try things for myself.
By Carol Verhoff from Ottawa, OH