Smokey is a 10 year old German Shepherd mix. He was abandoned. When my husband went hunting and he was walking down a hill to go to the cabin, Smokey jumped out at him. It was dark and my husband thought he was a fox or coyote. At the time, Smokey was only a pup, about 6 months old. So for the next two weekends when my husband went down there, Smokey always followed him to the cabin.
The third weekend, he told his brother-in-law, if that poor pup is back again, I'm taking him home. Smokey came back for the third time and was looking in the cabin window. There was a lot of snow, more than 4 feet and the poor thing was freezing and starving. So he brought him in the cabin gave him a can of Chunky soup, gave him a bone and laid on the floor of the cabin with him. My husband took the bone away with his own mouth to see how Smokey would react and he did nothing. No growling, no biting, he was very gentle and just let him take it. My husband knew for sure he had a wonderful temperament and brought him home. He has been a blessing to our family now for 10 years. We love him dearly.
He loves to play ball, tug of war and go for walks and loves to be loved. Yes, I submitted his photo to our local TV station on a segment called "Stormy's Pets" and they picked his photo along with a little detail on how we got him. Then without me even knowing, I submitted another different picture of him to different TV station. it was Smokey and my grandbaby Emma Grace. Smokey was eating an ice cream cone from Dairy Queen and they picked that photo and aired it. The only way I knew was because my nephew was watching, so he called me to tell me. I didn't get to see that airing.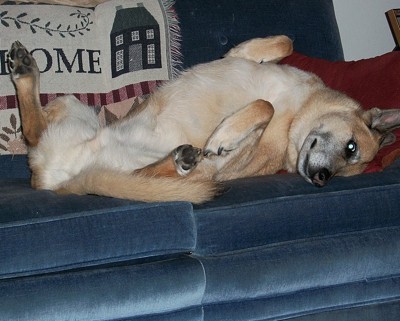 By Koren