January 6, 2011
0

found this helpful
Best Answer
I was told when I adopted my dog that he is a German Shepherd/ Terrier mix. I think they told me that the mother was the shepherd and the father the terrier. He is now 5 and here is a picture of him. I still don't think the breeds are 100% correct, but haven't been able to find any pictures of these breeds together that look like him.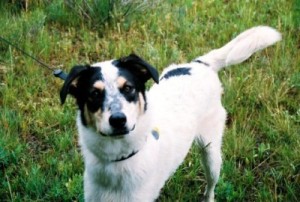 February 3, 2017
0

found this helpful
my Albert is a jack/shepard or if the day warrants it a jack ass - he will be eleven this year - great temperment - perfect size - easily trained - born in a barn and never once peed in the house - had a couple emergency accidents over the years but only on rare occasions when he ate something he shouldn't have and he loves to eat -
June 27, 2017
0

found this helpful
Best Answer
Here is simba my 2 year old gsd/jack Russell,(jack shepperd)the mum is the jack Russell,dad gsd they are my neighbour's dogs, mum had 5 live pups at home no problems.here is a picture of the 3 of them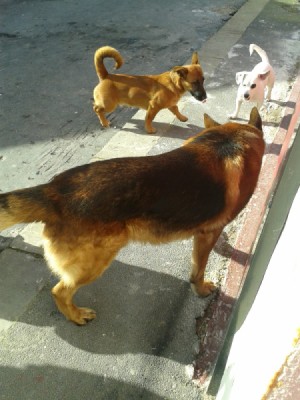 April 21, 2010
0

found this helpful
Don't have such a photo, and it seems to be an unlikely combination because of the size difference. A female jack russell bred to a German shepherd would likely die giving birth to puppies that are too large for her to carry. Bad, bad idea.
January 20, 2019
0

found this helpful
Best Answer
It may be unlikely, but it has happened. My dog, Abbey, recently passed, but her mother was a jack russell and her dad was a German shepherd. Im not sure if mom was a purebred though, because she was relatively large for a jack Russell. Anyway, the litter consisted of two white and brown males and a completely brown female, Abbey.
She was about 14 at the shoulder, and looked like a corgi on stilts. The undercoat around her shoulders was black, and she sure had a terrier attitude. But yes, if the litter is small, a female jack Russell can give birth to this mix.
April 21, 2010
0

found this helpful
Agree strongly with Marfette's post, and on the chance that this breeding has already happened, if the female is a Jack Russell it would need to get to the vet ASAP ( the earlier the better, for the Mom to live the litter would likely have to be terminated).
March 17, 2016
0

found this helpful
Here is my baby Remmy. She is a Shepherd/ Jack Russell Mix and is almost 2.

June 27, 2017
0

found this helpful
I have a 2year old German shepherd/Jack Russell, our neighbor has the parents the mum is a jack Russell and the dad a gsd, the jack Russell had 5 pups all born at home with no problems.i have a photo of mum dad, with my dog(simba)but dont know how to add photo
July 14, 2017
0

found this helpful
We have two Jack Russell shepherds. On one the shepherd coat is more obvious, on the other the Jack Russell terrier coat is more dominant.
November 26, 2017
0

found this helpful
I just adopted a jack russell terrier mix. I believe she is mixed with german shepard. She 9 year old. Very good dog.
May 20, 2018
0

found this helpful
Our girl is now 3, shes an adopted Jack Russell -Shepard mix. Sweet dog, very shy and nervous but yet very protective of her family and house.
Loves others dogs can play with almost any breed.
August 12, 2018
0

found this helpful
We have a German Shepherd/ Jack Russell mix. The mother was the shepherd. Our dog's markings are so much like the Jack Russell. The ears and muzzle are shepherd, and she is much larger than the Jack Russell terriers.