Stuffed animals make a fun centerpiece for any party, when you follow a few simple guidelines.
First, be sure to match the animals to the theme. For example, in this photo, we were decorating for a December birthday, so we used Christmas animals. You could use bunnies and ducks for a spring shower, or dogs for a young boy's birthday.
Second, use only the very cleanest stuffed critters. No one wants to eat appetizers next to a grimy dog.
Third, add some simple props to tie it all together. In the photo, we used a large Christmas gift bag, with a small duck peeking out over the top. Baskets and paper-covered boxes work well, too.
Celebrating with your animal friends has one definite advantage. When you overindulge on chips and dip, you won't be the only "stuffed" party guest!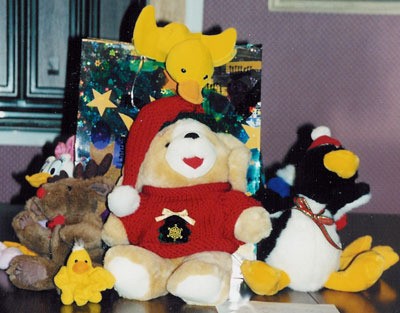 By zballoongirl