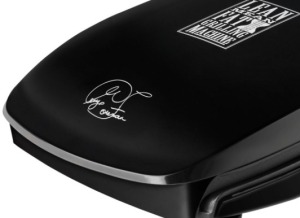 Cleaning your George Foreman grill is actually quite easy, if you consistently follow a couple of simple steps. This is a guide about cleaning a George Foreman grill.
Ad
---
Solutions: Cleaning a George Foreman Grill
Read and rate the best solutions below by giving them a "thumbs up".
We use our small George Foreman grill a lot, and have a great tip for easy cleaning. Once we take the food off the grill and unplug it, we take a doubled up paper towel and wet it, wring it out just so there is still wetness to it. While the grill is still warm, lay the wet paper towel on the grill and close the lid. By the time you're done with dinner, clean up will be a snap. This works every time and saves from having to scrub!
By Carol B. [1]
An easy way to clean an electric grilling machine is to put wet paper towels on the bottom surface, close the cover and plug it in. In a short while the cooking surface debris will be easy to wipe off. Using a pair of tongs, move the paper towel around and rub off the debris. Make sure to hang the grill a little over the edge of the sink to catch drips and please be careful of the hot machine.

Important: Be sure to unplug it as soon as it softens the debris and before you start to rub it off.

By SueKaf
Give a "thumbs up" to the solution that worked the best! Do you have a better solution? Click here to share it!
Questions
Here are questions related to Cleaning a George Foreman Grill.
I have a George Foreman grill and someone cooked fish it in. I have tried cleaning it but it still smells like fish. I am not a big fan of fish. Does anyone have any tips for removing the smell? Thanks, Diane
Ad
---
---
Best Answers

By Dan03/19/2009
Heat it up to maximum and keep it hot for an hour or so. The fish odor will burn away.
---
Best Answers

By Barbara Hafendorfer05/19/2004
Spray with vinager and then sprinkle with baking soda let sit for a few minutes and rinse.
---
Best Answers

By Joanne (Guest Post)05/19/2004
Wipe it down with lemon or vinager.
How do we clean a George Foreman indoor grill? A sponge came with it, but it does nothing for cleaning up the grill after using. Thanks for any help.
By Laura from IL
Ad
---
---
Best Answers

By Pam T [19]07/22/2010
I normally wet an old dish cioth so it's soaking wet, and make sure the grill is either sitting in the sink, or on something that will catch the spillage. Close the lid on it so the wet cloth hits top and bottom. After letting it sit a bit, I'm always able to simply wipe out the residue with little to no effort.

Good luck!
---
Best Answers

By Laurie [1]07/21/2010
A tip I learned from the lady handing out samples in the grocery store: I line my GF grill, top and bottom, with aluminum foil. Clean up is no longer a problem.
I have a George Foreman grill, model 3 GR30Bw. Can the coating be re-done on this model? Someone cleaned it, scrubbed it and took a lot of the coating off!
By Karen H.
---
Most Recent Answer

By Diane [12]02/08/2015
My Foreman Grill gas also lost some of its Teflon coating. I cover the surface with aluminum foil. Makes clean up easier, too. As far as I know, there is no safe way to repair the surface. You might be able to replace the part, though; I would contact the manufacturer.