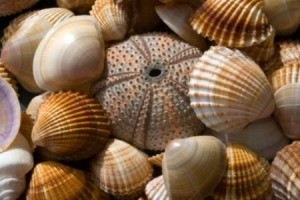 This natural material comes in many shapes and sizes and can be a part of some interesting projects. This guide is about crafts using sea shells.
Ad
---
Solutions: Crafts Using Sea Shells
Read and rate the best solutions below by giving them a "thumbs up".
This is a gorgeous, romantic, and elegant craft which can be applied to a number of other crafts as an enhancement, although it is completely stunning on its own! The shells (if you live near bodies of water) are free, which is the best part!
Approximate Time: Depending on the size of rose you wish to make, this craft takes from 20 to 30 minutes.
Supplies:
10-15 cleaned oyster shells per rose
3 sticks round, all-temperature mini-glue sticks
1 low-temperature mini-glue gun
1 small to medium auger, nautilus, or snail shell per rose (cleaned with dish soap and water)
Optional: shiny, clear, indoor spray paint/lacquer (This makes the iridescence of the shells and their colors really shine through!)
Instructions:
Load glue gun with glue stick and plug in to warm up.
While glue gun is warming up, arrange your oyster shells from largest to smallest.
Find the two largest, (pieces are just as good as full shells) and glue ends together, so that the shells rest on your work surface opposite from one another.
Find the next two largest from the ones left, and repeat the process, only having turned your base about forty-five degrees.
Now that you have a complete base to work from, start finding the medium-sized shells, which usually have more of a curve to them, like the inner petals of a rose.
Take those and glue them after turning base another forty-five degrees, these two should angle up about twenty to thirty degrees, to mimic the opening of a rose bloom.
Rotate your rose another forty-five degrees and use 2-3 of the next smaller size shells, gluing them in at a slightly steeper angle, almost closing the bloom.
Take your snail, auger, or bit of nautilus shell and stand it upright in the middle of your rose, gluing and holding it there until it is cooled.
Once all of the rose has cooled securely, take it outside and place on a piece of cardboard. Spray with lacquer lightly, making sure to get in-between the layers of petals. (Don't go overboard, or the spray paint will loosen the glue and your rose with fall apart easily.)
Let dry as per instructions on your paint can.
Display in a nice copper bowl or hot-glue to another project such as one involving sea glass or drift wood; a mirror or vase.
Enjoy and be proud of your work!
By Brianna from Dutch Harbor, AK
This was one of the most fun and memorable things we ever did on a beach vacation with the kids. Sandycast faces made with sea shells.
Comb the beach for great sea shells, broken ones can be cool. Collect shells in a used onion bag, it makes it easier to wash off the sand before you use them or take them home.
Bring some plaster of Paris and an old beach pail and something sturdy to mix it with. Make a shallow, face shaped hole in the sand on the beach. Chose the shells you want to use for eyes, nose, mouth, etc. Keep the shells faced up to see the effect of how they will look when completed.
Reverse the shells and pour the plaster of Paris into the shallow hole. Carve your initials and year on the back. Give it enough time to set before you uncast it. Do not brush too much sand off of the sandycast.
Everyone will love them! They can be displayed on a plate stand because no one will want to put them away too soon. Have fun making memories, kids!
Source: Family Fun Magazine, many moons ago.
By Mother Goose from Royalston, MA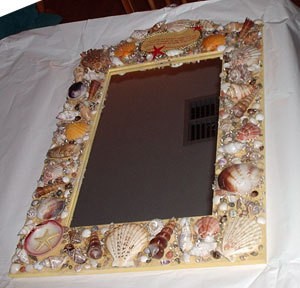 I previously replied to a request of what to do with excess shells. I explained how I decorated wooden or chipboard (MDF in Australia) mirror or picture frames with shells.

I recently made one for a friend who celebrated her 40th birthday on the weekend. She was delighted with it so I thought I'd share the picture I took and how I made it.

Firstly, clean the frame with a dry cloth to get rid of any dust and grime. I chose acrylic paints in tubes and used a bristle brush in a circular and criss-cross fashion to give it a suede look. In this particular instance I chose a bright yellow with cream overtones to make it less bright.

I painted both the front, back and the backing piece to the mirror.

While the paint was drying I went onto the computer using the Word Art tool. For the uninitiated, you go to the Insert tab, then scroll down to picture, and across to a menu, until you find Word Art. It will let you type in whatever you want and give you options for colours and the shapes of the text you want. What it does is that your text will go in waves or whatever shape you have chosen. It can give your text a nice touch.

I then cut out the text and also cut enough gold braid to go around the cut out paper. That way it defined the text and showed me where the shells should stop. I then spread PVC glue (wood glue) thickly onto the frame in sections and placed the shells (big and large) in a haphazard way. If you become too regimented about symmetry, it can look too contrived. On the top where I placed the text and trim, I found a nice small colourful starfish to cover the join in the gold trim. It covered it up nicely.

Before the glue dries, sprinkle gold and silver glitter (not too large grade) in amongst the shells and inbetween where the smaller shells are. In between the bigger shells I had placed minute tiny shells to take up the spaces in between the larger shells. I found a zip lock pack of tiny mother of pearl coloured tiny shells. Ideal for filling in spaces and giving added colour. If you have larger shells that may look a little boring, don't be discouraged. I found I needed some fan shells, but the ones I had were old and had lost their colour. I grabbed my youngest's pencil case and used some of her pencils to add a bit of colour. As you ended up spraying the whole piece anyway, the colour won't fade.

Once the glue has dried clear and hard, spray with a clear matte or shiny spray varnish (lacquer) to seal everything. The glitter will fall off if not sealed properly.

You don't have to have a message or text up top of the mirror, that's just what I chose for this particular frame. I included a scripture verse about God throwing our sins into the depths of the ocean, which I thought was really appropriate since I was using shells- and added a note to the verse which said, "And that means absolutely no fishing!"

There you have it, a really inexpensive present which ended up looking like a million dollars and great fun making it. My 14 year old daughter and I had so much fun making this present and it gave us some time together. You can even get your littlies in on the action, placing a shell here and there and it makes them feel special as well because they're able to help out.

Enjoy!

Regards

Bev in Western Australia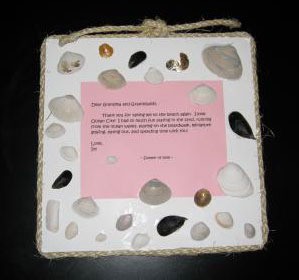 You could do a lot of different things to make this craft your own. Make a 3-D thank you note, make a journal entry about a vacation or the beach, or just make it decorative. Use seashells and other items you may see along the seaside.
Approximate Time: 30-45 minutes
Supplies:
foam board
rope
seashells
white glue
hot glue
pen or computer printed message
Instructions:
Cut a piece of foam board to desired size.
Add a note or a journal entry in the middle (optional). A good journal entry could be about a specific vacation or just about the seaside in general. You don't have to add anything if the craft will just be decorative.
Glue or tape the message to the board if it is a computer print out, or write the message in pen if desired.
Glue seashells around the board using white glue. Could also add sea weed, sand, etc.
Use hot glue to attach rope around the edges of the foam board. Cut at a diagonal to fit, or leave loose ends to tie in a knot. I reinforced the cut ends with hot glue.
Enjoy the memories!
By Jayme from Harrisonburg, VA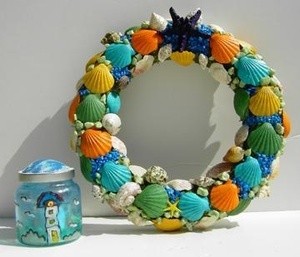 Supplies
dollar store Styrofoam wreath
hot glue gun
gollar store shells and colored rocks
clear sealer
glass candle kolder
glass paints (optional)
Directions
I painted some of the shells, but they can be left plain.
Glue them however you want them.
Spray with clear sealer, makes it shine.
The candle holder is glass painted, I buy glass paints only when they are on sale.
This looks beautiful in your bathroom and you can use colors that match in yours.
By Sheri from Stockton, CA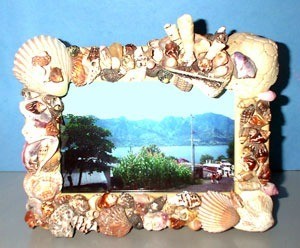 Ever collected shells at the beach or just admired their natural beauty? Frames decorated in shells are always distinct (no two shells are the same), stimulate personal or collective creativity, and evoke a peaceful and harmonious atmosphere for years to come.
Materials:
shells: enough to cover entire frame from personal collection OR purchase assortment from local craft store (i.e. Michaels) or online
frame: any wooden frame (4 x 6 inches is sufficient) NOT distressed or old
You can find wood frames priced under $4 available at local Walgreens
glue: white or all-purpose
damp cloth/towel: clean and large enough to wipe frame, glue spills, and/or hands
Instructions:
Determine whether finished frame will stand or be wall-mounted so shell design isn't upside down. Make sure frame is clean. If necessary, use a damp cloth or towel to remove dust or other particles. Place frame on its back (photo side up) throughout entire project.
Start the design process by outlining the frame with various shells. DO NOT use glue at this time.
Tip: Use the larger shells first as a foundation from which you can add layers and patterns with smaller shells, as well as fill in gaps.
When the outlined layer of shells is placed on the frame, pick up one shell at a time to glue. Hold the shell upside down while squeezing the bottle of glue. Make sure the shell is completely coated as it is pressed onto the frame.
White and all-purpose glue will dry clear as long as you don't use dirty items (i.e. cloth, fabric, hands) to wipe up excess splurges.
When all of the shells are glued on the frame, allow for sufficient dry time to begin gluing further layers.
Dry Tip: Lightly wiggle a couple of shells approximately an hour later. If any shells shift (remember, just a gentle touch), wait at least another hour and test again. Note: Using excess glue will take shells longer to dry.
Once the last shell has been glued, give your frame ample time to dry. Dry time will vary based on the number of layers, amount of glue used, and other factors. Use the Dry Tip (above) or for a more secure bet, wait at least 6 hours (or overnight).
Finally, your frame is dry! Carefully turn it over and remove the backing and sample photo. Clean the inside of the glass, if necessary. Place an image that best signifies the meaning of your new frame. Your image doesn't have to be limited to a photo; it can be anything from a drawing, postcard, magazine cutout, etc.
Carefully put your frame back together and place it in a location that you can admire it from.
By Nancy
Give a "thumbs up" to the solution that worked the best! Do you have a better solution? Click here to share it!
Questions
Here are questions related to Crafts Using Sea Shells.
Is Gorilla glue the best glue for seashells?
By John from London
Ad
---
---
Most Recent Answer

By mr. Tim [1]12/24/2012
NO WAY...messy, impossible to get off your hands and it bubbles up and out as it cures. The best would be either Weldbond (water based) or Goop, aka E-6000 (solvent based). If they are fairly small shells, I would go with the Weldbond glue. I buy it at my local Ace Hwd. store, but it's on-line too.
My 5 year old son picked up a ton of seashells while we were at the coast this past summer and I need Ideas of how to use the sea shells in a crafts. I've decorated a picture frame but there are bunch more and he enjoys crafting. Any ideas?

Christy from El Paso, Texas
Ad
---
---
Most Recent Answer

By Patti (Guest Post)02/17/2009
See my website www.etsy.pattiseashell.com for lots of seashell craft ideas.
I want to glue real sand dollars to my semi gloss painted bathroom walls for a 3-D border look. What kind of glue would I use? I don't want the steam from showers to cause them to fall off.
Has anyone else tried something like this? If so, what were your results?
By Cyndie from Jefferson, GA
---
Most Recent Answer

By Ray S.05/06/2011
I would try hot glue. Small dab on dollar and let cool a bit before placing on wall. Just might not pull paint if you remove it. Would not work in sauna but I've got stuff thats been stuck up for years.
What is the best adhesive for seashell crafting?
By Ann from Port St Lucie, Fl
---
Most Recent Answer

By Elaine [7]09/16/2010
I was just at a craft fair a few weeks back and this gentleman had birdhouses covered in shells, and asked him if they were waterproof and he said yes and told him I have a birdhouse and 100's of shells and didn't know what to use...he told me to use clear bathroom silicone, will make it waterproof! Haven't done it yet, but will try when weather here gets cold, good luck!
What kind of glue would I use to glue seashells to a plastic picture frame?
By gitman from Reseda, CA
---
Most Recent Answer

By bill weaver [1]06/29/2009
Thank you Cyinda. Also do you know where I can purchase this glue?
Can I hot glue shells on a cork poster board to hang in my bathroom?
By Sizy
There is a large shell on the Florida beach, that has a perfect stork shaped face and neck, but is very delicate. I have seen these shell birds made, but don't know how exactly. Most of it would need to be pinched off.
By Benda
Archives
Thrifty Fun has been around so long that many of our pages have been reset several times. Archives are older versions of the page and the feedback that was provided then.
I live across the road from a beach so I find things like shells and fossils. Do you have any ideas what I can do with them? For example, I could collect them for making necklaces, perhaps to sell. Any ideas would be appreciated.
Jen
---
Seashell Wreath
I saw in Woman's Day magazine (6/25/02) where they had made a wreath out of nothing but seashells. In fact, they had colored them. I tore out the page and saved it. Here are the directions they give...
10" plastic-foam wreath
approx. 90 assorted cockle shells and small clam shells (from beach or craft store)
egg dye or liquid food color
1/4 yd. muslin or fabric to match shell colors
1 1/4 yd. each two 1/4" wide grosgrain ribbon in shell colors
tacky glue or glue gun
2 glass containers for dye
measuring cup
paper towels; rubber gloves; apron
serrated knife
1. Create colors for shells following pkg. directions for mixing dye (they used McCormick green and teal). Wash and dry shells collected from the beach.
2. Dye about 2/3 of the shells one color (they used green), 1/3 another color (they used teal), following dye instructions. Air-dry face down on paper towels or use a blow dryer. Re-dye to darken shade to blend or to blend two colors. Color may be uneven due to shell structure, but that is part of the look.
3. Tint fabric in dye if you like, using vinegar in rinse or dye if suggested by manufacturer. Dry and press. Cut or tear long 1" wide strips across width of fabric. Round off front edges of wreath with knife. WRap strips around wreath overlapping edges to cover foam, gluing as you go.
4. Glue mostly green shells along inner and outer edges, then both colors along front, layered to cover gaps.
5. Tie 30" of each ribbon together around wreath in a bow. Slip separate 15" strand under ribbon; tie ends in two overhand knots at desired length for hanging loop. (10/30/2004)
By Tawnda
Baskets
I took sea shells I collected and hot glued them to the outside of baskets I found at a garage sale. Because I am a sea shell collecting geek, I had lots of the same types of shells so that I could create patterns or rows with each kind. (10/31/2004)
By Michelle
Frames
I make presents all the time using bare unpainted mirror/photo frames. In Australia we can buy MDF wood, but I believe it's not allowed in the US (probably for a good reason). I'm sure you can buy cheap untreated frames from craft stores or clearance sales.
I picked some up for $1.50 each so that's pretty thrifty. The ones I bought had mirrors in them which can be taken out. They had wooden backings and tabs that twist open and shut, securing the mirror and backing. If you buy these, then they can have a duel purpose. People can either use them as a mirror or as a picture frame and all they have to do is take the mirror out and replace it with their own photo.
You need frames, PVA wood glue, shells/pebbles (starfish look good as well)... and glitter. Plus a can of clear spray varnish/lacquer
What you do is find your mirror frame or picture frame and arrange your shells how you'd like them... Remember this isn't rocket science... and you don't have to be particularly artistic to make this work.
When you have an idea of what to do, take the shells off and then smear the frame with the PVA glue and arrange the shells how you would like them. Once I even got some colored pencils from my daughter and touched up some of the more boring shells.
When you have the shells embedded in the glue enough for them to stick, sprinkle a little glitter in-between the shells on the glue and a little on the shells as well... but don't overdo it as it can look a little too much.. believe me when I say this as I've done it myself.
When the glue is dried (it dries clear), spray the frames with the clear varnish and allow to dry.
It may sound expensive having to buy all these supplies but I think you may find that you could have some of these things in your garage or storage cupboard already. Most houses have PVA glue.
I was even selling these to a local gift shop and even had a market stall myself, selling them for $20. It's a fun thing to do and I get a lot of enjoyment watching people's faces when they open their present.
God bless (11/18/2004)
By Ozbev
Wall Holder
I took a large poster board, sand colored, and painted light blue streaks on it. Then I cut a small basket in half and hot glue gunned both halves to various positions on the posterboard. Once done I hot glue gunned shells in a kind of purposeful beach pattern on both the board and the baskets. It makes an excellent holder for makeup and other small items since my apartment has no space in the bathroom to put things. (12/26/2004)
By Melissa
Votive Candle Holder
Use them to line a glass container, then put a votive in the middle. The translucent quality of the sea shells makes for a very pretty soft light. (01/18/2005)
By Melody W.
Jewelry
You can make jewelry with them. Take some seashells you like and some thick wire, and poke holes in the seashells. Some seashells you can poke right through with a needle, but for others you need a drill. Experiment! (02/12/2005)
By Gretchen
RE: Looking for Sea Shell Craft Ideas
Here's a couple posts from our archive that may be helpful.
(05/27/2005)
By ThriftyFun
Picture Frames
An idea is decorating photo frames and mirrors with shells, fake coral and beach themed craft products. They always look beautiful. You could sell them at local markets. (10/01/2005)
Hanging a Large Shell
Hang your large shell on the wall using wire plate hangers. (11/10/2005)
By Ursula
Opercula
Some species of seashell have opercula, or "trap doors" that close over the opening. I have heard that in other countries where seashells such as the turbo's are common, the opercula are used as decorations ranging from tiles to cobble stones. (01/19/2006)
By Donald Pelton
Shell Pendants
I make shell jewelry with nothing but a drill, brightly colored ribbons and copper wire. Be creative - you can make some fantastic designs. How about making a really simple shell pendant? Many shells on the beach have natural holes worn in the top, gastropod shells and limpets are the most common. Just string some pretty ribbon through the hole and tie a Chinese knot either side of the shell. you can use 2 smaller shells about 2/3 of the way up the ribbon, secured in place with more knots. If you make the ribbon long enough to go over your head you don't have to worry about fastenings and findings if you're not into beading or wirework. It couldn't be simpler and the results can look stunning. (08/05/2006)
By Jupiter
Website
I recently starting a blog on sea shell jewelry and crafts, soon I plan to create a list of sea shell ideas. Feel free to check out the blog or website for some ideas.
http://www.hbshellsandsea.com (09/22/2006)
By Alan