Crafts Using Sea Shells
This natural material comes in many shapes and sizes and can be a part of some interesting projects. This guide is about crafts using sea shells.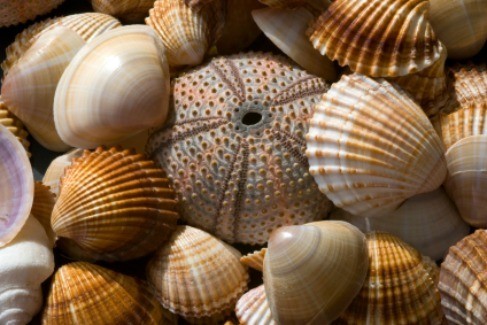 Filter

: All Articles
Sort

: Relevance
This is a gorgeous, romantic, and elegant craft which can be applied to a number of other crafts as an enhancement, although it is completely stunning on its own! The shells (if you live near bodies of water) are free, which is the best part!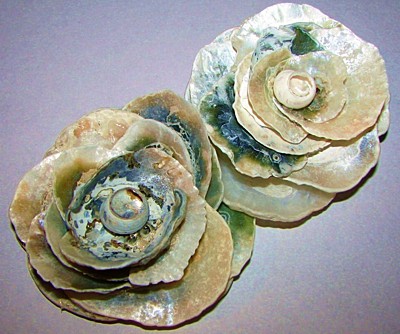 My 5 year old son picked up a ton of seashells while we were at the coast this past summer and I need Ideas of how to use the sea shells in a crafts. I've decorated a picture frame but there are bunch more and he enjoys crafting. Any ideas?

Christy from El Paso, Texas
By guest (Guest Post)
Flag
February 17, 2009
0

found this helpful
I would like to share with all beader friends about making of Sea Shell Jewelry that I posted at my blog.
http://jewelry-skills.blogspot.com Have fun!
By guest (Guest Post)
Flag
February 17, 2009
1

found this helpful
See my website www.etsy.pattiseashell.com for lots of seashell craft ideas.
Read More Answers...
I want to glue real sand dollars to my semi gloss painted bathroom walls for a 3-D border look. What kind of glue would I use? I don't want the steam from showers to cause them to fall off.
Has anyone else tried something like this? If so, what were your results?
By Cyndie from Jefferson, GA
May 5, 2011
0

found this helpful
My son stuck CDs all around the top of his walls like a border using the blue sticky tac that you use for posters and so in schools and offices. They stayed up for years, until he moved out of the room. Sand dollars, the ones I have seen, are quite small and light, and I think the blue tac would hold them. I don't think that the humidity would be a problem. Sometimes this blue tac takes off little chunks of paint if it is stuck on the wall for years, but you would have less trouble with this than with any kind of glue. I would try this blue tac before I tried glue, as it will be easy to stick the sand dollars to the wall with it (no drying time) and they will be easy to remove if you want a change or need to clean them. Try it and let us know how it works.
May 6, 2011
0

found this helpful
I would try hot glue. Small dab on dollar and let cool a bit before placing on wall. Just might not pull paint if you remove it. Would not work in sauna but I've got stuff thats been stuck up for years.
Read More Answers...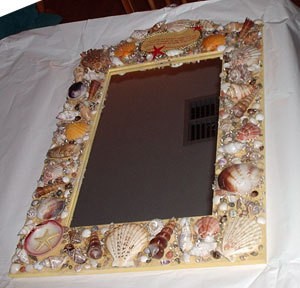 I previously replied to a request of what to do with excess shells. I explained how I decorated wooden or chipboard (MDF in Australia) mirror or picture frames with shells.

I recently made one for a friend who celebrated her 40th birthday on the weekend. She was delighted with it so I thought I'd share the picture I took and how I made it.

Firstly, clean the frame with a dry cloth to get rid of any dust and grime. I chose acrylic paints in tubes and used a bristle brush in a circular and criss-cross fashion to give it a suede look. In this particular instance I chose a bright yellow with cream overtones to make it less bright.

I painted both the front, back and the backing piece to the mirror.

While the paint was drying I went onto the computer using the Word Art tool. For the uninitiated, you go to the Insert tab, then scroll down to picture, and across to a menu, until you find Word Art. It will let you type in whatever you want and give you options for colours and the shapes of the text you want. What it does is that your text will go in waves or whatever shape you have chosen. It can give your text a nice touch.

I then cut out the text and also cut enough gold braid to go around the cut out paper. That way it defined the text and showed me where the shells should stop. I then spread PVC glue (wood glue) thickly onto the frame in sections and placed the shells (big and large) in a haphazard way. If you become too regimented about symmetry, it can look too contrived. On the top where I placed the text and trim, I found a nice small colourful starfish to cover the join in the gold trim. It covered it up nicely.

Before the glue dries, sprinkle gold and silver glitter (not too large grade) in amongst the shells and inbetween where the smaller shells are. In between the bigger shells I had placed minute tiny shells to take up the spaces in between the larger shells. I found a zip lock pack of tiny mother of pearl coloured tiny shells. Ideal for filling in spaces and giving added colour. If you have larger shells that may look a little boring, don't be discouraged. I found I needed some fan shells, but the ones I had were old and had lost their colour. I grabbed my youngest's pencil case and used some of her pencils to add a bit of colour. As you ended up spraying the whole piece anyway, the colour won't fade.

Once the glue has dried clear and hard, spray with a clear matte or shiny spray varnish (lacquer) to seal everything. The glitter will fall off if not sealed properly.

You don't have to have a message or text up top of the mirror, that's just what I chose for this particular frame. I included a scripture verse about God throwing our sins into the depths of the ocean, which I thought was really appropriate since I was using shells- and added a note to the verse which said, "And that means absolutely no fishing!"

There you have it, a really inexpensive present which ended up looking like a million dollars and great fun making it. My 14 year old daughter and I had so much fun making this present and it gave us some time together. You can even get your littlies in on the action, placing a shell here and there and it makes them feel special as well because they're able to help out.

Enjoy!

Regards

Bev in Western Australia
How do I put silver edging on a seashell?
By Tonya from North Port, FL
January 26, 2011
0

found this helpful
If you're talking about "real silver edging", then you must of course, use melted silver, being careful to just dip the shell edges in the liquid silver. This method requires the most costly way of silver edging, and some of the more expensive tools etc. If you're just wanting to make decorative shells, then you can buy an acrylic metallic bright silver paint and a tiny fine line artist brush.
I have added a "silver blush" with Bright Silver Accent or Rub N Buff. Any sort of shell collecting and work is very rewarding as sea shells are already perfectly shaped and naturally formed into the most beautiful bits of art.
Have fun and good luck. Hope this helps.
Pookarina (5th Generation Native Floridian)
January 27, 2011
0

found this helpful
For just a quick edging of silver sparkle, get some clear finger nail polish with silver flecks in it. It gives great highlights, and you don't have to be too very accurate. Have fun!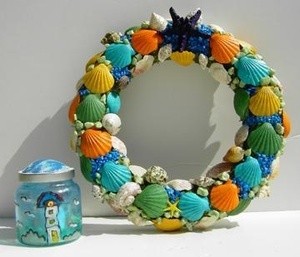 Supplies
dollar store Styrofoam wreath
hot glue gun
gollar store shells and colored rocks
clear sealer
glass candle kolder
glass paints (optional)
Directions
I painted some of the shells, but they can be left plain.
Glue them however you want them.
Spray with clear sealer, makes it shine.
The candle holder is glass painted, I buy glass paints only when they are on sale.
This looks beautiful in your bathroom and you can use colors that match in yours.
By Sheri from Stockton, CA
Is Gorilla glue the best glue for seashells?
By John from London
December 24, 2012
0

found this helpful
NO WAY...messy, impossible to get off your hands and it bubbles up and out as it cures. The best would be either Weldbond (water based) or Goop, aka E-6000 (solvent based). If they are fairly small shells, I would go with the Weldbond glue. I buy it at my local Ace Hwd. store, but it's on-line too.
Ever collected shells at the beach or just admired their natural beauty? Frames decorated in shells are always distinct (no two shells are the same), stimulate personal or collective creativity, and evoke a peaceful and harmonious atmosphere for years to come.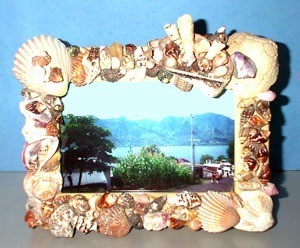 What is the best adhesive for seashell crafting?
By Ann from Port St Lucie, Fl
September 11, 2010
0

found this helpful
I am not certain but if I was going to glue together sea shells I would try Clear Silicone. It sticks to just about any surface and once it sets it is like a rubbery bound. If you need the gluing to be really stiff I would not use it but for attaching seashells together or to something else as decoration. That is what I would try first.
September 16, 2010
0

found this helpful
I was just at a craft fair a few weeks back and this gentleman had birdhouses covered in shells, and asked him if they were waterproof and he said yes and told him I have a birdhouse and 100's of shells and didn't know what to use...he told me to use clear bathroom silicone, will make it waterproof! Haven't done it yet, but will try when weather here gets cold, good luck!
This was one of the most fun and memorable things we ever did on a beach vacation with the kids. Sandycast faces made with sea shells.
Comb the beach for great sea shells, broken ones can be cool. Collect shells in a used onion bag, it makes it easier to wash off the sand before you use them or take them home.
Bring some plaster of Paris and an old beach pail and something sturdy to mix it with. Make a shallow, face shaped hole in the sand on the beach. Chose the shells you want to use for eyes, nose, mouth, etc. Keep the shells faced up to see the effect of how they will look when completed.
Reverse the shells and pour the plaster of Paris into the shallow hole. Carve your initials and year on the back. Give it enough time to set before you uncast it. Do not brush too much sand off of the sandycast.
Everyone will love them! They can be displayed on a plate stand because no one will want to put them away too soon. Have fun making memories, kids!
Source: Family Fun Magazine, many moons ago.
By Mother Goose from Royalston, MA
Related
© 1997-2016 by Cumuli, Inc. All Rights Reserved. Published by
ThriftyFun
.
Page
generated on August 21, 2016 at 8:03:36 PM on 10.0.1.53 in 8 seconds. Use of this web site constitutes acceptance of ThriftyFun's
Disclaimer
and
Privacy Policy
. If you have any problems or suggestions feel free to
Contact Us
.