My dog hasn't eaten for 10 days today. She is a Dachshund and is 4 years old. We have taken her to two vets and they have done all the tests possible, xrays, you name it. Right now she is dying so if someone can please give us some advice. We have tried all dog and human foods even junk food such as Mcdonald's and KFC. Please help.
By Donovan from Middelburg, South Africa
April 20, 2009
0

found this helpful
Best Answer
You need to see a different vet. Go to a specialty hospital in your area. Force feeding could lead to him getting sicker! Good luck
August 29, 2016
0

found this helpful
My dog was in the same situation as urs was, I started giving my dog "satin balls" high protein calories, then I bought some vitamins and protein bites from bullymax!! Yes they work I was very very sceptical but was proven wrong. If you need the recipe for the satin balls or more info for the bully max feel free to email me then I'll give u the info.. my dog weighed 92 lbs she was 11 months old, then went to 65 lbs , after all this she's now 86lbs and continues to improve everyday ..ohhh yes I have a full blooded German rottweiler akc registered . I love all animals so I'll help u where ever I can when I can. Thanks rottiedadman.(Marc)
What can I feed my small dog he only weights 12 pounds? I have tried everything on the market and he will only eat a few bites. All he wants is people food and that's not good for him. I have even made homemade gravy to pour over his food. Should I try canned cat food or dry? That I haven't done yet. I'm going crazy over this dog I call Beanie. Please can you help?
Thanks.
By Gloria from Cedar City
August 24, 2011
0

found this helpful
Best Answer
Sometimes, warming up the food helps. What food are you feeding? I am no expert. I do not know if puppy is eating kibble or not, but if she is, you can add warm water to kibble. It should bring up aroma and she may want to eat it more.
Or is it possible that you are putting the food out all day long? If so, you can feed it only when it is meal time.
July 29, 2016
0

found this helpful
Add a small amount of grilled chicken
Today I rescued a small Yorkie; he was in the middle of a very busy road. He acts very skittish as if he's either been beaten or on his own for a long time. I've tried to feed him and give him water with no success! He's very bony and little and it worries me that there might be something else wrong. I always take a gamble bringing rescued animals into my house with other animals. I have two cats and another dog inside and I am terrified that this little Yorkie has something! When I picked him up he was panting very hard. He did drink a tiny bit of water out of my hand, but other than that he hasn't eaten or drunk anything since 1 o'clock this afternoon. Please help me figure this out.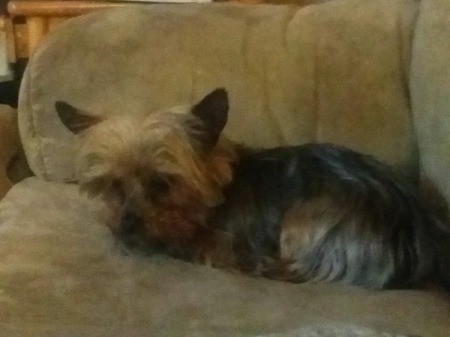 June 16, 2015
0

found this helpful
Best Answer
Try a little chicken broth.
June 17, 2015
0

found this helpful
This dog needs to go to a licensed animal rescue or no-kill shelter.
You are putting all your animals in danger by bringing a possibly sick, possibly unvaccinated dog into your home.
It is true that stressed dogs rarely eat or drink. However, sick dogs often don't either, and without lab tests there's no way of knowing.
Also, it's pretty much guaranteed that someone is looking for their apparently purebred Yorkie. I'd be surprised if this was truly an unwanted pet.
I have one year old cross breed terrier, Lucky. She is not eating well, only one or two bites. She is drinking OK. Most of the time she looks active, but some times she is sleeping. She also seems to be licking quite a bit. I don't like seeing her so skinny and bony. Any suggestions? Every day I am crying for her!
August 26, 2016
0

found this helpful
Try changing her food to something more interesting. Serve the food warm to bring out the smells. Maybe cook up a lovely meat stew or casserole with a few veges hidden it like carrot & pumpkin . There is a product you can buy which is a vitamin mix that is in a tube. You rub a tsp size piece of this around the dogs gums & this can often stimulate the taste buds which may get the dog to eat.[You may need to go to a pet store or a vets office to buy this ] In aussie it's called Nutrigel vitamin concentrate.
August 27, 2016
0

found this helpful
Also try buying a cheap cut of meat like gravy beef - remove most of the fat. Fry it off in a pan. Once cool slice it up & see if the dog eats it. Highly likely it will eat all that you give it. With my dog I chop some of this meat up & sprinkle it over her tinned dog food & she eats everything then. Best wishes.
We have a one year old German Shepherd and she will either eat a lot of dry dog food then throw up or goes days eating very little. My vet said to feed her small portions and there has been no change. She throws up at least 1 a week. I have tried making food for her such as chicken, steak, etc.
Missy's ribs are also showing, but the research I have done says that this is normal for German Shepherd until they get older. I will take any suggestions and may need to try to find another vet.
Thanks
By tsnowman from Lynchburg, VA
January 9, 2015
0

found this helpful
Best Answer
1. Get a new vet. Yours is not helping.
2. In the meantime, try the tennis ball method suggested, or individual portions in a muffin tin.
3. As also suggested, feed a high quality, nutrition dense food. I would suggest a soy-free grain-free food in case allergies are your problem.
Good luck.
July 3, 2016
0

found this helpful
I also have a german shepherd and gave it worm pill two days ago but stil wont eat he only drinks milk and wants oats. He also slips a lot I nid help please his only 3months help
My 17 yr old dog has totally quit eating her food. I tried to ignore it as usually a dog will go back to eating once hungry enough. She lost 10 plus pounds and I have given her cat food and baby food and she gobbles up both. She will not eat chicken broth either I tried that. At 17 and being so skinny is cat food really that bad for her? I have been mixing rice in with the food to keep her from getting the runs.
By Courtney
December 10, 2012
0

found this helpful
Best Answer
Bless you for trying to keep your old dog happy and healthy. I dont see any problem with feeding her cat food or baby food. One thing to consider is whether she has a dental problem. This can cause dogs to stop eating food that may hurt a bad tooth. It might be a good idea to have that checked out. Best of luck to you both.
April 30, 2014
0

found this helpful
I'm sorry, I don't think it's ever a good idea to give a dog cat food :( especially an older dog. Your dog probably has a health issue or doesn't feel well and can't tell you. I have an older dog too. He is an 11 year old healer about 40lbs. He sometimes gets stomach upsets and sometimes actually throws up. He won't eat his regular kibble most of the time.
I cook brown rice and give about a 1/2 cup at a time either mixed with kibble or plain depending on how well he's doing. He loves it and I have been able to keep weight on him. I have started giving brown rice to the 3 other dogs because it is so good for them. I have also just started giving him about 1/4 cup of mashed pumpkin with his kibble.
You can buy that in a can next to pumpkin pie filling. Make sure the can you grab says 100% pumpkin if you get it for your dog. Pie filling has spices in it, do not use it. Since I have started doing this he's eating better and feeling better too :-) my fussy chiweenie and pomchi even eat there kibble with a little mixed in. You may want to give your dog 3 - 4 smaller meals a day of brown rice to help get weight back. :-) Good luck!