Preventing Grainy Fudge
Homemade fudge is a delicious treat. However, on occasion rather that the smooth creamy texture you were hoping for it turns out grainy. This is a guide about preventing grainy fudge.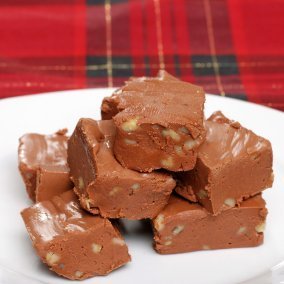 Filter

: All Articles
Sort

: Relevance
Before putting ingredients in pan, butter the sides of pan or spray with Pam. When your fudge starts to boil, cover pan with lid for a couple of minutes and then remove. I also wash sugar from the spoon you first stirred with. I have made fudge for many years and it is never grainy. I hope this helps.
By Faye from White, GA
I made fudge last night and it came out grainy. My mom told me about your site today and I read about the cream of tartar. My question is this, I have not thrown it out and I am wondering if I can still fix it? It is in a 13X9 inch pan and is cold. Can I reheat it and add the tartar? I made a double batch and it is a lot of ingredients. I would like to salvage it if I still can. Help!
By Marsha L. from Asheville, NC
January 11, 2016
0

found this helpful
I know, me too! My coworker made this amazing tasting semi-grainy fudge that I loved. I have been purposely trying to screw up my fudge to get it to acquire a grainy texture, but no luck so far! It keeps coming out smooth and of an in-between consistency (not hard/not too soft). I have violated all the rules of fudge making with no luck so far. I keep getting smooth fudge of a very delicate texture (very smooth). I will give it another go tonight and see if I can end up with grainy fudge.
July 31, 2016
0

found this helpful
Yes, I happen to prefer a slightly grainy or gritty texture in peanut butter fudge. : ) D. Wynne
Read More Answers...
I make fudge for a living. What I do is melt cooking chocolate buttons or block chocolate in a double boiler with water underneath (take 500 grams of chocolate to 1 can sweetened condensed milk). Melt the chocolate first, then take it off the stove and pour in the can of condensed milk.
Don't panic if it starts to thicken too much, just put it back over the heat and beat it as fast as you can with a wooden spoon. It will start to shine. Pour into a tray lined with baking paper (all the way over the sides) while holding it tight with wooden clothes pegs. No more grainy fudge.
Just a Quick Tip: Don't have the water too close to the top of the boiler, and don't have the water too hot, just a rolling simmer.
Good luck!
Gail
Source: google website and lots of practice
By Gail from Queensland, Australia
My fudge is grainy and not completely setting; can I fix it somehow?
By Cynthia
December 21, 2015
0

found this helpful
The fantasy fudge recipe can be grainy too, even when cooked exactly as the marshmallow jar states. I will try cream of tartar and I will make sure the sugar is cane sugar next time.
December 23, 2015
0

found this helpful
That is the exact recipie that I have been using for years. It has always turned out perfect. This time it is grainy. I am so disappointed.
Read More Answers...
I have read many of the posts, but have a few questions. Mine seems fine until I remove it from the heat and add the chocolate chips. Suddenly it becomes sandy/gritty and I have to try and save it. This happened even with adding cream of tartar right before removing from heat. Am I adding the tartar too late? And should I not be stirring it constantly from the get-go?
Help :-(
By TC from OR
February 8, 2015
0

found this helpful
Found this amusing site "the big bake theory" All Things Sweet-the science of fudge, for your fudgie problem:
The best way I've found to prevent fudge from turning gritty is to add 1/2 teaspoon cream of tartar for every 2.5 pounds of sugar used. Cream of tartar actually inhibits the sugar recrystallization process.
OK, I followed my fudge making recipe to the letter. It's hardened, but is still sugary/grainy? I melted the sugar, butter, and milk together and brought to the boil. I left it boiling for over 20mins until finally the temp. was reached, 116 degrees C. Then I took it off the boil and left for 5 mins. Then put the pan in cold water whilst beating my fudge.
Is it now where I went wrong as I didn't stir the mixture until thick, I was still able to pour the mixture into my square tin?
Please help as this is my 2nd attempt and I don't seem to be getting any closer to the correct fudge :(
Thanks in advance x.
By Michelle
June 21, 2013
0

found this helpful
I have an old candy cookbook from the Farm Journal. They say the two most common errors are beating the candy too soon or too little. I think that you may have cooked the candy a little too long. The method calls for cooking until soft ball stage (236-238 degrees F) which I think would be a little less than 116 degrees C.
When you cook and stir the candy initially until the sugar dissolves, be sure to wipe off any sugar crystals from the side of the pan before proceeding to the next step. You can use a moistened pastry brush to do that or a moist paper towel. After removing from the heat and adding the butter, let it stand at room temp without disturbing until it cools to lukewarm (110 degrees F). Beating it before it cools to lukewarm will result in graininess. Then add the vanilla and start beating until it loses its gloss and starts to thicken. Pour it quickly into a buttered pan. Don't scrape the cooking pan.
A couple other tips: When beating, beat until a small amount dropped from a spoon holds its shape.
If it balks on spreading evenly in the pan, knead it a few times with your fingers.
June 21, 2013
0

found this helpful
Another thing to cause candy to be grainy is if the sugar is not pure cane sugar. C & H is pure cane sugar. Some store brands are not. Check the bag.
My fudge seemed fine through all the steps, but ended up tasting quite sugary. It had boiled to 238 degrees F so it doesn't seem possible that the sugar didn't dissolve. I used the recipe that uses semisweet chocolate squares, condensed milk, marshmallow in a jar, and sugar. It has always turned out great, like old fashioned fudge. Any ideas on the sugariness?
By HB
December 20, 2012
0

found this helpful
Make sure you are using using pure cane sugar.
September 10, 2013
0

found this helpful
There is no recipe that calls for sugar, marshmallow fluff, and condensed milk. You were looking for evaporated milk. You effectively doubled the sugar in the recipe, because condensed milk has a ton of sugar in it, while evaporated milk has none. Try again. Common enough mistake.
When I make my fudge it always comes out gritty. The recipe I use does not tell me how long to boil the sugar, milk, and salt, or what temperature to bring it to. I first thought it was the chocolate chips not melting correctly, so I tried to grate them so they would melt thoroughly, but the fudge still came out with a gritty texture. What am I doing wrong? Please help me.
By Eillen B
December 7, 2011
0

found this helpful
This fudge is so easy its hard to believe... one 12 ounce bag of chocolate chips and container of chocolate frosting. I like to add a tsp. of vanilla also. sometimes nuts.
Directions melt chocolate chips in microwave.( quart measuring cup is a good size) nuke 1 minute at a time, stirring each time till melted. Stir in frosting and vanilla etc. and spread in a 8 in by 8 in pan.
Refrigerate for awhile. My husband loves this better than any we have ever bought, a friend's family ate it all in 10 min. Hope this helps.
December 7, 2011
0

found this helpful
I just made the fudge on the back of the container of marshmallow cream. It turned out wonderfully smooth. I will be making this again.
When making fudge, add 1/4 cup of clear Karo syrup to the ingredients. This stabilizes the fudge and it will not be gritty or chewy.
Related
© 1997-2016 by Cumuli, Inc. All Rights Reserved. Published by
ThriftyFun
.
Page
generated on August 28, 2016 at 3:30:03 PM on 10.0.1.204 in 3 seconds. Use of this web site constitutes acceptance of ThriftyFun's
Disclaimer
and
Privacy Policy
. If you have any problems or suggestions feel free to
Contact Us
.