Avocado trees whether grown from seed or purchased from a nursery will need to proper care to thrive. This is a guide about caring for an avocado tree.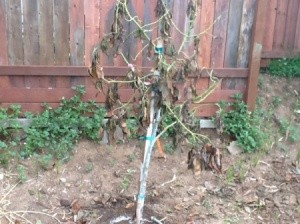 I recently planted a 5yr old avocado tree that was beginning to flower. I (thought) I did everything I was supposed when planting, including fresh soil and deep watering, but since I planted the tree all the leaves have died and turned brown, but the branches are still green. It has been about three weeks since planting. I have sprinklers set to twice a week, but if am wondering if it is not getting enough water from them. I have deep watered only twice since planting. The tree sits on the north east end of my yard and gets plenty of sun after about 10am. Does it sound like the tree can recover? If so, what do I need to do?
By Shawn H.
October 13, 2015
0

found this helpful
Your plant is experiencing transplant shock your prior growing media to that of the ground it is in, is totally different in nutrients (nitrogen and etc levels) so all former growth from old media will die back and new growth from what's in the ground it's now in will come forth in time as it adjusts. Next time if planning on planting in ground do it sooner, the sooner the better as for no shock , & you will want to manage the climate because if outside doesn't match 5 years inside temperature more shock there don't water too often one good deep watering is needed then wait 20 days or so remember now it have to adjust to the natural rain water schedule less of your maintenance. Stay blessed & don't worry should be fine & hopefully you transplanted iparound spring and summer
October 13, 2015
1

found this helpful
Avocados can handle winter temperatures if prepped the right way every avo I had survived winter in my house and it probably gets around 50 degrees to 45 the least until I use heat. When planting avocado you can burry seed or display half since seed will eventually rot, display half so when rotting is spotted you can simply remove the huge stale seed note only when the avo is ready though! Else you would be depleting it of butrients, avocados is very finicky plants they like loose soil and damp to dry soil and indirect light and some full sun is required, with out it slow growth and leggy plant will happen. As far as brown leaves check for over watering, over fertilizing and or root bound, or insufficient lighting, all is fixable if root bound repot cut back dead black roots and the main tap root a couple inches to encourage more root branch out growth . Fertilize lightly for avocados half the recomended and probably once every two three months , with all these factors new leaves will grow back just monitor plant.
Read More Answers...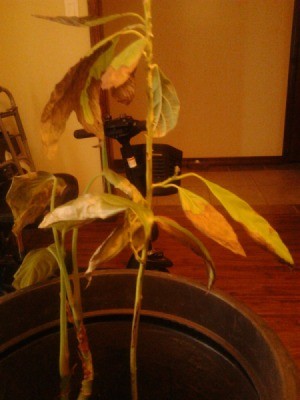 I currently have 5 avocado trees no taller than 1 foot. It seems, no matter how hard I try I can't keep them alive past 1 year. The leaves have fallen off all 5 plants. I only water them every 10-14 days. As we speak the soil is comfortably moist. It's so aggravating because I literally can grow anything. Perhaps I'm paying them too much attention?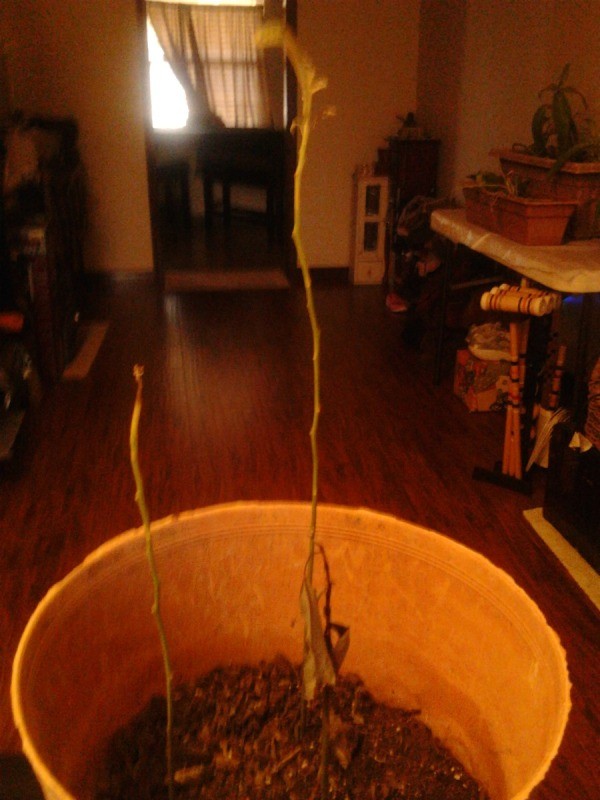 By Lorelei N.
August 2, 2015
2

found this helpful
I can't really tell much from the pictures, but I have a few suggestions. I've had a lot of luck growing avocados indoors in Canada and I'm pretty familiar with some of the problems that you can run into with these plants (e.g., root damage, sciarid flies). Although I can't quite tell what the problem is from the pictures, I have a few suggestions that might help.
First, you should no plant multiple avocado plants together in the same pot. Avocado tree roots like to spread out and do not deal well with crowding. If planted together in the same pot, the plants can strangle one another (untangling them when this happens is horrible, trust me). Planting them together in the same pot can also mean that any diseases are easily transferred between the plants. The pot can also become root bound extremely quickly with multiple plants, meaning that the plants will stop getting adequate water and nutrients in a matter of months. For example, if you put two avocado trees in a pot that is the ideal size for one plant, the pot become root bound in half the time (i.e., 6 months instead of 12); the smaller the pot (or the less soil in the pot) the bigger a problem this becomes. It is best to put each seedling in its own pot that is fill 9/10 with fertilizer.
Second, you need to put the plants in a window that gets a lot of direct sunlight. If the plants don't get enough sunlight, they won't be able to produce enough nutrients to support their leaves (extra fertilizer will not fix this, either). A lack of sunlight can cause the leaves to yellow, then brown and fall off. If you live in a basement or anywhere that doesn't get at least 6 hours of sunlight in the spring and summer, the avocado trees won't last long.
Third, if your plants are on the ground floor directly adjacent to the window, you will eventually end up with sciarid flies. These flies look like fruit flies, but they have black, vein-less wings and kind of aimlessly flutter around the pots. If you can't catch one to examine to check if it is a sciarid fly, breathe on them. Sciarid flies are attracted to carbon dioxide and will fly all around your face when you exhale. The adult flies will munch on any dead leaves that are in the pot and will lay eggs in moist soil. The larvae are what you really need to worry about: after hatching, sciarid larvae eat the roots of the plant. These larvae can be devastating for seedlings. The easiest way to protect against them is to put up sticky fly traps and apple cider vinegar traps to kill the adults, and put a 1-2 inch layer of pebbles in the last 1/10 of your pot. If the adults can't reach the soil, then they can't lay their eggs, and then the larvae can't destroy your plants' roots.
Fourth, avocado trees require a more nitrogen rich fertilizer than most plants. The nitrogen helps support growth. Most fertilizer bags will have three numbers on the front to indicate the percentage of nitrogen, phosphate, and potash. Well-balanced potting soil for indoor plants (considered safe to use on a variety of houseplants) typically has about .2% nitrogen, which is extremely low for an avocado tree. Avocado trees will require something closer to 6% nitrogen to really thrive. Adding fertilizer to your potting soil every month or so can help give your plants the nitrogen they need.
Fifth, avocado trees like fast draining soil; they like it when the soil is moist, but they don't want to be in a puddle. There are a lot of people who suggest putting gravel at the bottom of pots, but DO NOT DO THIS. Avocado tree roots grow down as well as out, and they will seek out areas in the pot that have the most moisture (i.e., the bottom of the pot). In addition to limiting the amount of space the roots have to grow, if you put gravel at the bottom, the roots will very likely wrap themselves around the rocks, making it more likely that you will damage the plant when re-potting. Having drainage holes at the bottom of the pot is fine for draining excess water.
Finally, sometimes you just get a bad seed. Last year I sprouted five avocado trees. One of the sprouts, no matter what I did, would grow a few leaves and then lose them a couple weeks later. It ended up dying after about a year. The other four trees, however, that were grown in identical conditions, are all fine (one of them is more than 4 feet tall). For whatever reason, every now and then you'll get a seed that just doesn't take.
I hope this helps!
Cari
March 11, 2016
0

found this helpful
Cari, this was great to know about the tiny, bugs. I didn't think twice about these tiny pests. I thought they were fruit flies. Looks like I have some changes to make here soon.
I wanted to comment because I have been trying to do avo plants since 2008. No matter what, for two years struggled to get them to root. Suggested by a friend to put the seed in a cupboard. because the darkness would enhance the root. Whatever the case may be, it worked, however doing this for some time now, I get them to root in soil (although is longer) and water, and in the sunlight, and in the cupboard.
The issue is I haven't had them live past 3 years old. I moved back to Oregon from California a couple years ago, and one tree is going on 3 years old. It's from my family's tree. The other four are from store bought avocados. Each one is slightly different because their leaves are different. My 3-year old, started to get black on top of the stem last December. Worried, because this black sucks the life out of the plant and kills my tree. This time, I thought I'd check to confirm if it's the roots. And surely the roots were brittle and mostly dark brown, tan, and limp. I cut what I thought was the dying roots.
I went to local garden shops, one of them, the man is from Santa Monica, but there is no knowledge on avocados. I search online and I get the name of a fungus. I never know if it applies or not. I took a risk and transplanted the tree in new pot and new bought soil in hopes to bring it back to life. Then I cut the "rotten" roots. The next day all the leaves just drooped and died. My poor plant went into massive shock, December was snowy, and chilly out but we keep the heat on, I should also say we went away for Thanksgiving weekend, no heat was on in the house and I think that's what started this situation, we saw our breath inside our place :(
I didn't want to remove the leaves but I did. I cut off the black inch on top, and then wrapped the top with a small plastic baggy. I did add (Hydrozyme & Thrive Alive B-1 Green) to the new soil in hopes to rejuvenate the healthy roots.
I placed back into its normal spot, and just left it alone.
Just last month I noticed a bud developing. With super joy, my naked tree was not dead. The black didn't spread, and at the base (now) is a sprouting stem leaf.
However, I just watered all my plants last weekend. (Typically once a week and skip a week for the avo trees) Today I noticed there is blackening at the top, again. I am afraid I watered it when I shouldn't have. I have cut the tops like this before previous years, but that never stopped the black from coming back down.
I have great levels of pH on all the trees I've checked them and they're around 6-6.5. Which I'm told is what they like.
Any thoughts on this blackening top? The stem is about 13"... But to be fair, I watered because of the new sprouting :( I'm so bummed.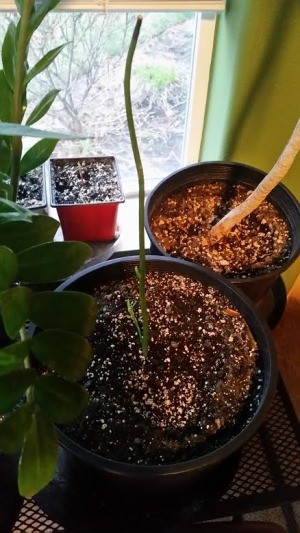 Read More Answers...
I have a mature 10 ft 8 yr old avocado tree and the leaves are turning yellow and the 30+ fruit on the tree are red skinned, but turn brown when picked and stored. It's close to another avocado tree which has the normal dark green leaves. It receives normal fertilizer annually. We are 200 meters from sea. Other avocado trees nearby in the settlement are normal. Is my tree dying or can it be saved? Thanks for any help.
By Allan M
September 13, 2011
0

found this helpful
Hi Allan... Well, I did a quick check. Went to AskJeeves (well, I guess it's just Ask now!) and got to a section of eHow.com that talked about avocados in Florida. I went there because they mentioned red. There is a Hardee avocado with red skin. Also a Puebla and Gotfried, they have purple skin.
I messed around at that site a bit and found info on yellowing leaves: Yellowing leaves indicate iron deficiency, that can be caused by over-watering or lack of nutrients. They say a chelated foliar spray containing iron will correct this deficiency. Don't know your feeding setup, but they suggest they be given a multipurpose fertilizer 4x a year.
Hope this helps. I so would like to grow some avocado trees, but just about the time I think I'm settling in somewhere I move! I have 'grown' avocados from seed from time to time, ever since I was a little gal! They don't get too big n bushy for me, tho. Some day, some day! Best wishes, good luck!
April 5, 2012
0

found this helpful
Beware fertilizing avocado trees too often. In So Cali they grow perfectly fine with very little...sometimes no fertilizer.
Read More Answers...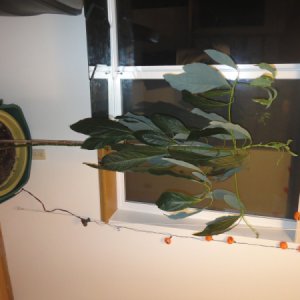 Please help me I am in desperate need of assistance. I live in East Lansing, Michigan and have been growing an indoor Avocado plant since this summer. Everything seemed to be going very well until recently.
Firstly, let me say that I do not know the type of seed nor have I ever pruned my tree (I don't know how to or if I should). Right now, my plant is a little taller than 1 foot. It is pretty straight up (spindly) and gets a good amount of sunlight.
Here is the problem: recently, I have noticed that almost all of the leaves have fallen off. There are still a few leaves at the top and there even appears to be new leaves sprouting from the very top. Some of the larger leaves literally fell off at the slightest touch. Is this simply a natural phase my plant is going through or are there any measures I should be taking to improve my plant's health.
I would be really upset if it died and would really appreciate any help you can provide. I do not give it plant food, but I do have it planted in potting soil containing time release plant food. How often should I completely change all the soil and how do I do that without damaging the tree?

So, in sum, why is my plant so ugly (for lack of a better word)? why are all the leaves falling off? What kind of soil and/or plant food would you recommend? Should I change the soil? If so, how do I do it? And finally, should I prune it? If so, how do I do it?

Please help.
Hardiness Zone: 6a
By attys from East Lansing, MI
October 2, 2009
0

found this helpful
I think you may have over watered it. If that is the case it probably will not make it, sorry. I would not feed it either we have never fed ours and we have about 30 trees(my hubby just can;t throw those seeds away!). Let it dry out a little between watering, then water completely till it runs out the bottom, but do not let it sit in water.
I usually cut mine back at about a foot high down to 6" or so. Avocados do not like to be repotted, that is why they suggest to first pot it in a fairly large pot. Remember It is really easy to start a new one if yours does not make it and fairly inexpensive. Think guacamole, yum. Just google starting avocado trees and you will get lots of help.
Hope this helps, good luck!