Because of its composition, removing pet urine stains and odors from laminate flooring may seem daunting. This is a guide about removing pet urine stains and odors from laminate flooring.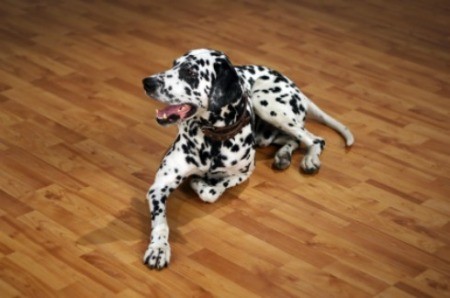 By jessie 1
I have wood laminate floors through out my living room. When I had a rug down, one of my cats started peeing on the corner of it. When I realized, she had done it so much, that it seeped through the rug to the floor. I picked up the rug and cleaned the floor.
Now, my dog thinks she can pee there. I have used Nature's Miracle, vinegar, and just about every pet stain/odor thing I can get my hands on; however, she continues to use this same spot. It isn't as often as it used to be, but she still does it!
I am going crazy. It's ruining the laminate (it's warped now) and the urine has touched other pieces of furniture.
So, any advice? (sorry this was so long)
By Jessie from Baton Rouge, LA
---
Most Recent Answer
March 2, 2011
Our house has laminate and the previous owners cats peed everywhere. It was an awful smell. We ran air purifiers then cleaned every surface before moving in. We've had no more problems. You probably can't do that. I would cut out just a little bit more than the actual spot itself, and glue in more rather than replacing the whole section. Unless you have a piece from the original install you cannot match laminate, they change the colors constantly so you'll have to replace the whole floor. (Always good idea to buy extra) consider cutting a piece out of a closet or somewhere unnoticeable so the living room will match and put the unlatching piece in the closet!
---
By Gary 1
I have a laminate floor that is 3 yrs old. I got a new dog and he marks the floor when I leave home. I have wiped up the urine mess every time I come home, but it has left stains on the laminate that seem to be permanent. I have tried several cleaners that remove pet stains and they have done nothing. My floor looks terrible now. Is there anything I can use to remove these stain marks on my floor? Please help!
By Gary from AZ
---
Most Recent Answer
October 7, 2010
I would suggest the vinegar too. It is suppose to get rid of urine smells, plus it kills germs.
---
I am looking for advice about removing cat urine odor from laminate flooring.

Kay from Atlanta, GA
---
Most Recent Answer
By guest (Guest Post) Flag
August 12, 2007
I just read a posting on removing urine smell from concrete and/or wood flooring, and they suggested white vinegar. I too have a laminate floor, and I am giving it a whirl. Hope it works.
---
I have a problem with dog urine odor on our laminate floor. Our dog was left with our adult kids looking in on him. Possibly someone missed their turn. The dog flooded a room with urine, enough that they had to use a furniture blanket to soak up the urine. I believe the urine soaked under the baseboard and into the joints where the laminate fits together. What can I use to eliminate the odor? The floor does not appear damaged or buckled in any way. I have tried spray from the pet store, but cannot remove the smell.
By Linda S.
---
Most Recent Answer
Embarrassing question, but here goes. I have two Shih tzus who are older and have starting peeing on my laminate floor. Is there any way to get the smell out? They have ruined my floor, of course, but I can't replace it right now. I have used Clorox when mopping, vinegar, plain water, and Pinesol. Nothing helps long-term. I even emailed Pergo asking for help and of course got no response.

By Elaine B.
---
Most Recent Answer
By Meghan G. 1
I have a new puppy that has had a few accidents on my wood laminate flooring. I try to catch it, but there were a few times that it has happened while at work. It hasn't ruined the floor, but the smell is starting to get bad. I clean my floor everyday about 2x to 3x a day. I've tried the pet store products, but nothing has worked. Any advice on getting rid of the smell?
Our new puppy has had several accidents on our wood laminate flooring. We wipe it up as soon as we find it, but it seems to be removing the finish off of the floor. Is there any way to fix this? Thanks for any suggestions you can offer.
By Marty