Norfolk Pine Needles Turning Brown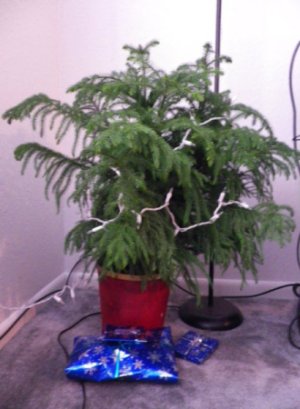 It is common to see Norfolk pines for sale in the winter, but for many people these beautiful trees turn brown rather quickly. This is a guide about
Norfolk pine needles turning brown
.
Questions
Ask a QuestionHere are the questions asked by community members. Read on to see the answers provided by the ThriftyFun community or ask a new question.
December 31, 2012
1

found this helpful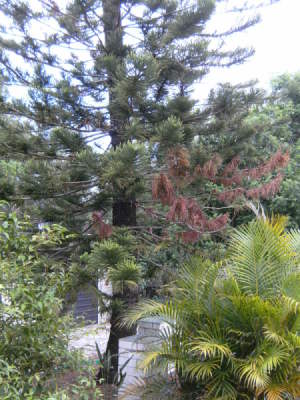 We live in Queensland, Australia and have a large Norfolk pine outside of our home. Our tree suddenly has brown branches mainly on the bottom, but it creeps to the top. We give it a lot of water in dry periods. The tree is about 18 years old. We bought it when it was 1 year old. He has grown without any problem, until now (the last 5 months). Nobody knows what to do. Please help our beautiful tree.
Thank you.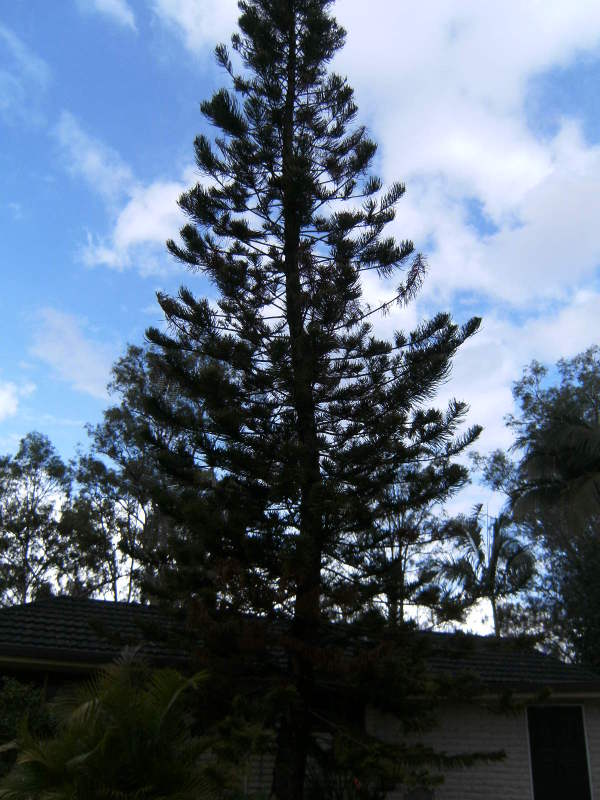 By Yvonne
February 16, 2012
0

found this helpful
My fiance and I bought a Christmas tree last year and have been trying to take care of it during our busy schedules. However, our plant has slowly turned brown, droopy, and overall not very happy.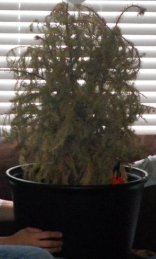 We are not sure what kind of Christmas tree it is, but we have tried leaving it outdoors more, watering it only lightly, and repotting it into newer soil. However, he seems to stay brown.
Here's what it looked like before: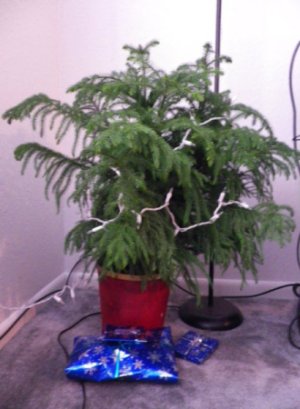 We do not want to lose him!
By Sam L
February 20, 2012
0

found this helpful
There are some pines who's needles will turn brown a certain time of year. What kind of soil did you use? I hope not just one straight out of the bag from a hardware store. Along with the bag of potting soil you should add some perilite, a mulch of some type, and some sand.
Yours looks like it needs humidity. Do not over water it but do water deeply about once a week using warm water. You also should have used Quick Start. That prevents transplant shock.
Go onto the internet and do some research for that particular pine. It is a Norfolk Island Pine. There are literally hundreds of species of pines, so just look under that kind. Look under Conifers. Sorry if my spelling isn't correct, my monster puppies ate my glasses!
February 21, 2012
0

found this helpful
I bought one about 5 years ago at a garage sale. It was pathetic, half dried out and pot bound. It is now over 6 feet high and absolutely beautiful. I found out that it only likes filtered sunlight and I water it thoroughly about every week to 10 days. Use a little Miracle Gro on it also. If it is not totally dead by now, you can still save it. Now I am going to have to get rid of mine because I don't have enough room for it. Good luck! Kathy.
May 23, 2011
0

found this helpful
We had a hard winter for Corpus Christi, TX. Our Norfolk is now turning yellow, then brown and losing it's leaves/needles. The bottom part of tree seems to be OK. Is this caused from the hard winter or is there another problem? What should I do? This tree is 6 (+) years old and is approximately 14 ft tall.
By Vicki
May 31, 2011
0

found this helpful
Was the top, specifically the tip, damaged in any way during the storm? Damage, as well as pruning out the top, will kill a Norfolk, and it will behave the way you describe. I hope I'm wrong, but I've lost several of these. Mainly from a curious cat snapping the tip out, or bending it without breaking it out completely. Mine never lived to attain the glorious 14' yours did. My condolences from one plant lover to another.
June 7, 2013
0

found this helpful
I have a Norfolk pine. I understand the tips turning brown, but I don't understand the needles turning yellow. It's not just the entire branch, it's a few on 1 branch, several on another, etc. Any ideas?
By Elizabeth B
May 6, 2011
0

found this helpful
My Norfolk Pine has been planted outside for the past 7 years. It has thrived and is almost 25 ft. tall. It survived the hurricane when salt water covered the soil. After this winter with 3 or 4 freezes, many of the branches have turned brown and dropped leaves. What can I do with browning leaves - is the tree dead?
By Brenda
Why are the branches on my Norfolk pine turning yellow? Some are dropping off.
Hardiness Zone: 8a
By Diane Marie from Granbury, TX
We have a large Norfolk pine tree in our backyard. Its estimated height is 15 -20 ft. and it is backed up to conservation. The fronds are turning brown and have been doing so for the last couple of months. We had a hard winter in 2009 for Tampa and we are now in our rainy season. What can we do to help prevent this brown from continuing further up the tree?
Hardiness Zone: 10a
By Brenda from Tampa, FL
Archives
ThriftyFun is one of the longest running frugal living communities on the Internet. These are archives of older discussions.
April 4, 2011
1

found this helpful
Question:
I'm having a real problem with a Norfolk pine. It seems to have signs of both too much water and not enough water. It was beautiful when I bought it in November, but is starting to look bad. The lower branches are getting shriveled and the needles are hard and falling off. The upper branches look fine, but it also has yellowish/brown areas that fall off easily.
The drainage is good, I mist it several times a week, and give it about a pint of water per week. It seems to dry out in the week period. Also, there isn't any place in the house where it will get much direct light. Thanks for any help!

Gary from Oregon City, OR

Answer:
Hi Gary,
First off, you said your Norfolk pine doesn't get much direct light. Direct sunlight isn't necessary, in fact it's not recommended for Norfolk pines, but good light is important. Put your tree in the room in your house that receives the best light. Once it warms up, set it outside in partial shade (like under a tall tree). Norfolks really appreciate spending time outdoors in the summer. Just make sure to watch moisture levels carefully and continue to mist them so they don't dry out.

In the winter, it's usually fine to let Norfolk pines dry out a little between watering. However, when the tips start to turn brown and the lower branches drop off, it's a sign that the air around your tree is too dry and/or it isn't getting enough water. In their natural environment, these trees thrive in 50% humidity. Instead of misting a couple of times a week, try doing it daily and see what happens. Leave a spray bottle next to your tree and give it a good misting each day when you walk by. (I mist my two Norfolk pines first thing each morning on my way to the kitchen). Don't be afraid of using cold water. Unlike most houseplants, Norfolk pines prefer cool water misting to water that is room temperature.

Depending on how large your tree is, a pint of water a week may not be enough. Now that the active growing season is here, the soil should never be allowed to completely dry out. Keep it moist, but not wet. Water as soon as the top 1-inch of soil is dry. I water my Norfolk pines (and all of my houseplants) about once a week. I set them in the kitchen sink (or bathtub) and give them a good soak-leaving them there until water stops running out the drain hole.

As for your brown branches, prune them as necessary, but only if you're sure they are dead. If you are not completely sure they are gone, leave them be. They will eventually drop off on their own.

Good luck!

Ellen

About The Author: Ellen Brown is an environmental writer and photographer and the owner of Sustainable Media, an environmental media company that specializes in helping businesses and organizations promote eco-friendly products and services. Contact her on the web at http://www.sustainable-media.com
March 26, 2008
0

found this helpful
I have, or shall I say had, a very beautiful norfolk pine. It's still alive, but only the top branches. My cat has been playing with the branches non stop and ruining it, especially when we are sleeping. Any suggestions?

Crim
Answers:
My Poor Norfolk Pine
Cut the pine back, and it will probably reward you by sending out a new trunk off the side. It won't send out any new stems where the cat nibbled on it. If the cat may have urinated in it, it needs new soil, too. Feed it with a multi-use food, and keep it in a room where the cat can't get to it. (06/03/2004)

By Linda.
My Poor Norfolk Pine
Norfolk pines can not tolerate being touched by walls people or animals, they are sensitive to touch. Make sure it is left alone! (11/09/2004)

My Poor Norfolk Pine
I have a norfolk pine that is about 15 years old, very tall, all the needles on the branches have fallen off, but the needles on the ends of the branches seem ok. I have it under a grow bulb.
(12/04/2007)

By Cheryl
Related Content