Please help me get rid of pigeons on a my balcony. I have tied foil pie plates, wind chimes, and colored plastic bags to try to deter them and nothing is working. I live in an apartment building so am not allowed to put up any kind of netting or permanent structures.

abbycat1950
By Molly
Ad
---
Recent Answers
Here are the recent answer to this question.

By slyly09/30/2013
I live on the 3rd floor of an apartment complex and have a balcony garden. The balcony has wide grills. The pigeon menace was crazy, with them dirtying my balcony and most of all destroying my plants!

Considering I live in a rented place, I did not want to spend too much money on netting, so tried the scarecrow, hung CDs, stuck aluminium foil flags in the pots and none of them worked for more than a week. I finally decided to mimic the netted mesh balconies using a ball of twine and a cut up mosquito net and it has worked wonders! Its been a month and my balcony has been pigeon free.

Here is how I did it:
The top 3 quarters of the balcony grill has horizontal metal bars running parallel to each other at a distance of about 1ft with parallel vertical bars at a distance of 1ft. The lower part of the balcony grill has only horizontal bars parallel to each other. So this would allow the pigeons to freely move in and out and pretty much destroy all my plants.

So I started with my ball of twine at one end of the balcony and criss-crossed the twine across the grills. For the lower part I bought a cheap light coloured mosquito net (so that light would not be blocked) and cut it up to open into one long piece which I then tied across the lower part of the balcony.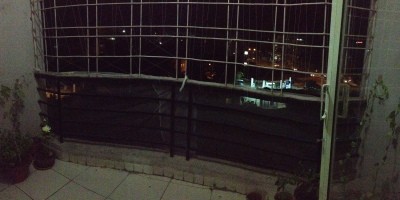 By nobeatsplease06/19/2013
They were living in my bbq next to the propane tank. I tried and tried to chase them away. Removed a nest with 2 eggs and threw it out, they kept coming back. I sprayed the inside of my bbq with oven cleaner and haven't seen them since.

By kkapela5119@gmail.com05/07/2013
I want them gone

By Nootrac03/12/2012
I have 2 loving pigeons keep coming back to my balcony. I have some pots with soil because the plants we dead from last summer. I tried putting curry powder, aluminum foils and now I am out of ideas. I will try the tomatoes if it works for you. Hopefully it works for me too.

By BB1307/16/2011
I too came home from vacation to find two pigeon eggs on my balcony and didn't have the heart to get rid of them. I have to say that was the biggest mistake i have ever made because now they just won't leave! So finally they are old enough to fly, so I invested in a plastic Owl and let me tell you it was a waste of money. They now just hang out with the owl. The amount of pigeone poop on my belcony is overwhelming! I have cleaned it with beach and water. I am going to try the CD's and see if they work, but I have also heard the moth balls also work. Apparently they don't like the smell of it. Thank you for all of your suggestions!

By Ginger Beer10/23/2010
I discarded an egg and nest when it appeared on my balcony and I am pleased to say that the pigeon problem disappeared after that.

By 1in005/08/2010
The CD thing does not work! I have my CD's more than 20 feet away from the pidgeons and they are not phazed.

By Miss_huynh08/10/2009
You don't really need to hang up a lot of CD's in order for it to work. All I did was stick 2 CD's on the railing of my balcony and I haven't seen a single pigeon on my balcony since! I could have just gotten lucky though.

By Lisa Bourque07/11/2009
I thought to have a prettier reflective item, I would use the mini 'disco ball' It worked for about a week. I had several wind chimes etc. which also only worked long enough for the birds to get used to them. I have been away for a couple of weeks, and today, I found a nest with 2 eggs in it. Before reading any of these posts, I discarded it. I spent the whole of last summer waiting for it to rain hard enough to be 'allowed' to use the power washer to clean it so I could enjoy the balcony with my daughter (this rarely happened). I bought a net last year but couldn't figure out how to hang it. Today I am going to buy some shower curtain rods and slinkys.I'll keep you posted on how well it works. Wish me luck!

By Patrick (Guest Post)02/28/2009
The Owl thing sometimes works, and yet sometimes the pigeons will perch on it as if to say, "Ha ha! Didn't work!"

By Debs Essex U.K. (Guest Post)02/24/2009
I also got suckered into the egg-laying and watching and hatching rubbish but was disgusted by the mess that the pigeons left. Was horrified when they returned the following year but still could not being myself to ditch the eggs. I was absolutely determined not to repeat the whole nasty business this year so when they started their regular gatherings on the balcony i strung up about a dozen cd's and I can't believe it! I haven't seen a pigeon since! Don't know how it works, maybe when they fly towards the cd's the holographic effect disrupts their homing radar or something - but whatever, I am absolutely delighted!

By The Pigeonator (Guest Post)02/03/2009
Pump action Pellet gun, from about 5 feet= No more Pigeons.

By wanda ..m (Guest Post)02/02/2009
Ok spring is back and those little birds are looking for a spot to nest. In the past hour I've chased them off 4 times. So I sprayed all my balcony panels with wd40. Lets see what happens.

By Alicia (Guest Post)01/05/2009
It is very important that you remove pigeons immediately. I had pigeons nest in my balcony for a while (my kids thought is was cute). One day all three of us noticed bites. I found very small insects everywhere in the apartment (they are smaller that fleas). I called a company and they had to fumigate the entire house. They told me they came from the pigeons. Do yourselves a favour get rid of pigeons before you have an infestation.

By alex (Guest Post)12/20/2008
My pigeon laid 2 eggs on my balcony and 2 chicks came out. It started learning how to fly after 5 months only 1 chick came home but not the other I was worried. So can you guys help me, please? Thank you!

By Hope12/11/2008
I also have pigeons on my roof. I live in a three story house in Washington, DC. The pigeons nest on the roof, and their droppings fall on the porch below. It's not easy to get on the roof. Does anyone have a solution?

By Joey C. (Guest Post)11/08/2008
Pigeon excrement is toxic and can harm pets and small children Also they will eat that black tar paper on your roof, I think it is called flash paper. The only thing that worked for me was a professional service, nothing else.

By MAYA (Guest Post)10/09/2008
Those pigeons are the worst thing in the world. But after visiting this site, I have a lots of ideas and I'm gonna try that. I hope it works. Please guys, wish me luck!

By Dena (Guest Post)09/13/2008
I tried the bucket of water and it actually did work, for today. But this is the longest that they have stayed off my balcony and if they come back I will splash them again. It's harmless so I really don't feel bad. Who new something so simple would work.

By (Guest Post)08/31/2008
I had the same problem with pigeons on my balcony. I read somewhere that the smell of tomatoes might keep them off and guess what? I planted tomatoes on my balcony a month ago and have not seen a single pigeon since! Hope this will help you too.

By ReLZ (Guest Post)08/07/2008
Seems like everyone has a problem with these sky rats. How about Bleach? Like, spraying your balcony with bleach? I'm going to try it. Hopefully it works!

By steven (Guest Post)07/31/2008
I don't mind pigeon around my balcony but one thing that bother me is that every time they stopped by pay me a visit they POOED! Even more they're worst than random active car theft alarm would go off once every 20 mins! I will try the cd thing but I'm a bit interior conscious person and I don't have any other choice. Will let you guys know the result.

By Sue (Guest Post)07/26/2008

The owl DID NOT work! Even the type that moves and makes noise. Am trying W-D40 and Aluminum Tins. Will let you know. At least I am not the only one and yes, sure I thought they were cute to begin with (animal lover and all) but now?

By Gerard (Guest Post)07/23/2008
Thanks to everyone who's posted here. I had no idea this was such a common problem. My wife and I live in a top-floor apt. and came home after a vacation to find a nest with an egg. Cute at first, but I'm sure glad I found this site. Got rid of it immediately this morning and just hung a CD after chasing the persistent flying rats away from the balcony all day. If this works, I'll be letting y'all know. Good luck to everyone else who's having urban problem.

By Jamaica (Guest Post)07/19/2008
I am so glad that I found this site. I will be trying all your ideas until something works. My problem is worse though because the nest was not on my balcony it is on my nextdoor neighbors. And they have no problem with it. Like others I have read when I first saw some eggs on their balcony I thought it was cool. I watched them hatch and get bigger, but the problem is they are like their own community and all the other freakin' pigeons sit on my balcony to watch them. I am trying an owl first because I saw one across the way, but anything to remove these birds will be ok. thanks to everyone who sent ideas if I find something new I will share it. Good luck everyone.

By DEW 23 (Guest Post)07/06/2008
I am having major problems with the pigeons on my balcony. I am trying the cd method, wish me luck. So far the cd method is not working for me. I will try it for a few days. Hopefully it will work. If not I will be trying something else as the birds aka flying rats will not win this war. So far the flying rats have the upper hand but I am determined not to give up. As Clint Eastwood says. "GO AHEAD MAKE MY DAY."
Archives
Thrifty Fun has been around so long that many of our pages have been reset several times. Archives are older versions of the page and the feedback that was provided then.
Pigeons won't leave my balcony and they are making nests and laying eggs. At times they first lay the eggs and then gather the sticks around. What is the best way to get rid of them without hurting them or hurting the eggs?

Nirad

---
RE: Pigeons on my Balcony
I did jury duty at the my local courthouse.Looking out the window I counted 22 plastic owls on the ledges ans even more pigeons nestled among the plastic owls. (05/06/2008)
By Harry
RE: Pigeons on My Balcony
We live on Maui. A pair of pigeons kept trying to make a nest on our lanai. Finally we decided to let them. They did... a few dried palm fronds in a little circle in the corner. A few days later, 2 eggs. A couple weeks later, 2 chicks. The parents, whom we named Marguerita and Jorge (for why? we're not Latino and Maui pigeons are probably not either!). They were devoted parents, Jorge sat on the eggs by day, Marg by night. They both then fed the babies, providing a milk-like substance from their own mouths. In less than 3 weeks Minnie and Marmaduke were nearly full grown, and one day took off on their own.
We've since read up and learned that pigeons are much-loved pets, for many people; that they mate for life, are devoted to their young, and, we've found, confine their droppings mainly to the nest area, which is now a box in the corner of the lanai. A little extra vacuuming isn't a big deal for us. It's fun watching them come and go, hearing the baby chicks peep when food arrives, seeing them venture out, flap their wings, and finally learn how to fly.
To date, these are our only pigeons, and we would discourage more camping out here. But perhaps they're territorial and no extras would be permitted, or would even want to nest here.
For us, it was a peaceful and interesting solution to an otherwise annoying problem. of course, we're in the tropics, and the lanai is an extension of the living room. Might not be so much fun if we were inside for the winter and unable to clean up regularly...
If we decide to relocate our birds, we'll try some of the listed suggestions on discouraging more boarders.
Aloha! (05/06/2008)
By Felicity
RE: Pigeons on My Balcony
I have a friend who had pigeons on his balcony... what they left was NOT eggs. Someone told him to paint the balcony; he did and they were gone the rest of the season. When they came back the next year, he painted, they left. I don't know if it is the smell or that odd rubbery texture paint keeps for so long even after it is dry, but they stayed away. Good luck. (05/08/2008)
By purrplekat
RE: Pigeons on My Balcony
I have pigeons in my balcony in Bombay. I had 2 rounds of litters with 2 eggs each time hatch successfully. They made their nest behind my wash and dryer. Now i am sick of having them. earlier i felt bad and let them do their work.
Reading the suggestion here. I figured placing a thorny cactus like plant behind the washer, in the spot were they always made the nest might work. I have done that.
Plus I have hung 3 ft long AL foil aluminum or aluminum foil hanging from the roof or ledge of the balcony. Let me see what happens.
I cleared the nest, but that thing never worked. Tried the washing the bird poop it never worked. Did a scare crow thing, these birds are too smart.I also threw some naphthalene balls or moth balls. Just in case, though I have read here pigeons can't smell? If this does not work, I will revert. (05/13/2008)
By UK
RE: Pigeons on My Balcony
I live on the penthouse floor, so pigeons are always trying to land on my balcony. Across the street there are new condos that never have birds on their balcony. That's because they have tomato plants (just the plant, not the fruit/veggie). It really works. There's something about the chemical on the plant that they hate! (05/21/2008)
By Jazzel
RE: Pigeons on My Balcony
If you have eggs, get rid of them now! I wish I had. I have had a family of pigeons living on my porch for 2 months now, and I cannot enjoy it because there is bird poop and a horrible smell. The babies take about a month to get big enough to leave. We removed their nest this week, but now they keep coming back, and another one tried to lay more eggs. aaah! I don't know how I'm going to get rid of them. (06/12/2008)
By Bess
RE: Pigeons on My Balcony
Pigeons have an EXTREMELY advanced sense of smell.
http://www.abc.net.au/science/news/stories/s1718108.htm (06/12/2008)
By West Texasn
RE: Pigeons on My Balcony
I purchased a wind chime about 1 and 1/2 feet long that is shiny and the 'clanking' pitch is quite high. I hung it from an extended bracket off the side balcony wall. I have found the pigeons don't like the sound or movement. It's a fairly large chime and I sometimes take it down if there is a rain/wind storm, which I did the other night. Well, the next day I saw a pigeon sitting on my rail. I immediately put back the chime. I have a couple of flower pots and I am going to get a small Shepard's hook and dangle a miniature chime on it, centered in the flower pots as well. That way there will be a couple of chimes around all areas. Hope the neighbors don't kill me! (06/20/2008)
By Joanne
Answer This Question
Add your voice to the conversation. Click here to answer this question.