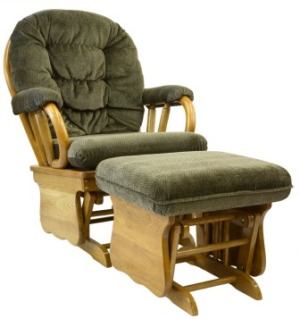 Repairing a glider is generally more cost effective than replacing it, besides it may be your favorite chair and well broken in. This is a guide about repairing a glider chair.
Questions
Here are questions related to Repairing a Glider Chair.
On the glider there's a piece that sits within the wood of the glider side that has come out - the screws are worn and need to be reinserted. How do I figure out how to take that one piece off without having to disassemble the entire glider? Is there a step by step guide to how to take the glider apart to fix (or correct terminology of the pieces)?
By Cheryl from Chicago, IL
How do I change the metal mechanism on the glider part because the bearings are coming out?
By Mary R.
I have a glider bearing of 7/8, with 1 in. shoulder, and 1/4 in thick with total length of 1 1/2 in and bolt 3/8 in diameter.
Where can I find this?
By TK
Our glider is not in alignment-rubbing on one side. How do we take the bottom of the rocker apart so we can straighten the chair rung or replace it?
By Dwayne S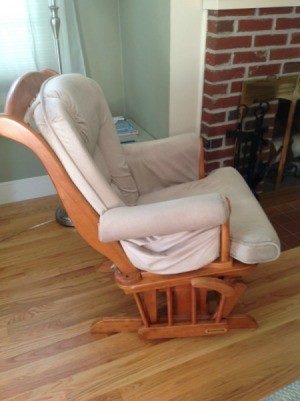 When in the glide position the mechanism keeps jumping into the stationary position.
Can I adjust or repair that or is the mechanism gone altogether?
By Jean J.
What is wrong if the chair going back too far, as if to turn over?
By Deborah
---
Most Recent Answer

By susan [5]09/06/2013
Wrap a bungee cord underneath to prevent it from going too far back and set your mind at ease. Did this with a porch glider and it worked great.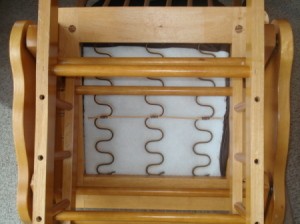 We have 2 oak Best Chairs, Inc. glider rockers. As we are living at the beach and opening our sliding glass doors frequently, the snake coils under the glider rocker seat have rusted and one of the coils is broken. They need to be replaced. Does any one know where I could purchase these or have them replaced?
Thanks for any suggestions.
By Joyce from Holden Beach, NC
---
Most Recent Answer

By Owen F.08/13/2014
The back and seat of my glider goes back too far, almost like a regular rocker. The chair does not sit up straight.
By JT
Where can I get the spring which is a 3/16 inch diameter coated spring and formed in a loop 12 inches in diameter?
By Gary W.
---
Most Recent Answer

By Frugal Sunnie [11]03/27/2013
Any upholstery shop should have the part. You could also look online using a search term that includes the words upholstery supplies.

The manufacturer might sell parts as well, find their website either on paperwork from time of purchase or by doing a search with the company name, the type of item you bought, and the words repair parts.
I have a glider and the back rest doesn't stay up. It has a metal bracket on each side and I can't find replacement parts. Any answers?
By Kevin B
I have a glider rocker where the chair has shifted to one side therefore making a knocking sound and scratching the platform. Any ideas on how to correct this, as the chair has a lot of life left?
By Sandy W.
---
Most Recent Answer

By Tanya [4]07/09/2011
Put a piece of carpet on the side the chair has lifted on. It will lift it up and off of the platform.
I have 2 oak glider chairs. The glider mechanism is pretty much gone.
Where can I get these gliders repaired?
Thank you.
By Tussing Darlene from Tempe, AZ
Where can I find a replacement arm for a Pine Bassett Baby Cape Cod glider rocker?
By KatsKats from NV
Solutions: Repairing a Glider Chair
Do you have knowledge about this guide topic? Feel free to share a solution!
Archives
Thrifty Fun has been around so long that many of our pages have been reset several times. Archives are older versions of the page and the feedback that was provided then.
***
*** I picked up a lovely glider chair from the street, but the seat support is broken. There are 3 curved springs with a square of white cloth (looks like linen) on top. They are stapled into the wood, but some of the staples fell off and so did the springs. Any idea about how to fix it will help. Thanks.
yyhuang from LA, CA
---
RE: Repairing a Glider Chair
I have a chair similar to this. In our town there is antique furniture shop. I asked what it would cost to repair, he said not much, under $30. He does repair in back of the shop. I think most shops do like that. It might be worth checking into. (01/03/2009)
By Ariela
RE: Repairing a Glider Chair
I would go to an upholstery shop and see if you can buy some springs to replace the missing springs. If not, maybe they have something else to repair it. I have some old furniture that has what looks like strong elastic that is about 3 inch wide. You stretch it from one side of the frame to the other and staple it in place. (01/05/2009)
By Loretta B.
RE: Repairing a Glider Chair
I have a chair just like that. My problem was that whatever cushion I put on it I could feel the springs through. Within a few short days I solved the problem by going to the lumber yard and getting a board that fit the seat and placed it on. No problems now and I have had the chair for over 5 years. Lumber stores usually have a scrap bin or they sometimes cut the wood for you. They cut mine for $0.50 a cut. (01/06/2009)
By soyzicks
RE: Repairing a Glider Chair
I make and/or repair various types of furniture. It looks like you may be able to just re-attach the springs with new clips (if your going to take it apart and redo the seat). Or you could use some zig-zag repair kit parts to reattach the springs from underneath.
However, it looks like the only fabric you have left is the liner for the bottom of the seat. If so, you will want to get a piece of foam and some material to cover the same. (that shouldn't be too expensive either).
Once you set-up the springs correctly and position the foam just neatly staple the material underneath one side of the seat and carefully pull the material across and under the other side stapling there as well. Take care to NOT pull the material too hard or too little (this can give you crease lines or sagging bumps). Repeat the process with the two other opposite sides (neatly trimming out the material however you want it to lay near the corners).
l can sell you some of my extra supplies at cost (I think the basic manufacturing clips were like 4/$1 (the heavy duty spring brackets are like 2/$3). Anyway this can be an easy fix, it just depends on what you want to do with it. (06/10/2009)
By purpledama