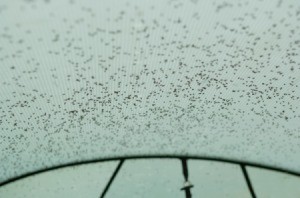 I live in south Florida and recently moved out of a beach front condo into a house inland. The noseeums in my new area have been merciless. The entire town is infested with them. It rains frequently in southern Florida during spring, summer, and fall months and the humidity is high. This, along with the many canals and lakes, creates a perfect environment for noseeums. After trying just about everything in these forums to battle these unseen critters biting me in my home, I finally got some good advice from a friend.
Before I share that, let me explain what didn't work. Deet or any other repellents do not work on these critters. Insecticide sprays are of little effect. Dryer sheets help a little but are still not effective repellents. Fogging doesn't work because they are flying insects that easily come through screens and under doors or cracks in windows so the house gets re-infested in no time. Tenting is the same. Exterminators told me they cannot treat against flying insects. Lawn service doesn't help again because they are flying insects. Zappers don't work as I bought many of them for inside the house. Glue pads work to trap some of them but also do not work to clear them from the house. Soap and apple cider vinegar also traps a few of them but does not get them out of the house. Steaming them is futile like a few UN workers trying to find weapons of mass destruction in Iraq; they just move back in as soon as an area is treated. Borax may have limited effect but makes a big mess out of your house and electronics.
I have tried all of the above treatments without any relief. Forget all of them because none of them work and they will cost you a ton of money, grief, and disappointment.
Yesterday, a friend mentioned one thing I have not yet tried and is, by far, the easiest and cheapest method. This worked immediately and the following day; the time of this writing. I wanted to share this with as many people as I can to help prevent others the torture I have gone through since buying this house.
Turn the air conditioning down in your house to 62 degrees. Turn off any humidifiers or make sure humidistats are below 40%. If your air conditioning system can't achieve this low temperature then rent or buy some supplemental units or replace the system with a new one. If you go for a new unit, make sure your A/C company knows you want the temperature that low. If they say it can't be done, get someone else because they don't know what they are talking about. I'm an engineer by trade and know there are many efficient systems with tiered cooling capacities and even multi-level fans. These are great if you like to entertain a lot of people in your home like I do. It will be cheaper replace your entire system in the long run than going through many of the processes above including tenting a house.
I turned my thermostat down to 62 degrees yesterday around 3 PM and went out shopping and to dinner. I returned around 10 PM and the house was just reaching 63 degrees. I turned the thermostat back up to normal around 8 AM. For the first time in months, I slept without one noseeum joining me in bed and biting me all night. I did have to drag out several blankets and a comforter to sleep in these chilly conditions. It is still upwards of 90 degrees in Florida and this is a drastic drop in temperature. It is now around 24 hours later and the house is still noseeum free. I can't wait to thank this friend of mine. I plan on freezing out the house again tonight for good measure.
Female noseeums bite and then lay eggs. These may hatch several days to a week later so I will be sure to repeat this step several times. The higher air conditioning cost will be well worth the money. I only wish I had discovered this before spending a fortune on other useless methods and contaminating my living space and skin with pesticides and chemicals.
I hope this method helps others like it has me. It is so nice to sit in my house without being bitten for the first time in months.