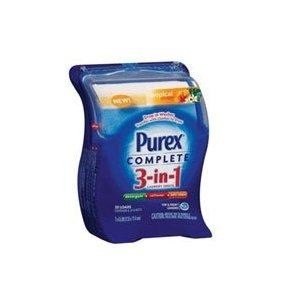 Product: Purex Complete 3-in-1 Laundry Sheets
Model: Starter Pack
Manufacturer: Purex
Cost: $9.99
This product combines laundry detergent, fabric softener, and a dryer sheet into a single sheet which you place into the washer with your clothes and then transfer to the dryer. The sheet starts out stiff with detergent which washes out in the washer and then feels like a normal dryer sheet when it comes out of the dryer.
I've been using these for a couple weeks and have been generally happy. They are a lot less messy than liquid detergent which I always seem to manage to spill. They seem to dissolve as well or better than powder detergent. There is nothing to measure so I only have to decide if the load is big enough to warrant two sheets. The starter pack comes with a plastic dispenser which is really not essential. You get more sheets for the same price if you simply buy the refills. Comes in three scents: Pure and Clean, Spring Oasis, and Tropical Escape.
I think this product would be good for college students since it is so easy to use. it would be easier to throw a sheet or two right in the hamper before going down to the laundry room rather than carrying entire bottles or buying single use detergents.
Pros: Nothing to measure. Ensures each load has detergent, fabric softener, and a dryer sheet.
Cons: More expensive than buying individual products.
Cost: $9.99 for a starter pack with 20 loads. Refills are $9.99 for 24 loads. Larger loads require two sheets.
http://www.purex.com/purex-3-in-1/
Free Sample: http://www.trypurex.com/Purex_3-in-1_Free_Sample/
By Fletcher from Seattle, WA