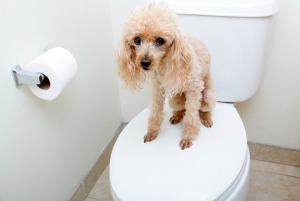 My husband and I just rescuded a Border Collie/Chow mix yesterday. She had a sore on her bottom, I am guessing it was from the wet floor in the kennel at the shelter. We plan to take her to the vet this weekend to see what the sore is about. She has a hard time sitting because obvisously it hurts.
She refuses to go to the bathroom during walks. I'm not sure if she's holding it because of the sore on her bottom or she thinks that walks are for exercise only. She will sniff the grass but won't go. Last night after dinner she went to the door we put the leash on her took her out walked for 45 minutes wouldn't go. My mom took her for a long walk outside for about two hours or so earlier in the afternoon wouldn't go. She hasn't gone since she left the shelter. I started to worry.
When we came back from the walk she urinated on her dog pillow. You could tell she felt bad about it. I am not sure if she is confused as to where to go or is she holding it due to the sore on her bottom? We can't just let her outside due to the fact we are condo owners. I took her out for a walk this morning and she didn't go and my husband tried to take her in the middle of the night as well and nothing either. Please help!
Melissa from HI
Answers
By Patti (Guest Post)
February 24, 2006
0

found this helpful
Best Answer
Yes, there is a problem here, but it may have multiple origins. The sore on her bottom could be the problem, or she could have a urinary infection. Be sure to get her to the vet ASAP, and if you can't get an appointment right away, call the vet's emergency phone number. Don't be shy about it.
Our rescue Springer Spaniel, Magic, did not poop for three days after we got him. We were worried, but finally discovered that he really needs to run free for a few minutes before he poops. In other words, you'll discover her preferences and "mental problems" over time, but I would have this checked out immediately.
I think potty problems are typical of a lot of rescued dogs. She has been through so much trauma, and this may be her way of expressing the anguish.
Good luck and please keep us posted.
Patti
By sandra johnson (Guest Post)
February 26, 2006
0

found this helpful
Best Answer
As everyone advised, get your dog to the vet ASAP. The sore isn't her only issue though. Because you don't know her history you don't know if she was ever housebroken. Begin with the vet then either hire a trainer to help you train your dog or research obedience training including housebreaking. It is possible that her previous owners may have traumatized her by rubbing her nose in her feces or pee if she had an 'accident' on the floor. When this happens, the dog will not eliminate in front of the owner any longer, instead, will hide somewhere and 'go'. She may be afraid to 'go' in front of you or anyone else. If the vet gives her a clean bill of health then you must begin to potty train her as if she were a puppy. You didn't say how old this dog is but if she is a pup, she can only hold her bladder for as many hours as she is months old plus one. If she is six months old, she can hold it for seven hours. If she is an adult, she can hold it up to 12 or 13 hours. If she is only a pup, she needs to be in a crate and put on a regular potty schedule.
Make sure she is also on a regular feeding and water schedule as well. Training will go much faster and easier if you are consistent and reward her for 'going' in the designated potty area, meaning, take her to the same location out the same door each time. She will get the idea that when she needs to 'go', she will always use the same area. I strongly recommend crating your dog but never use a crate for punishment and if your dog has an accident in the house, do not scold her. Just say something like, "oops!", clap your hands to stop her in midstream and immediately take her to her potty area. Praise her lavishly and you might want to give her a little treat after she goes. This training may take you awhile but please be patient. This poor dog probably has suffered at the hands of some stupid owner and it's obvious, otherwise, the dog wouldn't have wound up in a shelter. You can love her all you want but training and consistency is the key. Good luck with your new 'baby'.
Answer

this Question

Yesterday my rescue dog Gracie arrived at 13:40. She's a smooth haired Collie almost 4 years old. My concern is that, so far, she hasn't pooped and has only peed once, this morning at 7:15. She didn't attempt any toilet functions on her walk last night. I have a garden and the door is open, because of the good weather, but even though if she needs to go she can, she isn't if that makes sense.
She ate perfectly well this morning, but no poop and she's not remotely interested in the fish or liver treats I offered her this afternoon as a reward for being in the garden. I thought encouraging her into the garden may help, but so far nothing. I don't want to overreact, but nor do I want to ignore it if it is a problem. I've only had puppies before so have never come across this issue with an adult dog. She definitely isn't doing the 'business' elsewhere so should I simply go straight to the vet? Any nuggets of wisdom greatly appreciated.
Thank you.
Answers

Pghgirl40
Bronze Feedback Medal for All Time! 196 Feedbacks
July 16, 2018
1

found this helpful
Definitely talk to the vet. Good to establish a relationship from the start.
I would be more worried she is dehydrated, which can also make it harder for her to poop.
My neighbors dog had surgery and didn't poop for a week, so while that was concerning, their vet said as long as she was eating and peeing, they were not worried. Obviously this is a different situation, the point just that the vet can give you a game plan and suggestions.
Not all pups like all snacks, so as long as she is eating her meals that is good.
Prayers that she gets less stressed and everything settles! Let me know how it goes!
Answer

this Question

We just brought home a new puppy yesterday and he hasn't peed or pooped (either inside or outside). He also has shown very little interest in food or water. When we take him outside all he does is climb up our legs.
The breeder appeared to be paper training the puppies, but we don't want to encourage peeing or pooping inside our apartment so we've been trying to take him outside every 2-3 hours. Any advice? He is 14 weeks.
Answers

January 6, 2019
0

found this helpful
If he doesnt go within 24 hours of getting him home, consult with the vet. Check around the house. He may have gone in a hidden spot.

January 7, 2019
0

found this helpful
When our puppy was less than a year old he went through the exact same thing. Turns out he had a piece of sock stuck in his intestine. Vet, now!
January 7, 2019
0

found this helpful
Err on the side of safety-VET VET VET when in doubt
Read More

Answers

I am looking for some doggy advice. So we got our rescue dog 3 weeks ago and he's incredibly anxious. He's quite taken with my girlfriend and is completely comfortable around her. He is less so with me and very skittish with men in general. We've been making great progress, but it is still an ongoing thing. I'm permanently at home while my girlfriend goes to work so daily routine is my thing and we've always done it fine. Occasionally with a male friend of mine in tow. My girlfriend had the last 6 days off and was at home.
Today, he's not peed while walking at all. (He did this morning with my girlfriend). We went out late morning with my friend and it was a disaster. Monty had clearly forgotten who he was and wasn't happy at all so we cut that short and headed home. I took him out again mid afternoon and still no pee. Am I right in thinking it's just the change in routine that's got him stressed and we can expect Niagara falls when my girlfriend gets home or should I be worried?
Answers

October 4, 2018
0

found this helpful
He will probably urinate soon. Give him plenty of water. Call the vet if he does not go.

Pghgirl40
Bronze Feedback Medal for All Time! 196 Feedbacks
October 4, 2018
0

found this helpful
It is possible he just didn't have to go and will have a longer pee when your girl friend takes him out. If he stops peeing for more than 12 hours call the vet ASAP! That is not normal!
So, many rescue pups need strict routine and take longer to acclimate than dogs you have raised from a pup. We have done both, as have all of our dog owning friends, and we have had many the discussion over exactly what you described.
Some food for thought....
...You may want to introduce other people slowly and not on walk times or meal times until your pup after he has become fully comfortable with you, since he already seems bonded with your gf.
...Potty and meal times need to be a safe place for the pup. A stranger disrupts that.
One last thing is to develop a good relationship with your vet and the pup. Ask if he may need something to help him with the transaction to his forever home.
My sister dog was a rescue and needed a year or so of an antidepressant to help her trust our family! She is an amazing pup now...it just took time, routine and to get to that point.
Prayers for all!!

October 6, 2018
0

found this helpful
he will.indeed go soon , just comfort him as much as possible thats all you really can dk you have no idea what kinda home he was at before you always be aware in case he changes for the worse but always give him patients and guidance

Jess
Silver Post Medal for All Time! 267 Posts
October 8, 2018
0

found this helpful
When my dog was a puppy, she wouldn't go potty unless she was in our yard. We went on a vacation and I didn't see her go for a couple of days. At one point, we were at a park with a small stream and she trotted right in and relieved herself. I think it was the running water that clicked something in her brain. It might be something to try when walking him.
Things will probably work out as your dog acclimatizes to his new home. If he is going with your girlfriend, it's probably not a medical concern.
Answer

this Question