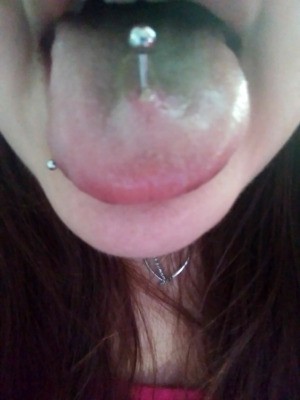 I have a tongue piercing and next to it there is a hard ball piece of skin. WHat can it be?

Nicole from South Africa

Answers

February 13, 2009
5

found this helpful
Best Answer
I have my tongue pierced 5 times and have 16 other piercings. Is the bump right on the outside of the piercing? Build up of white "tongue tissue"? It is hard to explain what I am describing, but I am pretty positive I know what you are referring to. If so, it is just healing! After a few months, the bump will go away, I promise. If it doesnt hurt, then dont worry about it. It sounds as though this piercing is new. Please message me if you have questions.

February 15, 2009
1

found this helpful
Best Answer
Please email me if you have any questions! These people responding have to experience with piercings. They do not know the phases piercings go to. Yes, it may share symptoms with other "illnesses" or whatever you call them. But it is perfectly normal, I promise you! When you get pierced, you are literally creating a hole/incision in your body. There are a lot of phases the healing process goes through. Even puss is normal. Its not actually puss, its just your body trying to kick out unnatural objects in order to close the wound. I have had that bump you are describing with several of my tongue rings.
Make sure you are wearing a barbell that is a little bit too long in order for swelling to come and go ( if it is a new piercing ). Dont forget to use mouthwash or sea salt water solution, too. It takes a while for the piercing to heal completely. The bump will go away, like I stated in previous post. But, if you are still worried, go back to your piercer and they will most likely tell you what I have. Now if you pierced it "at home" then yes, maybe it really IS something to be alarmed about.
By juliethepiercer (Guest Post)
February 16, 2009
1

found this helpful
Best Answer
It can be a displaced taste bud. It can be hypertrophic scarring. It can be normal scabbing. All of which will go away if you leave it alone and rinse after anything you eat/drink/smoke and be a bit patient.
It could be an infection.
An infection is usually hot &/or red &/or puffy &/or leaks stuff that's smelly and grey/green (not white/pale yellow). If you think you have an infection, see a doctor, but DONT remove the jewelry, as that will just trap the infection inside (sometimes doctors have to be "reminded" of this).
Answer

this Question

I had my tongue pierced 3 days ago. It's more swollen than ever with white lumps all over and a red lump too. Is it infected? I'm struggling to talk more than ever.
Answers

October 9, 2017
0

found this helpful
Best Answer
The swollen part is completely normal! After I got my tongue pierced I felt like it wouldn't even fit in my mouth anymore. Luckily, that usually lasts about a week or week and a half at most. I didn't encounter the white bumps though. Could it possibly be a mouthwash or something you are using to clean the piercing that you haven't used before?
If it is something new, it could be irritating your tongue or you may be allergic to one of the ingredients. I would monitor them for a few days and see if they get any better and possibly use a different product to cleanse the piercing and see if that helps. If they don't resolve, I would call the place you got the piercing and ask their advice.

poehere
Bronze Post Medal for All Time! 105 Posts
October 10, 2017
0

found this helpful
Best Answer
Please remember nobody on here is a doctor and any advice that you receive is not a professional opinion and you should follow this at your own risk.
If you tongue is this swollen it could be a major problem and an infection.
However, this could be a allergic reaction to the piercing or what you are using now to clean it with.
This is advice from my dentist when I had something cut my gum and it was swollen and infected. I was told to go to the pharmacy and buy some hydrogen peroxide and gargle with this 4 times a day. I was to use 1 cap full of hydrogen peroxide and put it in my mouth and swish it around for 3 to 4 minutes and then spit it out. Do not swallow this it is not healthy for you.
Within the first day the swelling had gone down and the cut in my mouth was starting to heal. You will need to buy the lowest solution as possible I think it is 3 percent if you live in the States.
You can try this, but I would recommend that you go seek medical advice this could be very dangerous.
The tools used to pierce your tongue might not of been cleaned properly and you have an infection from this.
You could have an allergic reaction to the earring used on your tongue. Your body could be rejecting this because you are allergic to this material.
There are so many possibilities and reasons for this swelling that we can only guess about.
You will need to see a doctor in order to find out what is wrong with your tongue and what medical advice they will give you. They might need to remove the earring from your tongue if there is a problem with this.

October 10, 2017
0

found this helpful
Best Answer
It seems the first person you should be asking about this problem is your technician that did the piercing as they should be familiar with all of the problems associated with after effects of tongue piercing. They should be able to tell you if you need to see a doctor.
An infected tongue can be a very serious matter so do not fool around waiting to see if this is just normal after effects.
The following statements are from the Association of Professional Piercers and state the problems that can arise and also some solutions.
Piercing the tongue is a traumatic procedure that can lead to serious and possibly life-threatening infections. For the first few days, the normal pain and swelling is difficult to differentiate from any signs of infection. If you have difficulty breathing, however, or any other symptoms that match those of an infected tongue piercing, seek medical attention immediately.
After a tongue piercing, normal healing symptoms and healing times vary from person to person. Pain from a tongue piercing lasts up to one month. The normal healing symptoms lasting several days; uncomfortable aching, pinching or tightness in the area of the wound, swelling, bleeding and a yellowish, liquid secretion. Usually, a tongue piercing heals in four to six weeks.
Tongue piercings carry other risks besides the danger of infection; fractured teeth, nerve damage, speech impediments, allergic reactions to tongue jewelry, scar tissue, prolonged bleeding and disease transmission as some additional risks. When factoring in all of these risks, having your tongue pierced is a decision that must be considered seriously, and close attention must be paid to symptoms of infection afterward.
A mixture of sea salt and water is effective in treating infected tongue rings at their initial stages. Ensure you rinse or gargle your mouth with this saline solution after every meal. If you want to make your own saline solution, mix a half a teaspoon of sea salt with 8 ounces of water.
You may experience a white coating on your tongue; this is a normal bacteria response to your piercing; that is why antibacterial mouth wash is recommended. After 3-5 days the swelling will start to reduce.
The use of alcohol free mouth washes such as Listerine.
NOTE: Do not use hydrogen peroxide since it can cause crusting.
To reduce swelling or pain, chew small ice chips.
Here are a couple of links to sites that have more information and suggestions to help you through this period of pain and discomfort.
heydoctor.org/infected-tongue-piercing.html
October 10, 2017
0

found this helpful
Best Answer
It is going to be super swollen, that is perfectly normal. It is also going to take a little time for it to heal and for you to get used to having it in your mouth once the swelling goes down. You are supposed to be rinsing your mouth with Biotine Mouthwash or Listerine after every time you eat, drink, or smoke anything. If you have been doing that chances are it is not infected but if you think it could possibly be infected I would contact the piercing studio right away and have them look to see if it is healing normally. Just call and express your concerns and tell them you want to be sure everything is ok. They will have no problem taking a look for you and that will save you from paying a doctor bill if there is nothing wrong. If there is something wrong however, you will want to know right away so the proper procedures can be taken to fix the problem.
Answer

this Question

I had my tongue done on the 20th of August and under my tongue bar it is still swollen and raised up a bit. I have got a picture and am still wondering if you could help me.
I have done all the things that I was told to do.
Answers

Judy
Gold Post Medal for All Time! 677 Posts
September 11, 2018
0

found this helpful
Best Answer
Infections happen, despite our best efforts. Remove the tongue bar and let it heal. See a doctor for antibiotics

September 11, 2018
0

found this helpful
Best Answer
You probably have an infection under the bar so do as Judy suggested; remove the tongue bar and see a doctor as you do not want to fool around with an infection in your mouth.
You might try rinsing with salt and warm/hot water (hold in mouth a few minutes) until you can see a doctor.

Pghgirl40
Bronze Feedback Medal for All Time! 196 Feedbacks
September 11, 2018
0

found this helpful
Best Answer
If you don't see a difference in a day or so, I suggest talking to your doctor. Mouth infections are nothing to mess with and can go from mild to really bad really fast. Unless the person who pierced you is a doctor, your doctor needs to check you out. Better safe than sorry!!l
Answer

this Question

I got my tongue pierced a week ago and on the top right at the front by the piercing there is like a piece of extra skin. it looks like a piece of food. It is hard to explain. Is that normal or should I do something about it?

Answers

Judy
Gold Post Medal for All Time! 677 Posts
August 29, 2018
0

found this helpful
Best Answer
It looks like pus to me. If it also hurts, you have an infection. I would take it out and see a doctor.

haysie
Silver Answer Medal for All Time! 424 Answers
August 29, 2018
0

found this helpful
Best Answer
It looks like an infection to me , I would advise to take the pierced item out and see if it heals on its own, if not then do see a doctor right away.

attosa
Diamond Post Medal for All Time! 1,246 Posts
August 30, 2018
0

found this helpful
Best Answer
I had the same when I had one back in the day. It was indeed infected. I went back to the lady at the piercing shop and she gave me a bottle of safe disinfecting solution and had me suck on ice chips for a week. I'd go back and have a chat ASAP.
Answer

this Question