My son has put silly putty in his hair, I don't know what is best to break it down to get it out, any ideas?
Kristie from Lakewood, CO
Answers:
Removing Silly Putty from Hair
White vinegar will also break the Silly Putty down. (04/11/2006)

By gina
Removing Silly Putty from Hair
I also encountered glitter silly putty in the hair and tried the cooking spray, mostly because I'm a hair stylist, and figured that oil had to be much better for the hair than alcohol. It worked like a charm! You have to remember to start at the end of the strand and work your way up the hair with a comb and the oil to reduce any chance of the hair breaking.Thanks for the tip! (04/13/2006)

By Katia from RI.
Removing Silly Putty from Hair
I couldn't find any cooking spray so I opted for the rubbing alcohol with my 4 year old. It worked well, I just put a towel over her eyes and had a bowl to dip the comb in. It took about 10 minutes. (04/16/2006)

By Deb
Removing Silly Putty from Hair
The cooking oil worked great. Acts as a lubricant so the Silly Putty won't stick to it. (05/04/2006)

By Jim
Removing Silly Putty from Hair
After using GooGone and olive oil, I found that SKIN-SO-SOFT from Avon worked quickly and easily when my daughter wanted to braid her hair like Rapunzel and somehow thought that Silly Putty would help achieve that special look! (05/14/2006)

By BC
Removing Silly Putty from Hair
Thanks for all the great info. I found that alcohol disolved it but it was still sticky so I put skin so soft on a lice removal comb which worked great since my daughter had her curly hair tangled in a glob of silly putty. I rinsed the comb with hot water with each swipe until it came out clean. (06/23/2006)

By Karin
Removing Silly Putty from Hair
PAM cooking spray, NOT PNUT butter, thats ONLY for gum, PAM COOKING SPRAY took the whole wad out of my 7 yr old's hair in about 5 min. Fine tooth comb and head over sink, spray the pam and watch silly putty dissolve while you comb thru! (07/05/2006)

By SNB
Removing Silly Putty from Hair
Thank you for the information about using cooking spray to remove Silly Putty from hair. My 9-year-old daughter was playing with Silly Putty on the floor, got Silly Putty in her hair, and mashed it in while trying to remove it.
I just used the store-brand cooking spray and a fine-toothed comb to remove the Silly Putty from the hair. It worked! Thanks for this site and thanks to Google for indexing it. (09/02/2006)

By South Jersey Mom
Removing Silly Putty from Hair
Cooking spray took the silly putty right out of my toddlers hair in minutes! Thanks to all! (09/05/2006)

By Andrea
Removing Silly Putty from Hair
Crisco is the bomb. (09/24/2006)

By Tom
Removing Silly Putty from Hair
You can use baby oil. Soak the hair in the oil, work into hair, then comb it out gently with a fine tooth comb. (04/29/2007)

Removing Silly Putty from Hair
1:00 a.m. the phone rings.....My great grandson, 2 yrs old, has a large wad of silly putty in his hair...I went to Google, found you and all the great tips, called his mommy back with the info. I'm sitting with phone in hand waiting to see how the (b)Battle of Silly Putty in Hair(/b) is going... Thank you everyone for your tips! You have probably saved his mommy's sanity! Nana Carol (05/03/2007)

By Carol Harper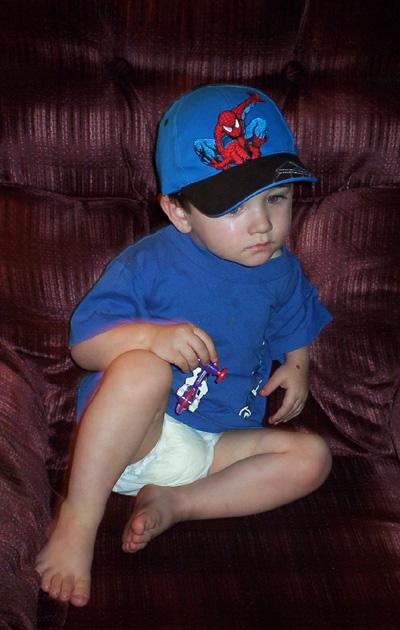 Removing Silly Putty from Hair
I tried vegetable oil, mazola cooking spray and neither of them worked well. So, I tried HAND SANITIZER (GERMX, PURELL ect.) It came out instantly!! It was a miracle! The cooking spray, was working, slowly and I was still ripping my daughters hair. Just an FYI for all you reading this, that stuff will get almost anything out of everything w/o damage. Gum, paint, sticky stuff from stickers, anything that is gooey. I think it must be the alcohol content in it. It is my Windex....for anyone who has seen the movie Meet the Fockers. (05/19/2007)

By Teresa
8 Simple Steps To Removing Silly Putty From Hair
1. Get over initial panic aroused by screaming child
2. Locate baby oil under sink, buried beneath the curlers and what-nots
3. Add generous amount of baby oil to putty
4. Work oil in hair until putty is soft
5. Take fine tooth comb and slowly comb putty out
6. Bathe child
7. Throw putty in trash
8. Drink a cup of coffee with a shot of Bailey's to calm nerves. We all know that as long as mom is happy, everyone is happy. ;-)
(07/01/2007)

By Angela
Removing Silly Putty from Hair
I had read about skin so soft, and I had a huge bottle of it (and I don't use cooking spray). After a few minutes it started to dissolve the silly putty and I was able to comb it out with one of those black combs that it seems all boys have. Two shampoos to dissolve the oil, and he's back to "normal" and not girly smelling. (07/23/2007)

By Cheli
Removing Silly Putty from Hair
Pink Silly Putty in my 9 year old boys hair-NOT good! The instant hand sanitizer and a fine took comb worked in seconds. The peanut oil did NOT work.
I feel like supermom! (07/24/2007)

By Dee
Removing Silly Putty from Hair
Purell worked like a charm. Worked it in real good then had the little one jump in the shower. Here is a photo of her hair after the purell melted the Silly Putty.
(12/18/2007)

By Jeff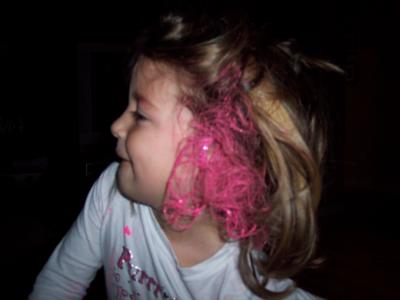 Removing Silly Putty from Hair :(
My 10 year old girl put silly putty in her hair! I called my sister (a hair stylist) she said peanut butter should do the job. It saved my life, after I made her take a bath (it was out just getting the oil out) and i used Dawn it worked, after use regular shampoo and conditioner. (12/29/2007)

By Terri
Removing Silly Putty from Hair
Baby oil worked for me! (01/05/2008)

By Chris
Removing Silly Putty from Hair
PAM did the job! I covered my son's mouth and nose so as not to inhale the PAM spray. The blob has huge right at the front of his head at the scalp. I did allow for a bit of tugging and pulling just to remind him to keep silly things away from his head; by the way, he is 12! Thanks for your help. (02/11/2008)

By Christine
Removing Silly Putty from Hair
Thanks so much for the tip on cooking spray! It worked magic in my daughter's hair this morning. She fell asleep playing with silly putty and awoke this morning to it matted to her hair. It started at the roots so I would have had to SHAVE her head in order to get it out! Thanks so much for helping me save my daughters hair and self confidence. (03/05/2008)

By Tonia
Removing Silly Putty from Hair
During nap time in my PreSchool class my own son decided to sneak silly putty and wear it as a hat! I am so thankful for this website! Handsanitzer was all I could get my hands on and it worked like a charm! Your a God send! (03/24/2008)

By Destiny
Removing Silly Putty from Hair
For little ones: Calmly cuddle with yout child in bed or somewhere relaxing. Reassure them that mom will get it out. Gently massage a few drops of baby oil on both underside and top of puddy. it will become soft like chewed chewing gum, but be slick on the hair. Gently work with little sections- stretch it to remove it. The ball of puddy lifts away from skin as you work with it. After it is removed, take a towel and buff excess oil off. (04/05/2008)

By Kate
Removing Silly Putty from Hair
My daughter left a message on my answering machine early one morning. There were only a few minutes before my granddaughter school bus was due to arrive, and she had somehow managed to get silly putty stuck in her hair. I was in making bread, so I washed my hands, and called her back. Much to my relief, my daughter had thought to try cooking oil.It worked like a charm, and my daughter had the silly putty out, washed her hair, and had her at her bus stop in a matter of minutes.
Being a Grandmother of 23 Grandchildren, I would have recommended baby/ cooking oil. However, any sort of pure oil will safely remove silly putty safely from a child's hair. I have never tried/ used Pam, and would not recommend it. It may work, but it is still a spray. Cooking oil is a purer source of oil, and will not hurt the child, should it accidently gets into their eyes. Whatever you decide to use, I wish you all the very best of luck. (04/16/2008)