I am having problems getting my Shih tzu puppy to eat. I tried puppy food wet and dry plus put a little chicken breast mixed in.

Rich from Thailand

Answers:
Shih Tzu Puppy Not Eating
First off I think I would have the vet check it to make sure something isn't wrong. If it's fine I personally would consider home cooking for it.

I have two Shih Tzus. One of mine I think would have ended up starving if I hadn't turned over to home cooking real food for him. He's a totally different dog now. Because of the long struggles with him, I ended up opening a pet bakery. I have since run into several other owners of small dogs that had the same problems. But once turned over to real food their pets stated loving their food. Some owners were totally amazed with the difference in their small pets, all thanks to real food.

Here's a pic of my beautiful Shih-tzus. I can't resist showing them off every chance I get.
I keep them trimmed and they love it that way. When their hair starts to get a tad long they will beg to be trimmed, they are just too sweet for words. (04/29/2008)

By Martha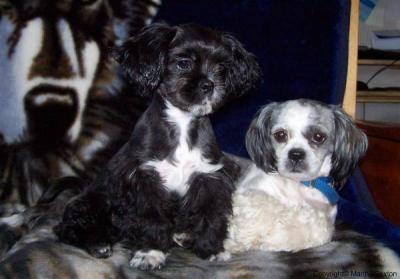 Shih Tzu Puppy Not Eating
My advice to you would be to take the pup to the vet or call the vet and ask what could be wrong. The dog not eating shouldn't be taken lightly, the dog needs to be seen and needs to start eating. Something could be very wrong, then again the dog could just simply be very picky about food. My dog was like that, we went through 100 brands of dog food before we could find something she liked. I hope this was helpful, and please for the dog's sake contact a pet professional and ask their opinion. (04/29/2008)

By Crystal
Shih Tzu Puppy Not Eating
Of course I would do the vet visit for sure, but something I did that helped mine was goat's milk. Just a little over her puppy food. Not much because it could cause loose stool. (05/04/2008)

By Sarah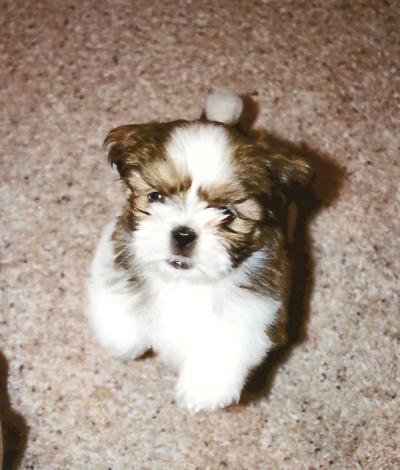 Shih Tzu Puppy Not Eating
I don't know if you can get this food in Thailand, but it's the best! It is called Merrick in the can. They make a puppy variety, too. I've yet to have a dog refuse their "Smothered Comfort" with whole chicken thighs. I hope this helps. (05/06/2008)

By Janet
Shih Tzu Puppy Not Eating
I have had two Shih tzus who were very picky eaters. They would not eat any foods, but Caesar's dog foods. His favorite is the chicken. Try this and see if it starts eating. If not, then you may want to take your Shih-tzu to the vet. It may be sick or have worms. I have a 9 month old right now; he only eats Ceasar's Canine Cuisine. I tried all other foods. He will only eat this one even my vet told me to try the Ceasar wet foods. He also loves the Beneful dry dog foods. Give this a try and let me know how it works. Thanks. (11/15/2008)

By Kim
Shih Tzu Puppy Not Eating
When an animal stops eating it is a sign something is wrong. I certainly would not introduce new food or drink items when you don't know what the problem is yet. You may have already fed it something it can't tolerate. You should contact your vet like you would your doctor about yourself if you could not eat. Eating = life. (02/09/2009)

By another shih-tzu owner