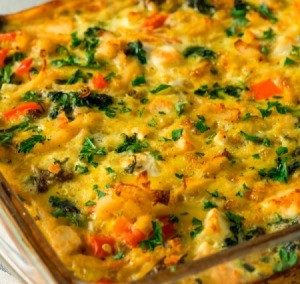 Feel free to experiment with the ingredient flavors for this recipe. For example combine sun dried tomato and basil cream cheese, Caesar dressing, half fresh Parmesan and half mozzarella cheese and Cheez-it Italian Four Cheese crackers or combine plain cream cheese, ranch dressing, Mexican blend cheese and Cheez-it Pepper Jack crackers.
Ingredients:
1 Tbsp. extra virgin olive oil
1 tsp. minced garlic
2 (10 oz.) packages frozen chopped spinach, thawed, well drained
8 oz. garden vegetable cream cheese, softened
3/4 cup ranch dressing
2 eggs, beaten
2 cups shredded cheddar cheese, divided
1 cup Cheez-it cheddar crackers, lightly crushed and divided
1 large tomato, very thinly sliced
Directions:
Preheat oven to 375 degrees F.
Sauté garlic in olive oil until garlic is fragrant, about one minute.
Mix sautéed garlic, spinach, cream cheese, dressing, and eggs in large bowl until well blended, stir in half of the cheese and half of the crackers.
Spoon into a lightly oiled 8 x 8 baking dish, top with remaining crackers and cheese, top all with tomatoes and bake until heated through and cheese is melted, about 20 to 25 minutes.
By Deeli from Richland, WA