My bathroom needs to be updated. I have a small bathroom and it has milky brown and white tiles and the tub, toilet and sink are also milky brown. Any ideas on how to update without ripping out all the tiles?
Pamela from Pittsburgh, PA
Answers
By jojo (Guest Post)
April 26, 2007
0

found this helpful
Hi,
If the tiles are in good condition you could paint them using special tile primer and tile paint, you could get the paint tinted in a range of colours, I prefer to stick to something neutral in bathrooms and kitchens and add colour with accessories, that way it's an easier job to change the look.
You could add some colour with co-ordinating towels, bathmats and a nice plant-pot etc....
Good luck with your project whatever you decide to do.
By (Guest Post)
April 26, 2007
0

found this helpful
thanks i was thinking about painting the tiles and replacing the tub toilet and sink. the bathroom is pretty small so the job shouldnt be that hard , its just getting in there to do it i have 3 boys and a husband
By Jackie (Guest Post)
April 26, 2007
0

found this helpful
You can brighten a tiled Bathroom, By re-grouting in a whiter shade or off white color grout. This can be done on floor tiles, shower tiles... Give the entire scrubbing with a bleaching scrub. Like Soft Scub with bleach. It will not discolor your colored fixtures, But it will brighten them.
You can then, inexpensively buy a brighter colored shower curtin, with matching rugs, and inexpensive decorative towels. An off white sounds like it would go well with the color you are talking about. Get a vase for the back of the toilet and fill it with coordinating colors. "Brighten is best and cheapest way to remodel a perfectly construct Bathroom".
Good luck with your Spring Project!:)
Jackie
From Massachusetts
April 26, 2007
0

found this helpful
I'm thinking, paint the walls around the tiles a pale but cheery (not too pale) shade of pink, yellow, or turquoise, and leave the tiles alone. Maybe get a cute stencil and coordinating paint to stencil a few of the tiles (stencil with white first, let dry, then use the color to stencil again) to bring the wall color onto the tiles. This way when you change colors you can take a razor blade and just scrape the stencils off the tiles and do it all over again! get towels, curtain, rug, and decorations to coordinate with both the brown and the color you choose for the walls. Maybe a fancy toilet seat, like one of the clear ones that looks like the ocean too...have fun with it!
By jojo (Guest Post)
April 27, 2007
0

found this helpful
We bought a house in the early 90's with a brown 70's bathroom suite and pink walls, it was horrid, I couldn't wait to change it. Painting the tiles would be quicker, cheaper and easier than replacing since you didn't want to have to do that. If they're plainish tiles that's not so bad but do they have a pattern that dates the look?
If you're thinking of replacing the tub, toilet and sink you may end up damaging the surrounding tiles anyway and have to replace or patch up...make sure you measure up carefully if you decide to replace...best wishes...we've refitted bathrooms in two homes...that brown one I mentioned....and our current home...that turned into a much bigger job than anticipated (tiles ended up falling off the walls), even the walls came off, the only original thing in there is the ceiling! We moved fixtures to make more room and went white and neutral so we can change the look with coloured accessories.
Good luck, hope you love it when you've finished, I'll try to add a photo of our latest...fingers crossed...
Thank goodness we had a 2nd loo!!!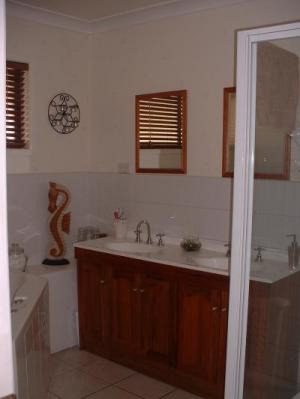 April 27, 2007
0

found this helpful
Have you seen the decals that you can apply to tiles? They have some nice designs like seashells etc. They scrape off if you want them to later. Paint is the cheapest way to brighten and update.
You might want to add a mildew deterrant to the paint if it has heavy use. If you want to go the decal route, I would pick a wall paint to go with one of the colors in the decal you chose. Of course new accessories can brighten even the smallest powder room.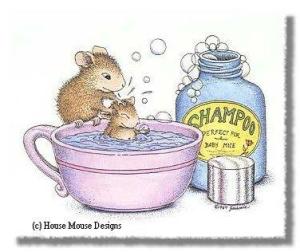 By pamela mckissick (Guest Post)
April 27, 2007
0

found this helpful
thank u everyone for your suggestions . i think i will just paint the tiles and get a bathtub enclosure, a new sink and toilet. i cant wait i'm so excited. i'll surely let you guys know how it went/
Answer

this Question

...
I live in a townhouse, which was built in 1986, with 3 full baths and 1 half bath. Two of the full baths are fine. The master bath and the half bath, however have fixtures (and 1 shower is tiled) in a pinkish burgundy that looks unfashionable. Is there a way that I can decorate the rooms around the fixtures, or is there a good product that will cover the color and a good paint to use over that?
By Pat from Morris Plains, NJ
Answers
March 31, 2011
0

found this helpful
I would use black accessories.
March 31, 2011
0

found this helpful
Tiles can be painted, ask at your home improvement store if you are interested in doing that.
March 31, 2011
0

found this helpful
Hi Pat! I'm laughing with you, not at you! We once moved into a rental that had a bright, lavender colored sink, toilet and tub and shower surround in the one bathroom small home. Talk about a decorating nightmare! :)
I don't have any painting recommendations (as others have suggested, talk with the pros at paint stores if you try this) but if you decide to work around the existing fixtures and tiles, consider very light pastel prints, patterns or solids for curtains, shower curtains, towels, sheet-rocked areas that could be painted, accessories, etc.
Somehow, the subtleness of the pale yellow, green, pink & blue pastels I ended up using softened the harshness of the bold lilac color and it was a very thrifty solution for the time being. Good luck!
April 1, 2011
0

found this helpful
Wow, I remember that color from the 80's! :) Right now, one of the hot color combinations for decorating is pink and brown. I would consider getting brown shower curtains, towels, and accent pieces to modernize the bathroom a bit. And if the color isn't quite the right one to go with the brown, perhaps some lighter pink accents in the same family, to tie it all together. Good luck!
April 1, 2011
0

found this helpful
I'm laughing at you, not with you. Why on earth would anybody need that many bathrooms unless one was training new recruits into the army?
April 9, 2011
0

found this helpful
Wow, that's a lot of bathrooms! lol I wouldn't want to clean them all but on the positive side, no one has to hold it in...ever! hehe As for a color combination. I liked the idea of brown but a very dark brown. Then add some very white trim. Hmmm, good luck!
Answer

this Question

...
February 25, 2012
0

found this helpful
My bathroom is in a 1953 house we just bought, the white linoleum is coming up, the green toilet and tub are original to the house. The bathroom walls are all in green to match fixtures, but the sink is white with a marble green top, a later add, and the cabinet is a yellow tone wood like the kitchen. The tile surroundung the tub is 1970s lite green/pinkybeige with lilac pink flowers tiles for accent. The window faces east and the woodwork is a brownish orange. This is too much green for me. I would like to make it more Art Deco in style.
Could I paint the tub tiles in black, as well as the woodwork? I need to find a green sink and new top for the vanity which I would paint black with some mirrors on it. What would I use for the flooring to make it look more authentic? The only other idea I can think of is making my bathroom look like a trellis garden, but am not sure how to do that. Any help and ideas would be greatly appreciated. The bath is small.
By Myrna from Assisniboia, SK, Canada
Answers
April 5, 2012
0

found this helpful
I would paint tiles, wood and walls white and get black/white tile look Lino or tiles for the floor. You can get tile paint but would look better to just pull them off and retile in smallish white square tiles (or black/ white checker box if the rest of surfaces are kept white). Hope this helps.
Answer

this Question

...
I have a bathroom counter top with 1 sq. inch tiles. I need to replace the sink, but want to cover the nasty little tiles as well without having to rip the whole counter out. Is there a product that won't cost too much and will hide that tile?
By Connie from Anchorage, AK
Answers
March 24, 2011
0

found this helpful
There is a primer and paint that you can buy specifically for tiles. We looked at it to cover up a really tacky backsplash we had in our kitchen.
Answer

this Question

...