I would like to purchase a new vacuum and was wondering if anyone is "in love" with theirs. It must be an upright vacuum and have an on-board suction hose with tools.

Thanks!

Marnita from Cumming, GA

Answers:
Vacuum Cleaner Reviews
My fiance got me a Bissell PowerForce bagless. It's 12 amps and I love it! We have two long-haired cats, and lots of kids and friends in and out all day. This thing cleans like nobody's business. We especially like the bagless feature. All the receptacles and filters come apart easily, clean easily, and go back together easily. Even I can do it, and I'm notoriously fumble-fingered. Walmart has this model for under $60. It's a workhorse with some nice onboard tools, I highly recommend it! (12/12/2005)

By Sharon Brown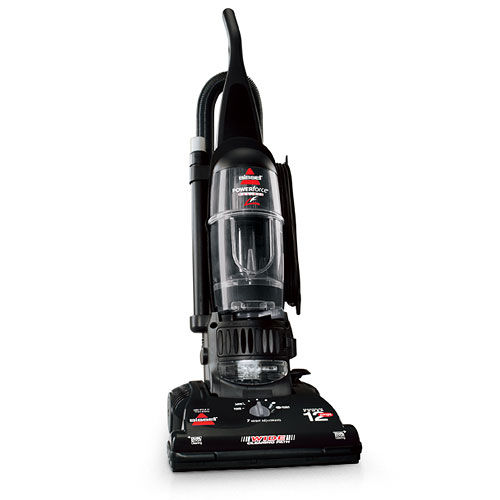 Vacuum Cleaner Reviews
I absolutely love my Fanthom. It picks up so much stuff. I have had mine for 12 years and every time I vacuum it still amazes me about how much stuff it picked up. Where was all that stuff hiding? When I am ready to get a new one it will be a Fanthom again. Got mine at K-mart. (12/12/2005)

By JoJo
Vacuum Cleaner Reviews
I have an upright Panasonic that I have used commercially for 5-6 years. I love it. The tools are onboard and so easy to use. I got a Sharp at the same vacuum store a couple years ago to replace this one I use commercially. After using it a couple of times, I took my Panasonic back to the building I do. I use the Sharp at home, but the Panasonic is so much easier to use. (12/12/2005)

By Dede
Vacuum Cleaner Reviews
My friend bought a Dyson and she absolutely loves it. She has 2 German Shepherds and two cats. They are pricey tho. (12/12/2005)

By Lois
Vacuum Cleaner Reviews
I also bought a Dyson about two years ago and love it. (I have two long-haired dachshunds, need I say more.) The Dyson is great. Yes, it was expensive, but worth it, just like the Rowenta iron I bought. I am as cheap as they come, but both of these items were money well spent. (12/13/2005)

By Clauldia from MD
Vacuum Cleaner Reviews
Never ever buy a Eureka. They are duds. Ours worked great the first few times we used it, then after that you had to work harder for it to vacuum the carpet. If anything gets in the motor you have to take it to the shop to get it repaired and it is not worth the money.
(12/13/2005)

By Ziggee
Vacuum Cleaner Reviews
I have had literally dozens of vacuums over my very long life, including a Kirby, a Rainbow, etc., and finally am happy, with my Dyson! It is light enough for me to carry, does all the work exceedingly well, cleans out easily, has a help line for questions, and comes apart so that even the most mechanically challenged souls like myself can see the logic of it all. One can see just how filthy one's carpets and/or furniture get in just a day or two after vacuuming by simply looking into the clear upright container after passing quickly through the house. It's horribly expensive, but I won't have to get filters again, and I won't have to replace it, I believe. I would recommend it. (12/13/2005)

By Cate
Vacuum Cleaner Reviews
I have the Hoover Empower with the hush mode and it is OK, but I bet there is better out there. (12/13/2005)

By Debbie
Vacuum Cleaner Reviews-Bissell Lift-Off
Bissell 3750M Lift-Off Deluxe Bagless Upright Vacuum or
Bissell 37603 Lift-Off Revolution Deluxe Upright Bagless Vacuum

I have been using a Bissell upright for 10 years, it also converts to a canister. It does a good job of cleaning, but more importantly it is two vacuums in one! You can use it as an upright vacuum or as a canister vacuum, just one click makes the conversion. All uprights have one big flaw, if you want to use the attachments you must drag the complete vacuum around with you. With this Bissell, you simply click on a button and the canister portion separates from the upright portion making it easy to carry around and do your cleaning. To convert it back to an upright, just set it back in its holder and click.

As far as I know, Bissell is the only manufacturer that makes this type of convertible vacuum.
I Goggled and found Amazon is a reseller; they sell new and refurbished

http://www.amazon.com/gp/search/ref=pd_sl_aw_tops-1_kitchen_7772087_1/104-2691102-0674365?tag=thrif06-20

I wouldn't buy a different vacuum, as this Bissell really does a good job, is easy to use and is two vacuums in one.

Jim in Jax (12/13/2005)

By Jim
Vacuum Cleaner Reviews
I also have a Dyson! It was really expensive, but it is so good. I know I won't be buying a new one anytime soon, maybe never. (12/13/2005)

By Barbara
Vacuum Cleaner Reviews
Consumer Reports, for the past two years has rated the Hoover Wind Tunnel (which I own) the best value for performance. It said it was better than the Dyson. (12/14/2005)

By Kelly
Vacuum Cleaner Reviews
Hoover Z Vacuum is sweeping the nation or at least I am using it to sweep my house! I got this one right before Christmas. It is an upright with tools and it has a cool design. It folds down into a neat little package. It is great for the stairs; it has a very long hose and my favorite hose attachment even rotates with bristles.

It is very quiet and has a clear canister with a HEPA Filter. It is so cool to watch the dirt spin around. I give it 2 thumbs up. If you add in my kids that would be 8 thumbs up. My husband has not used it yet. (01/12/2006)

By Joni Deiters
Vacuum Cleaner Reviews
I love, love, love my Hoover Z Bagless! It has no bag to change and no cloud of dust when changing. This clear canister stores the dirt, so you get to see what you are getting. It makes me want to keep on vacuuming! Also, the onboard hose lets me get all of my spiral staircase without unplugging. If you need a vacuum I would say this is a winner. (01/13/2006)

By Tracy J