Value of 1940s Murphy Cedar Bedroom Furniture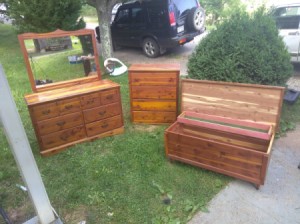 I have a tall dresser, long dresser with mirror, and a foot locker all in good condition and would like to get a idea of what they are worth. I have done some research and found the tall dresser and foot locker are around 700 combined, but can't find anything on the long dresser. Any ideas on the value?
Add your voice! Click below to answer. ThriftyFun is powered by your wisdom!
June 11, 2018
0

found this helpful
I would say $200-250.
June 13, 2018
0

found this helpful
This may give you a guide...this site has some vintage cedar dressers for sale with asking prices in the $350 range (NOT EXACT MATCHES but similar). I found an exact match, but the link was broken so I couldn't get any more info.
So when you click this link use your control and f key to bring up search box and put the word cedar in to find the two that were on there today).
www.kennebecantiques.com/index.html
If you are selling these,you can always say OBO (or best offer) and let the person tell you what they are willing to pay. Sometimes I start things high with a BIG OBO note and hope I get what I really wanted from the item price wise.
Good luck!!
June 15, 2018
0

found this helpful
This is a nice set but not very high in demand so the true sale value will most likely be low. True resale value will probably depend on the type of area where your set is located. The reason being that it would cost almost as much to ship it as the sale price would be so local trade is what you would most likely be looking at.
As a general rule Murphy furniture was on the "small" side compared to other brands of dressers and chest of drawers.
But their cedar chests were of comparable size but do not always command as high a price as other brand name cedar chests.
I do not know where you found the value of $700 for the two items but that would certainly be a good deal if you could sell them for that price.
A good price for the dresser may be around $300-350 but selling it may take a long time.
Not very many modern people will even look at this type of furniture (except out of curiously) so the best deal would be for someone wanting "something from the past" and there are less of that crowd than the younger generation.
I like to have appraisals done as I usually get a lot of useful information and some of it is surprising.
Appraisals also will many times help to sell an item for more money.
Here is a link to a list of sites that offer free appraisals so think about completing one or two and see what they tell you.
If you wish to sell these pieces, I would consider selling individual pieces and maybe list on your local Craigslist, LetGo, OfferUp with lots of pictures and measurements.
Add your voice! Click below to answer. ThriftyFun is powered by your wisdom!
Related Content