I have an old Mickey Mouse figurine and was wondering what it was worth. It has Walt Disney printed on the butt. I will attach photos. Thank you.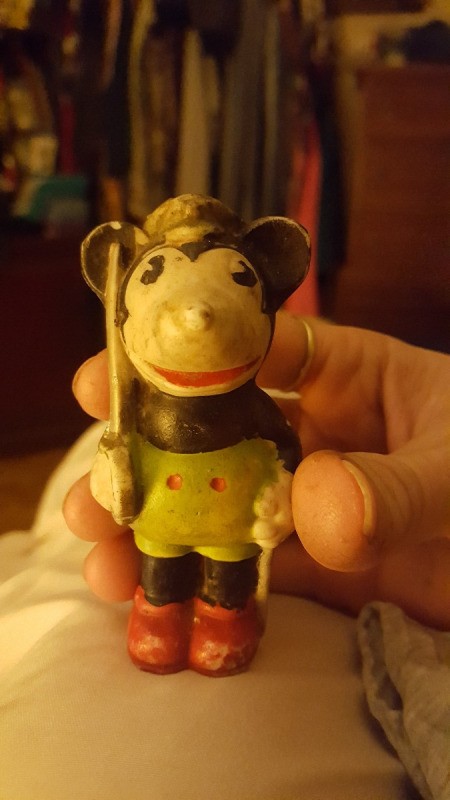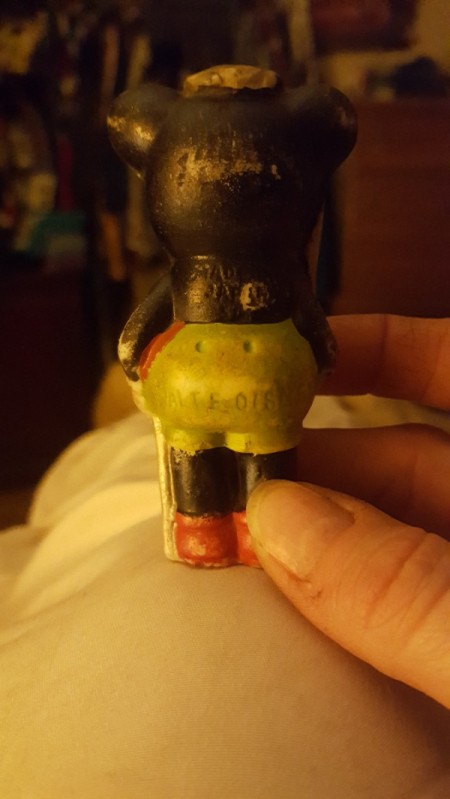 Answers
December 2, 2017
1

found this helpful
Best Answer
Your figurine is considered rare because it is retired. These figurines sell for a much higher price than vintage figurines or ones that are still available.
The figurine you have is so hard to find and many people are looking for this. Some collectors would pay as high as $1000 for this figurine.
I personally would go to see a vintage, rare, and retired dealer for Disney figurines. You'd be surprised to find out that this little guy is worth a lot of money. That is the only way to get a fair price for this retired figurine.
Answer

this Question

...
I have a 1935 figurine of Mickey Mouse made by Wade. He is wearing orange shorts (I believe Wade made this model in either blue, green, or orange shorts). My Mickey is in mint condition! He came from my nan's family farmhouse when she was little girl and she then kept him safely boxed away all through her adult life and gave him to me about 10 years ago!

I would like to sell him, but don't know the best way to go about this to get a proper price? In the Wade catalogue he is valued at between £1500/£2500.
Please can you advise me?

Answers
May 29, 2019
0

found this helpful
It could be worth a couple hundred or perhaps thousands. I cant find this exact figurine.
I would take it to a dealer. You could also send the pictures to The Antiques Roadshow on pbs.org.
May 30, 2019
0

found this helpful
Cool item!! Neat!!
If you are going to sell it, I suggest finding a good auction house in your town and having them sell it for you. They were made in other colors, though I have only ever seen photos of the orange and the blue. All of the examples I have seen sold are old (before the US market crashed in 2008) so the value may or may not be the same as it was then, which was in the range of $500 US dollars at auction. It appears you are NOT in the US and I apologize, I don't do conversions well off the top of my head.
You will have to pay a commission for a sale, but it is truly the best and safest way to sell it if it still has a value over a few hundred dollars.
If you tried to sell it yourself online as a new seller, you would open yourself up to the new wave of horrible people who try to scam new sellers. I just don't recommend going that way any more.
Post back with an update on what the auction house (or a good antique/vintage store that specializes in high end items) tells you.
I hope the item has appreciated in value!!! Thanks for sharing!
May 30, 2019
0

found this helpful
These items are not as rare as some may think and the orange suit seems to be the most plentiful with the blue and green suit more rare.
It appears that galleries always seem to keep stating the highest value figure that anything ever sold for so their prices could be from years ago and not a current value. Only the galleries that state date/site of last sale are to be considered maybe current value (as of that date) and only then when condition and place of sale are considered.
I have found several of this item listed over the past few years and not all were sold even at small amounts.
Your figurine seems to be in excellent condition so that is a plus as many do have issues and issues will lower the value.
You can check the following links for items still for sale and others 'maybe' sold but there are several sellers who just dropped the for sale listings.
Current listing: 2019: Blue outfit - place a watch on this item to see if it sells.
www.ebay.co.uk/.../223426064514
This one in orange sold in January 2019 for $416;
www.ebay.com/.../254090496863?_trksid=p2385738.m4383...
You may wish to ask for a free online appraisal as they may be able to tell you more about value in your country as well as the US.
These are very good appraisers and do not ask for money to give you an answer but be sure to ask for resale value as well as insurance value.
You can also ask about where to sell this type of item.
www.whatsellsbest.com/.../collectibles.html
I believe your item is probably in the $250-$600 value range but it may still take a long time to sell.
eBay is probably the safest site to list on but be sure to check out lots of similar listings before attempting to sell an item like this as there are expert crooks all over the world and they love to find new sellers trying to sell nice items.
May 30, 2019
0

found this helpful
Hi there hope you are well! Thank you very much for taking time to answer (I appreciate all of you who have took time out to help!) I'm the same as you ,I've spent hours trying to find the exact replica with orange shorts ,to no avail! I have found 2 of the same Mickey both both of them were in the blue shorts and had a lot of damage!!! !y friend as recently sent pics into Dickinson real deal!!!! Tbh id be happy with a few hundred pounds ,as long as he went to good home! As a single mum i would come in handy if I could get decent amount, I'm keep you posted!!! Thanx again!
May 31, 2019
0

found this helpful
Thank you very much for your advice, I think your right about using a local auction house (I! I'm England) I have sent pics to my nearest today and they contacted me straight out Away and said they would be happy to put i in there next specialist auction and have sold 1 before but it had quite a lot of ware and damage and it was in blue shorts and sold for £580 even with all damage ,it was also about 15 year ago!! Do you think that a specialist auction will go worldwide? They said would recommend putting a reserve of £4/500 on it!!! What do you think pl?Anyway I'l keep you posted, thanx again!!!
May 31, 2019
0

found this helpful
I am so excited about your news!!! A reserve is a good idea for a special item. It just gives extra price protection in case it is an off day. I hope it goes world wide. Be sure to read and understand their contract so you know exactly what to expect! Ask all of your questions before it is signed. Post back with an update. Fingers crossed for you!!
Answer

this Question

...
I have a Mickey Mouse statue that weights around 50 lbs. It is like the other one I have that is a store model that has 500 made. But the one I'm asking about is gold and only 50 were made. I've pretty much looked as much as I could, but have no luck. I've read that the store model is valued at around 3000 dollars or so. But the gold one I have no idea of its value.
Answers
January 30, 2019
0

found this helpful
Is it real gold? The fact that only 50 were made is a good sign. I would go to a dealer that specializes in Disney items for a free appraisal.
January 30, 2019
0

found this helpful
Sorry but without pictures and more information on size and perhaps age it will be difficult to search for information.
There have been quite a few "gold" mickey mouse statues made over the years and some are valuable but others not so much.
Would it be possible for you to post pictures (of both statues) as well as pictures of any markings; also measurements and any information you have on the age of the item. Any type of paperwork?
What type of material; real gold (karat?) - faux gold - gold over ceramic?
If real gold what is the store statue made of?
Since it weighs around 50 pounds is the weight due to the size of the statue or due to the material content?
Sounds like a very interesting item.
Just searching with the information provided only shows how many different styles have been made.
www.google.com/search?q=gold+mickey+mouse+statue...
January 31, 2019
0

found this helpful
I would publish a photo. You don't say what size the statue is so it is very difficult to help you.
You can add the photo to the feedback or send it to us at ThriftyFun and we can add it to your original question.
Answer

this Question

...
I have several Walt Disney figurines and wanted to see if they were worth any money. They have got Walt Disney stamped on the bottom and some have got made in Indonesia and some say made in China. How do you know if any are valuable?


Answers
November 25, 2018
0

found this helpful
Unless it is antique or a special anniversary edition, it is probably not worth much. Keep looking on EBay and see if you can find your exact one and a sold price.
November 25, 2018
0

found this helpful
First of all do a search on Google, you might find your answers on there. eBay is your best bet on getting to know if they are of any value. eBay is the worlds largest site for selling dolls and Walt Disney figurines . See if there are any similar to yours, what price is being asked and if they are selling, remember to figure the cost of shipping them. Craigslist is also another place to look.
Good luck !!
November 26, 2018
0

found this helpful
Hello...are these your figurines:
www.ebay.com/.../232946485548?hash=item363cb1492c...
They have been unsold on eBay for a while now at the under 6.99 range.
Most of the figures made in China and Indonesia have not held their value.
There is so much Disney out there and that also hurts the values.
When looking for Disney items to resell, those from Tokyo Disney have some value (some of them) and unusual glass pieces....like some of the very old cups and saucers have value....like when Donald Duck was quite scary looking!
Answer

this Question

...