December 20, 2020
0

found this helpful
The serial number read backwards is the date it was manufactured. You could contact the Lane Company directly and they could tell you the style. www.lanefurniture.com/
December 21, 2020
0

found this helpful
We know the date of manufacture (1946, mentioned above). What we're trying to find out is not just the value...we also want to know what STYLE this is. "Style 2064" brings NOTHING up in searches, and despite all the digging I've done, I've yet to find a photo anywhere showing one with the "carving" around the entire lid lip and base (it goes all the way around it). I tried contacting Lane already, but they couldn't tell me anything (I did, however, order the replacement lock for it while on the phone with them...this still has the original lock).
Even if the value is only $1, we love it, and it's not leaving our family. We just wish to learn more about it.
December 21, 2020
0

found this helpful
This is a beautiful waterfall style! I am not positive that piece of gingerbread on the front is original--I am still trying to find a 1946 catalog to verify.
I did see this "gingerbread" on a chest that did not show the serial number and was attributed by the seller as a 1950s piece. It may be yours and the seller did not know how to read the dates and just guessed. If I can get that as a screen shot, I will. I am not always able to capture screen shots.
If the gingerbread was an add on, then this may be your piece--which was sold as part of a complete bedroom set (see picture). This is clipped from a 1946 newspaper advertisement.
Waterfall is an art deco staple design. Technically, 1946 was outside of the "hey day" for deco--typically thought of as late 20s-1930s--but it is a classic style that was used in one form or another for years (even today)! It happens to be one of my very favorite styles and in many resale markets, it continues to hold value--which is great for sellers, but bad for people who want to own one and find it out of their price range!
I am going to keep digging!! If I find more, I will post back!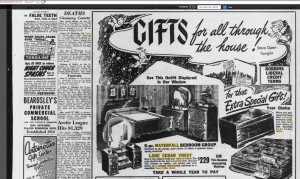 December 22, 2020
0

found this helpful
Thank you SO much!! I did take another look at the "gingerbread" you're referring to...it's definitely original. Looking forward to any extra info you find! YOU ROCK!!
December 22, 2020
0

found this helpful
I have been checking this number (2064) for several days and it appears the chest on WorthPoint is the only one on line right now.
I do not like to use WorthPoint site as a reference because the information is posted by the seller and you cannot rely on a seller having the correct information.
This seller is stating the number is 2064 but does not post a picture of the tag to prove it and does not post the tag showing the serial number that would prove the date manufactured. Perhaps the tag is missing and the number 2064 was found somewhere else.
the reason I'm saying this is because - if I'm seeing the picture correctly - the top of this chest does not have the divide as yours clearly does.
The gingerbread trim is there but it's possible the one on WorthPoint is a different (but close) model.
www.worthpoint.com/.../vintage-lane-cedar-chest-blanket...
The waterfall chest seems to be one of the favorite style of cedar chests and there are many styles. I have always felt it was (or should be) considered in the art deco style even if so many were made in the 40's which is clearly past the Art Deco period.
I'm very glad to hear how excited you are about keeping this beautiful piece to continue passing down through many more generations.
My concern right now would be the condition of your chest.
It does appear that the top has some damage that should be taken care of. It's also possible the inside may need some TLC.
I have a few sites that may help you figure out what needs to be done to keep your cedar chest in tip-top condition.
www.ehow.com/how_7691438_care-lane-cedar-chest...
homeguides.sfgate.com/clean-inside-old-cedar-chest-93558...
There are sites that state you can use Old English on these chests but I would not recommend it - take the hard route and do correctly.