Whey Soup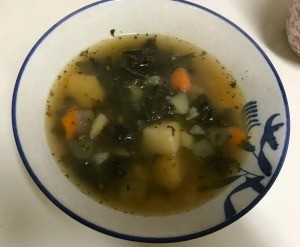 In many countries where cheeses are made at home, thrifty cooks use the whey as a soup base. My mother was from Poland. She made a sauerkraut soup that reminds me of this because of the slight tang. This recipe can be doubled.
You can use any vegetables you have, and add meat or chicken. I had potatoes, carrots, onions, garlic and kale from my garden that was frozen. I made my soup in the instant pot on the soup setting. If I were making this conventionally, I would have simmered it about an hour and a half. It tastes even better the next day!
Prep Time: 10 minutes
Cook Time: About 40 minutes in the instant pot
Total Time: 50 minutes
Yield: 4 servings
Ingredients:
1 large onion, chopped
3 potatoes
2 cloves of garlic, minced
oil for sautéing
3 carrots, sliced thinly
2 cups kale (I used half a quart sized bag of kale that I froze)
3 cups whey
2 chicken or beef bouillon cubes
salt and pepper to taste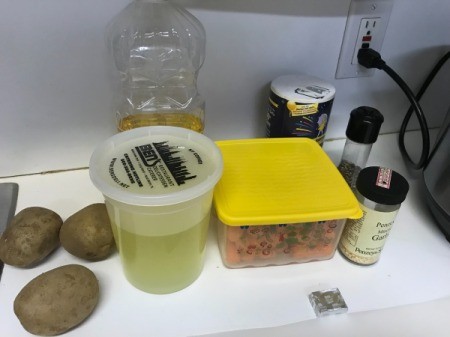 Steps:
Cube potatoes.
Save potato peelings and other vegetable scraps in a ziplock bag. When it is full use to make vegetable stock.
Set Instant Pot to sauté. Coat bottom of liner with oil. Sauté onion and garlic until the onion is translucent.
Add the carrots, potatoes and kale. Add the whey. If the whey doesn't cover the vegetables, add water until vegetables are barely covered.
Add salt and pepper to taste.
Set the Instant Pot to the soup setting. Let the pot release the pressure naturally.
You may serve the soup as is, use an immersion blender, or just mash up the vegetables a bit with the back of a spoon.
Add your voice! Click below to comment. ThriftyFun is powered by your wisdom!
Related Content