Does anyone know an easy and quick blackhead remover? I get them pretty badly, and I need some way to get rid of them. Please, and thanks so much.

By Kyla from Boston, MA

Answers:
Home Remedy for Blackheads
All you have to do is mix baking soda with water (make it into paste), leave it for as long as you wish, then wash your face with water until all of the baking soda is off. Good luck.
(08/12/2009)

Home Remedy for Blackheads
Well, the first thing that comes to mind is to keep your hands off your face. In fact, get in the habit of never touching your face without first washing your hands. Of course, you need to wash your face and keep it clean, but don't over-wash it or your face will put out even more oil for dirt to stick to.

You need to help shrink the pores with a non-alcohol astringent after cleaning your face with a gentle cream or lotion or foam cleanser. Once or at most twice a week you can use a scrub like St. Ives apricot scrub for acne. It's the one that also has salicylic acid added. If you don't over-do it, you can use benzoyl peroxide to keep the bacteria down, but I would be very careful because too much of the benzoyl peroxide (or too much salicylic acid, like in Stridex wipes) can make your face peel, be very dry, and extra-sensitive to the sun.

If you have the money, it would greatly benefit you to spend around $50 and have a facial once a month. Most people don't know what a facial is and just think they put some steam and creams on your face, but "facials" are really for getting rid of blackheads and also exfoliating your face as well as toning the pores so they can shrink as much as possible.

The steam is to open your pores so they can easily and gently remove the blackheads. These beauticians, if they know their stuff can remove your blackheads in a facial with practically no pain. If you get a lot of blackheads, it's worth the money to have a facial once a month or every other month. Call around and check on prices at different places. But by all means do not go to a beauty college where they train people to do facials. Also, don't schedule a facial the day before you are going somewhere important because your face will most likely need a few days to heal afterward.

When you remove your own blackheads you should always hold a hot, clean washcloth to your face for about 5 minutes (to the blackhead area) beforehand so the hot steam can open your pores and the steam from the hot cloth helps the blackheads get softer. If you use the hot-washcloth/steam method, your blackheads will come out much easier. After removing your blackheads or after washing your face, be sure to "tone" the skin with astringent ("toning" helps to deep-clean and shrink the pores back to normal), use with a non-alcohol astringent on a 100% cotton round pad (they have these cotton pads at most dollar stores, only buy the 100% cotton ones).

I would also recommend you use light-colored pillow cases that you can bleach every time you wash them. The bleach will kill the germs. Use your pillow case for only 2 nights: sleep on it once on the front-side, then turn it over and sleep on the back side the second night, then wash it and get a clean one. Also, use light colored towels and washcloths that you can also bleach.

Here's some more info to read:thriftyfun.com (08/12/2009)

By Cyinda
Home Remedy for Blackheads
I use the round part of a safety pin to squeeze them out. Don't use the actual pin, which can scar your face, but push down the circle around the blackhead and it will pop right out. It sounds gross to write, but that is the nature of the topic. (08/12/2009)

By Emily Pierce
Home Remedy for Blackheads
I found this remedy on another website:

How to Make a Homemade "Biore" Pore Cleasning Mask
by Christen Henderson

Introduction:
It's as easy as 5 minutes! You can make as much as you want and it's lots cheaper, and in my opinion works a lot better!

Instructions:

Difficulty: Moderately Easy

Things You'll Need:
1 T Knox unflavored gelatin
1-1/2 T milk
Not very hard to find at all!
Steps:
Mix two ingredients and microwave for 10 seconds to slightly warm. Using a clean
cosmetic brush or a Q-Tip works fine, apply to nose and chin area.

Avoid delicate eye area. Rinse brush immediately. Allow mixture on nose and chin to
dry for 10-15 minutes.

Mixture will dry quite stiff and form a "stiff film." Peel off the film and stare
at all the little porcupine quills that used to be in your nose pores (one of the chief
entertainment factors with Biore Strips).
There's a step-by-step demonstration and pictures on my blog: bargainbasics.blogspot.com. (The picture I included here is the result.) (08/13/2009)

By Becky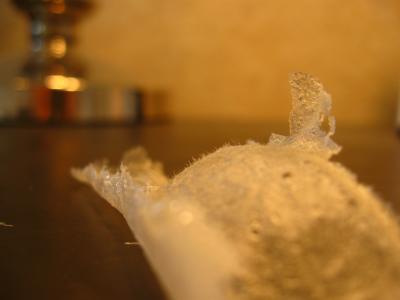 Home Remedy for Blackheads
Use Serious Skin Care Glycolic Cleanser (www.hsn.com, ebay, ...). It's expensive, but a little bit goes a long way. Put it on a dry face with dry hands, let it set until it starts to sting, rinse off gently and use 2xd. The acids in the cleanser will help to exfoliate the dead skin cells. They have a nice anti-acne set of serums, worth checking out. (08/14/2009)

By Holly
Home Remedy for Blackheads
An Omega-3 supplement after each meal helped me a lot, and quickly too. (08/14/2009)

By Regina
Home Remedy for Blackheads
You want a cheap way of keeping the skin nice and tight? After washing, rub in and let dry white vinegar. It's acidic and tightens the pores. After a shower, or washing with really warm water, squeeze the blackheads and get the pore empty, then use the vinegar. You might want to dilute the vinegar to a 10% amount and over time make the vinegar stronger, so you can get used to it.

I found this out by accident. Keep the pores as empty as possible and use the vinegar or mix, regularly and over time the pores shrink in size till they are tight again. The vinegar also disinfects the skin and kills bacteria. It's pretty good on pimples that come up and cause redness. Just use the vinegar on it during the day, maybe 4x or more a day. Put on just a fraction of a drop and rub in, then let dry. It's amazing how well it works and it sure is cheap. (08/14/2009)