Using Vitamins and Minerals
Solutions
Share on ThriftyFunThis guide contains the following solutions. Have something to add? Please share your solution!
I just wanted to respond to the guide about using vitamens and minerals. Always consult your physician before you start taking supplements. When you talk to him, take a list of the prescription drugs you take, in case there is one he isn't thinking of. I found out that Magnesium negates the effects of some supplements and medications.
Also, some people say take a baby aspirin daily as a supplement to help your heart. Any kind of aspirin (also acetametaphin, ibuprophen, etc) can be deadly if you take blood thinners like Warfarin or Cumadin. The ONLY pain killer that doesn't affect blood is Tylenol. Maybe that is why it isn't much of a pain killer :(
By Suntydt from Tazewell, TN
I have been working through glucosamine samples that I have gotten from internet offers (Check out freestufftimes.com for great updated tips for freebies.) I also pick up samples at my health food store, which I prefer for that reason. You can use them for traveling or for emergencies when you are running out - or just to stretch out your supplements and chip away a little at their cost!
Often the supplements are unusual ones, so it allows you to experiment with different ingredients in your health regime. And remember to read those labels, if you get a dose in one pill, you can fore go it in another taken at the same time, or you can combine the dosages!
Source: Originally inspired by Adele Davis' books on wellness.
By pam munro from L.A., CA
Several years ago I had a stroke. Recently (about 6 weeks ago), I ran across a article about memory loss and vitamins. It recommenced taking Vitamin B12 and folic acid. Slowly, but surely my short term memory is returning.
At this point in my life after such a long time, any improvement is a miracle. The mcg of folic acid is 800 mcg, the vitamin B12 is 1,000 mcg.
Talk to your family doctor before adding any new vitamins. Good luck to anyone that tries it.
Source: Article in magazine
By Joyce Lambert from Nokomis, AL
Hi! I heard from a friend that Fish Oil Vitamins are good for your heart along with helping ease anxiety. I tried it out for myself and it really has helped me so much, not to mention I don't feel the need for any over the counter medicine to treat anxiety. I love it!
-Summer-Texas
Do you get an upset stomach when taking vitamins? I am currently taking calcium, a multi-vitamin, and biotin. For some reason I would get sick to my stomach. I tried taking them with food, and without food and nothing seemed to work.
Read More...
At the first hint of queasiness or stomach pain, I take one-half dropper of Trace Minerals from BEST Process AlkaLine. I put it in a little juice or water and drink it. It is unpleasant, but not nearly as bad as vomiting.
Read More...
If you use individual dietary supplements (aka vitamins and minerals) to format your own specific supplement requirements, it may be hard to remember how many of each to take every day without looking at the directions each time.
Read More...
March 18, 2005
0

found this helpful
By purchasing vitamins and minerals on sale and clearance, I soon ended up with a bag full that I had to empty out each time when searching for a desired item.
Read More...
Questions
Ask a QuestionHere are the questions asked by community members. Read on to see the answers provided by the ThriftyFun community or ask a new question.
I've been advised to start using the supplement astaxanthin for a variety of medical conditions. Has anyone else used it with success? How long have you been using it? How long did it take to show results? My nurse practitioner suggested it.
Thanks.
By Gloria
Answers
December 1, 2011
0

found this helpful
From what I've read it is one of the best antioxidents there is. Be sure it's naturally produced and be sure to let your nurse practioner know what other vitamin and mineral supplements, including dosage, that you take. You'll want to ask her if there are any supplement adjustments you should make and also what dosage of the astaxanthin you should take and how often. As with any supplement, medication, exercise or diet change it could take a month or two to see/feel the benefits.
December 2, 2011
0

found this helpful
You need to research any supplement before you start taking it. There will always be a 'flavor of the month', or everyone's current favorite new thing to recommend, just like with prescription medications.
Also make sure that your NP does not have a stake in this, such as selling the item from the office. It is not unusual, as I have seen recent ads for offices, promoting a supplement or range of products that their office is selling. Best of luck to you.
I did read on Wikipedia that 'While it does function as a carotenoid antioxidant, research has shown that lycopenes are more efficient antioxidants than carotenoids.' And they list the reference for that comment.
Answer

this Question

...
Photos
Share on ThriftyFunCheck out these photos. Click at right to share your own photo in this guide.
I buy my vitamins and put them in a divider for ease of consumption. However, when I go to the medicine cabinet, I sometimes forget if I have all of them in there, some, etc.
So, being the visual person that I am, I turn the bottles upside down to show that I have used them up.
That way, when I am getting low, I can always put them on my list and get more.
Hope this helps!
By Sandi/Poor But Proud from Lake Zurich, Ill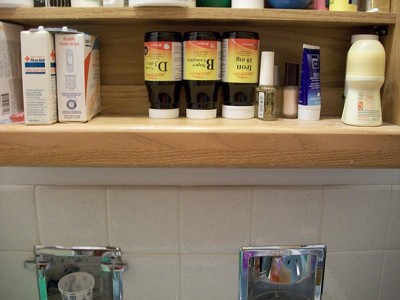 Related Content