Minestrone Soup Recipes
Recipes
Share on ThriftyFunCheck out these recipes. If you have made this recipe please submit a photo and let us know how it worked. Or, add your own recipe variation.
February 19, 2010
6

found this helpful
A yummy full bodied meal when served with crusty bread smothered with unsalted butter and a mixed green salad tossed with a vinaigrette dressing.
Ingredients:
1/4 cup zesty Italian salad dressing (I use Kraft)
1 onion, chopped
1 stalk celery, chopped
1 carrot, peeled, chopped
1 can (14-1/2 oz.) diced tomatoes, not drained
1 can (19 oz.) kidney beans, white beans or garbanzo beans rinsed
2 cans (14 oz. each) vegetable broth
2 cups water
1 tsp Italian seasoning
1 1/2 cups small shell pasta, uncooked
1/2 cup Parmesan cheese, grated (fresh or packaged)
Directions:
Heat dressing in large nonstick skillet on medium high heat. Add onions, celery and carrots; cook 2 minutes or until crisp yet tender, stirring occasionally. Transfer in to a slow cooker. Add tomatoes, beans, broth, water and seasoning and stir. Cover with lid.
Cook on low for 6 hours. Stir in pasta and cook 10 to 15 minutes or until macaroni is tender. Sprinkle with cheese just before serving.
By Deeli from Richland, WA
This is a soup with pasta, vegetables and broth and it is really best when made with Roma tomatoes which taste better when cooked. It is a wonderful comfort food for anytime.
Ingredients:
2 Tbsp olive oil
1 medium uncooked onion, chopped
3 large uncooked carrots, chopped
1/2 tsp minced garlic
1/2 tsp table salt
1 tsp black pepper
7 medium sized Roma tomatoes, chopped
16 oz vegetable broth
1 cup water
2 Tbsp canned tomato paste
15 oz can of Northern beans
1 Tbsp ground basil
2 cups chopped frozen spinach or zuchinni
4 oz Barilla orzo (No 26 or any small size pasta)
Steps:
In a large stock pot, saute carrots and onions in the olive oil on medium heat for 4 or 5 minutes.
Add garlic and cook another minute.
Add salt and pepper.
Add tomatoes, spinach, vegtable stock, and water. Bring to a boil.
Add pasta and cook 7-15 mins until al dente.

Stir in tomato paste, beans and basil. Cook until all combined.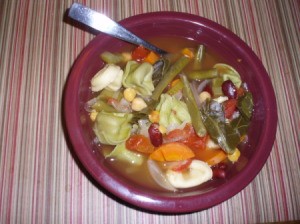 This is a super tasty recipe I came up with for dinner the other night.
Ingredients:
1 (family size) pkg. Buitoni Mixed Cheese Tortellini Pasta (refrigerated section)
2 (14.5 oz.) cans diced tomatoes, undrained
3 cartons chicken broth
1 can kidney beans
1 can garbanzo beans
1 onion, diced
3 carrots, diced
1 lb. green beans
4 stalks celery, diced
1/2 package "Clean and Green" collard greens
Italian seasoning, to taste
salt and pepper, to taste
Directions:
Place all ingredients, excluding the the tortellini pasta, in a large sauce pot; bring to a low boil. Reduce to a simmer and cook until vegetables are tender. Add tortellini pasta and simmer until pasta is tender and floats. Serve.
By Stephanie from Hillsboro, OR
One of our favorite soups
Ingredients:
1 (10 oz.) pkg. frozen spinach
1 1/2 lbs. ground beef or ground turkey
1/3 cup fine dry bread crumbs
1 egg
salt and pepper, to taste
1 quart beef broth or 4 cans
1 large onion
1 (16 oz.) can tomatoes
1 cup carrots
1 cup celery
1 cup green beans
1 (16 oz.) can kidney beans
1/2 tsp. oregano
1/2 tsp. basil
2 cups rotelle or rotini pasta
Directions:
Mix drained spinach, beef, bread crumbs, egg, salt, and pepper as for meat loaf. Shape into 1 inch balls and brown in oil or bake in 400 degree F oven for 20 minutes. Cook vegetables, oregano and basil in broth until tender. Add pasta and simmer 10 minutes. Add meat balls and heat thoroughly. Serve with Parmesan cheese.
By Robin from Washington, IA
Heat olive oil and butter in 8 quart kettle over medium heat. Add onion, carrots, celery, potatoes, and green beans. Cook for 20 minutes or until vegetables are lightly browned, stirring occasionally.
Read More...
Saute onion, garlic, and celery leaves in olive oil until onions are clear, 5 to 10 minutes. Add chopped carrots, celery, tomatoes, tomato sauce, beef broth, wine, bay leaves, oregano and pepper. Simmer until carrots are tender, 10 to 15 minutes.
Read More...
In a large stock pot, put all ingredients in together as listed, except the pasta and frozen vegetables. Bring to a boil, lower heat to simmer for at least 1 hour or more.
Read More...
December 30, 2005
0

found this helpful
In pot heat 1 Tbsp. oil over medium heat. Add 1 cup chopped carrots, 1 small onion, (chopped), 1/2 cup chopped celery and 2 cloves garlic (minced)...
Read More...
September 29, 2005
0

found this helpful
Recipes for making Minestrone Soup.
Read More...
Archives
ThriftyFun is one of the longest running frugal living communities on the Internet. These are archives of older discussions.
December 13, 2010
0

found this helpful
Ingredients
1/4 cup olive oil
1 clove garlic, chopped
1/2 cup onion, chopped
2 stalks celery
2 carrots, diced
1 can tomatoes
3 beef bouillon cubes
2 cups diced potatoes
1 cup cabbage, chopped
2 tsp. salt
1/4 tsp. pepper
1 tsp. marjoram leaves
1/4 tsp. rosemary, dried
1 cup corkscrew macaroni (or other macaroni, you taste)
1 package frozen peas
1 can kidney beans
grated Parmesan cheese
3 Tbsp. parsley, chopped
Directions
Heat oil in 6 quart kettle. Add garlic, onion and celery. Saute' until tender (5 minutes). Add carrots, tomatoes, bouillon cubes, potatoes, cabbage, parsley, salt, herbs and 6 quarts water. Bring to a boil. Reduce heat and simmer, covered, for 40 minutes. Add macaroni, peas and beans. Return to boil. Reduce heat. Simmer 20 minutes more. Serve with Parmesan cheese sprinkled over the top.

By Robin from Washington, IA
November 16, 2009
0

found this helpful
Ingredients
1 can of mixed bean salad
1 jar of tomato pasta sauce
4O0 ml. of chicken stock
soup pasta or just broken up spaghetti
Directions
Put beans, chicken stock and pasta sauce in pan, bring to boil. Add spaghetti/pasta and cook to instructions on packet. When pasta is tender, move pan to cool surface and leave for 10 minutes, (if you can wait!). The pasta soaks up the juices. Enjoy!

Source: Nigella Express

By Sophie from Bristol
Related Content