Saving Money on Cat Litter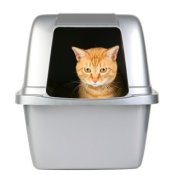 As the proud mother of twelve cats, I have found a cheaper way to keep them in kitty litter. I don't use it! While working in a feed store, it was suggested to me by a customer to try the wood pellets sold for pellet stoves. They run around $3.89 for a forty pound bag. I only put an inch or two in the bottom of the pans and a bag lasts a decently long time.
As they are used, the liquid breaks the pellets down into a sawdust-like form. I then take them out to the back forty (no more bagging up and sending to the landfill!). There the poop breaks down, the pellets break down even more in the rain, and it then becomes mulch for my non-edible plants, such as roses.
I wouldn't use anything with cat poop in it to mulch tomatoes or anything edible, although when I use them under my rabbit cages, that all goes into the compost, which eventually ends up in the vegetable garden. (Rabbit manure is safe for vegetables).
I have, at times, used the product designed for horse stalls. The brand name is Dry Den and it has an odor control in it and the pellets are slightly smaller and break down easier. It is also more expensive. When I moved, I couldn't find anybody in this area who sells it so I went back to the stove pellets.
You can sprinkle with baking soda, if you like, to help control odor. And I imagine cats not familiar with the pellet form might hesitate, at first, to use it but you could mix with their familiar litter at first until they are adjusted.
By Janis from Cinebar, WA
Read More

Comments
More Solutions
Share on ThriftyFunThis page contains the following solutions. Have something to add? Please share your solution!
Cat litter is messy and can be is expensive. After trying a few different alternatives, I have found one that works great and is much less expensive!
Read More...
Pine kitty litter is safe, natural, and biodegradable. It also gives great odor control. The problem is that pine kitty litter is fairly expensive (especially if you have multiple litter boxes).
Read More...
Unless cheaper cat litter is a lot cheaper, which sometimes it is, it's worth paying more for a name brand. I have found over the years, after using all different brands, that the cheapest, usually the sandy kind, too, gets gummy, and has almost no odor control.
Read More...
Better than cheap cat litter, free! Indoor cats were using sandboxes long before the current craze for pricey cat litter.
Read More...
I have 7 cats and use the scoopable cat litter. After cleaning, I spray the Febreze for pet odors and mix it up. The cat litter lasts forever!
Read More...
I use phone pages for the garden, flower pots AND to line the cat litter boxes (I do cat and dog rescue). The cats don't use clay litter, although, I do, in the beginning, put a handful of it on top of the paper and then wean them off of it.
Read More...
I have a tip for recycling paper. I shred all my flyers and newspapers and use them as litter for my cat. It saves so much money and is not as heavy to take out to the garbage. It works great.
Read More...
If you are looking for a good all natural cat litter, this is reliable quality product. It controls odors well, is hypo allergenic and the 40lb bag is a great value.
Read More...
I purchase a product called Dust or Mini Flake made from wood shavings but very fine. I use it for my cats' litter box. I have several cats because I rescued them so I change the box every morning.
Read More...
If you love the famous brand of cat litter deodorizer, but it is priced too high, try this:Buy a box of the famous yellow carton brand, mix it with 2 boxes of generic baking soda, and a 1 1/2 cup of Epsom salts, and put in a closed pitcher or container.
Read More...
Categories
Pages
More
Categories
Published by ThriftyFun.
© 1997-2021 by Cumuli, Inc. All Rights Reserved.
https://www.thriftyfun.com/tf/Save_Money_On/Pets/Saving-Money-on-Cat-Litter.html