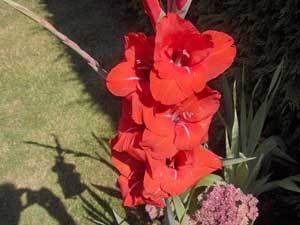 Botanical Name:
Gladiolus
Life Cycle:
perennial
Planting Time:
spring
Height:
2' to 4'
Exposure:
full sun
Soil:
light, rich, evenly moist soil
Hardiness:
there are varieties hardy to zones 7-11; tender corms should be dug up and stored in cooler zones
Bloom Time:
late summer
Flower:
all colors except true blue and black, including stripes and splashes; funnel shaped flowers
Foliage:
green, stiff upright stalks and narrow, upright, blade-like leaves
Propagation:
bulbs
Suggested Use:
beds, border and cut flowers
Growing Hints:
Start with purchased corms in the spring. As a guide, plant larger corms (greater than 1 inch) about 6 inches deep and smaller corms (less than _ inch) about 3 inches deep. Plant in two week intervals throughout mid spring to early summer for the best show of flowers. In the fall before the first hard frost, lift corms and cut off the tops. Leave them to dry in the shade for a few days before cleaning them off and storing them for winter. Keep them in wood shavings, newspaper or peat moss at temperatures of around 40º to 50ºF. Check bulbs throughout the winter for signs of drying or rotting. Where winter temperatures stay above 0ºF, the common, large-flowered gladiolus can survive in the ground with 3 to 6 inches of mulch.
Interesting Facts:
To keep cut gladiolus bulbs vigorous, cut the stems off well below the flower but leave the leaves intact in the ground to nature naturally to make sure the bulb has enough nutrients for the next season. Cut the flower stalks just before the flower opens for a longer lasting arrangement.