January 27, 2009
0

found this helpful
You did a fantastic job for a beginner. I myself have been doing cakes since the age of 12, I am 51. You do have talent and the most important is "passion". See if there are any local cake supply stores that offer some classes, I think you would not be sorry!! Happy cake decorating. I am sending a cake I did for my daughters wedding shower, "ball & chain".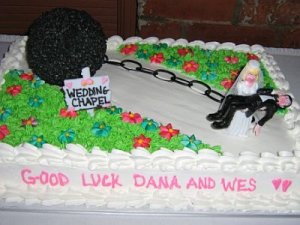 By Terri (Guest Post)
January 28, 2009
0

found this helpful
That is a great cake and the shamrocks are very appropriate for an Irish priest. This certainly doesn't look like the work of a beginner, it is as good as you could get in a bakery.
January 28, 2009
0

found this helpful
Thank your for your encouraging words. I'm 60 years old and have had a desire for many years how to decorate cakes.
I really can afford it and attend cake decorating classes, but I'd rather learn on my own and at my own pace.
A younger woman who owns a copy told me about the following book: The Wilton Way of Cake Decorating Volume 1, A Complete Encyclopedia; By Eugene T. Sullivan; ISBN number - 0-912696-04-4. She said to practice using the decorating tips by turning over a pan and decorate the bottom of the cake pan. Also fill the pastry bag with shortening and learn how to use the tips.
I rather enjoy living a frugal lifestyle so I don't want to pay someone else to teach me cake decorating.
The decorating bags can get very expensive if you use enough of them. So I just found out how to save money on them. I used a few of the ziplock storage bags on the cake. Just snip off a small corner, push the coupler inside the bag, pop on the decorating tip and screw on the ring.