There are many great recipes that use sauerkraut; it is not just for putting on your hotdog. This page contains recipes using sauerkraut.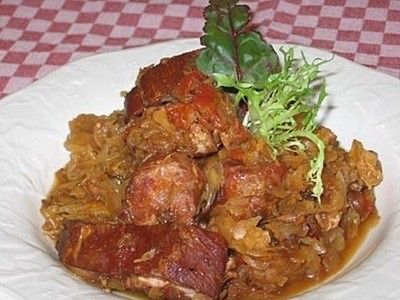 By Spacecase 11 79
This is the best sandwich I ever had and I hadn't had a good one since my husband passed away. He did all the cooking and so the taste of this was a real treat for me.
Approximate Time: 5 minutes
Yield: 1 whole sandwich or two 1/2 sized sandwich
Ingredients:
1 16 oz can Sauerkraut ($2.79)
Rye Bread ($4.50)
1 pkg Provolone Cheese sliced ($1.99)
1 pkg Swiss Cheese Sliced ($1.99)
Mustard ($2.99)
1 stick Butter (1/2 cup) ($3.79)
Steps:
Make sandwich from rye bread with both provolone and Swiss cheeses over sauerkraut with a light spreading of mustard.
Grill in pan over medium heat until each side is golden brown and cheese is melted and gooey.
Slice sandwich down the middle and enjoy while hot.
How do you make this?
By Bobbie
---
Most Recent Answer
By mary martin 2 14 Flag
December 26, 2013
Go to Google and type in sauerkraut cake. Several sites come up with recipes for this. Sounds yummy. Good Luck and Happy New Year.
By glenda eileen lockhart 61 16
This is a very easy recipe. If you like sauerkraut, you should love this. In Nova Scotia, we have a locally made delicious sauerkraut which I use that is made on Tancook Island.
Ingredients:
2 (32 oz.) jars sauerkraut, drained
1 envelope dry onion soup mix
3 Tbsp. brown mustard
2 1/2 cups water
3 lbs. boneless pork loin roast
Directions:
Combine sauerkraut, soup mix, mustard, and water in crock pot. Add pork roast. Cover and cook on low.
Source: The slow cooker cookbook "5 Ingredients Or Less".
By Glenda from Canada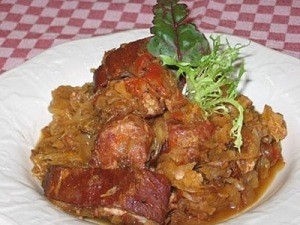 Hearty heart-warming comfort food. Can be cooked on the stove or in a slow-cooker. Serve with good rye bread. The secret of Bigos is that it gets better as it's reheated. The more it is heated the better it gets. Also a great make-ahead meal.
Ingredients:
4 lbs. sauerkraut
1 lb. smoked pork bones
1 lb. spareribs
1/2 lb. bacon
2 cups water
2 bay leaves
salt and black pepper
4 lbs. cabbage heads
1 lb. smoked polish sausage
1/2 cup onion, chopped
1 Tbsp. caraway seeds (optional)
16 oz. fresh mushrooms
8 oz. dried mushroom, soaked in a little hot water
2 tomatoes, diced
2 Tbsp. flour
Directions:
Brown pork bones and spareribs in a large heavy pot and simmer in water 1 hour.
Add the sauerkraut (washed and drained). Chop the cabbage finely and add to sauerkraut with bay leaves. Add pepper and salt cover and simmer for 1 hour more. Remove lid and keep pot on a very low simmer.
In a pan, fry bacon until crisp, then crumble into sauerkraut mixture. Drain most of the bacon fat and fry sliced onions and mushrooms and flour until they just brown. Add into sauerkraut mixture with caraway seeds (if used). Cut sausage into slices and add to sauerkraut mixture with the tomatoes.
Bring to a boil, simmer 30 minutes and serve hot with rye or crusty bread and/or mashed potatoes.
Servings:
10-12
Time:
40-45 Minutes Preparation Time
2-2-1/2 Hours Cooking Time
Source: Polish Cookbook in English by Zofia Czerny Revised Edition 1975
By Irene from Adelaide, South Australia
I lost my recipe for making Sauerkraut Balls. It uses one can of SPAM and 1 can of corned beef in place of ham. Thank you.
By Lindalou from Akron, OH
---
Most Recent Answer
January 4, 2010
* Sauerkraut Balls*
1 med. onion, minced
2 tbsp. butter
1 c. ground cooked ham or 1 can Spam
1 c. ground corned beef
1/4 tsp. garlic salt
1 tbsp. mustard
3 tbsp. minced parsley
2 c. sauerkraut
2/3 c. flour
1/2 c. beef stock or bouillon cube, dissolved in 1/2 cup of water
2 eggs, well beaten
1/2 c. bread crumbs
1/8 tsp. pepper
Sauté onions in butter, add ham, corned beef. Cook 5 minutes and stir often. Add garlic salt, mustard, parsley, pepper, sauerkraut, 1/2 cup flour, and beef stock. Mix well. Cook for 10 minutes. Spread out on platter to cool. Shape into small balls. Roll in flour, dip into eggs and roll in crumbs. Deep fry in hot fat at 375 degrees until golden brown.
SOURCE:
http://www.free-greetingcards.co.uk/all_spam_and_ham_recipes.htm
It seems to be the universal recipe as it's listed here as well:
http://www.recipegoat.com/recipes/International/Sauerkraut+Balls_247190
http://cookeatshare.com/recipes/sauerkraut-balls-3430
http://www.cooks.com/rec/view/0,161,155160-243206,00.html
By Robin 5,893 29
Ingredients
2 boxes Stove Top dressing, chicken flavored
2 cups chicken broth
1/2 stick butter
1 large can sauerkraut, undrained
sprinkle with sugar ( to taste)
2/3 cup onion
2/3 cup celery
sprinkle with sage (to taste)
Directions
Follow the directions to make the dressing, using real chicken broth and real butter. Mix in the undrained sauerkraut and sprinkle with sugar to cut the tartness of the kraut. Mix in the onions, celery, and sprinkle with sage to taste. Bake at 350 degrees F for 30 minutes.
For a single batch, cut the recipe in half.
By Robin from Washington, IA
This page contains sauerkraut casserole recipes. Make a delicious casserole using sauerkraut.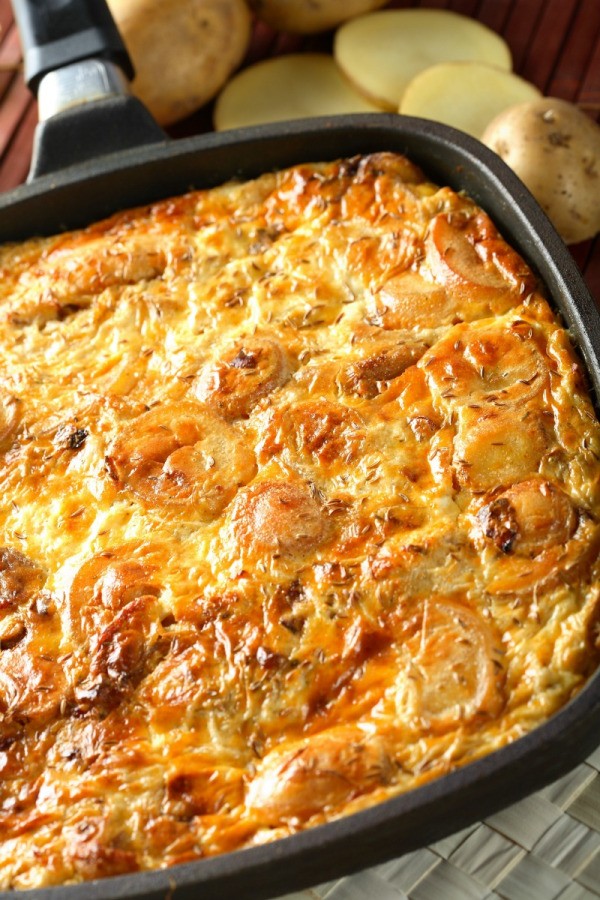 By Robin 5,893 29
This is a great soup that even most people who do not like sauerkraut will like!
Approximate Time: about 75-80 minutes
Yield: 8-10 servings
Ingredients:
1 lb smoked Polish sausage, cut in 1/2 inch pieces ($2.00)
5 medium potatoes, peeled and cubed ($.75)
2 medium onions, chopped ($.99)
2 carrots, cut into 1/4 inch slices
3 14oz. cans chicken broth ($3.00)
1 32oz. can sauerkraut, rinsed and drained ($1.49)
1 6oz. can tomato paste ($.59)
Steps:
In a large saucepan or Dutch oven, combine sausage, potatoes, onions, carrots, and chicken broth. Bring to a boil. Reduce heat; cover and simmer for 30 minutes or until potatoes are tender.
Add sauerkraut and tomato paste; mix well.
Return to a boil; reduce heat; cover and simmer 30 minutes longer.
In a thinner soup is desired, add additional water or chicken broth.
By Robin 5,893 29
This is a sauerkraut lovers' dream!
Ingredients:
1 can sauerkraut, drained for 1/2 hour
1 cup diced green pepper
1 cup diced celery
1/2 cup chopped onion
1/3 cup vinegar
1/2 cup salad oil
1 cup sugar
Directions:
Drain sauerkraut for 30 minutes. Mix pepper, celery and onion. Heat vinegar, salad oil and sugar, stirring often. Pour over veggies while hot. Add sauerkraut. Refrigerate for 24 hours.
By Robin from Washington, IA
By Robin 5,893 29
If you like sauerkraut, you'll love this salad. One of my sister in-law's favorites!
Ingredients:
1 (20 oz.) can sauerkraut
1 cup chopped celery
1 cup green pepper, chopped
1 cup onion, chopped
1/2 cup oil
1/4 cup cider vinegar
1 cup sugar
1/2 tsp. salt
Directions:
Drain sauerkraut. Combine with celery, green pepper and onion in serving bowl. Combine oil, vinegar, sugar and salt in small bowl. Add to vegetables and mix well. Chill, covered, for several hours or overnight. Red peppers or pimento may be added for color.
By Robin from Washington, IA
By Robin 5,893 29
I'm not usually a fan of sauerkraut, but this is really very good! I like the combination of other ingredients. They blend well and make the taste of the sauerkraut not seem quite so strong.
By Robin 5,893 29
Brown sausage slightly. Combine other ingredients, except cheese. Bake 2 hours or in crock pot 8 hours on low or 4 hours on high. The last 15 minutes add the cheese.
I have a 101 year old friend who passed this idea down to several generations. When she was a teenager, their basketball team got stranded in a snow storm in Iowa.