The main reason your probably purchased your WetJet was the spray feature. So when it stops working it is very frustrating. This is a guide about when Swiffer WetJet isn't working.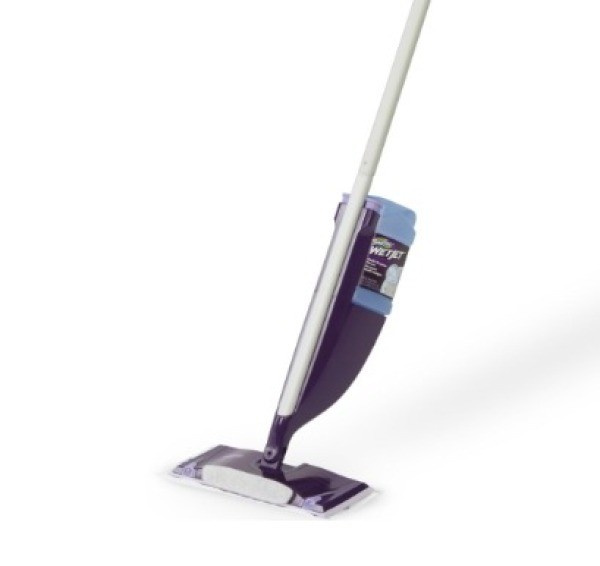 Filter

: All Articles
Sort

: Relevance
I have changed the batteries and took them out and re-inserted them, cleaned the spray valves and poked with a pin, all of this and it still doesn't work. When I push the button there is no sound or spray. Does anyone have any other suggestions?
P.S. I have pushed that button 50 times
I noticed some people find that Swiffer WetJet won't spray. There are a few reasons this might be but one of them is to check the batteries. It's difficult to read labeling but the batteries go in different ways on both sides (left and right). One way they are positive up, the other they are negative up.
I have a Swiffer Wet Jet and love it. I have been using vinegar and water in the bottle. It just stopped one day, so I bought another one, and the same thing happened. Has anyone had the same problem? Do you think it is the vinegar and water?

Sue from New York
February 9, 2013
0

found this helpful
Thank you thriftyfun! I have mastered the art of unclogging swiffer wet jets. First, rise off the jets with hot water and stick a pin up into each jet. I used a quilting pin because they are thin and about 1.5 inches long and have a nice round head so it's easy to pull it in and out. Then I replaced all four AA batteries. The swiffer wet jet requires fresh batteries. (Still cheaper than paying someone else to mop my floor.) Now both of my wet jets work like new. I had bought the second one before accepting that this problem required some research.
April 30, 2013
0

found this helpful
The idea of changing the batteries is essential. Your WetJet may sound like the batteries are good yet not work. Changing the batteries magically brings it back to life!
October 8, 2014
0

found this helpful
I think I may have figured out the solution. Yes, make sure your batteries aren't dead, but you might try pushing the liquid dispenser while moving the mop back and forth. I find that when I want a ton of liquid in one area I'll stop to squeeze squeeze squeeze, and that's when it stops working, but if I am continuously moving the mop then the liquid will dispense. Hope this helps and hopefully it's the solution.
March 5, 2015
0

found this helpful
I was so very frustrated by this, then I found out what was wrong. I tried new batteries. Still nothing. The thing is new so I was pretty sure it wasn't clogged jets, but I cleaned them anyway. I took the batteries out and out them back in.
Then I discovered the miracle cure. Take a look at that little door on the newer models behind which you place the batteries. After you put in the new batteries, make sure you slide the door all the way down. You will hear a click. If the door is only being held closed by the bottle, it will not work.
Read More Answers...
Where are the batteries located? I just purchased the Swiffer. I never realized that the handle was already extended. I secured solution, pressed the trigger, and nothing happened. Is there anything else aside from lack of batteries? What size battery and how many?
By Rose
January 25, 2014
0

found this helpful
The new Swiffer Wetjet batteries are in a different place from the old Swiffer Wetjet. It takes 4 AA batteries. The battery compartment is behind the bottle. Take the bottle out and you'll see a place that says OPEN. place your thumb on this place and slide down. The compartment will open. I replaced my batteries today and it still didn't work for a minute and then all of a sudden when I kept pressing the spray button, it started spraying. Then I checked the old batteries and they were fine. So I guess for some reason sometimes for it to work, you have to take the batteries out and put them back in. And then you have to press the spray button about 20 times. Strange...
After trying all of the other suggestions to get my Swiffer Wet Jet working again, i.e.: change batteries, make sure batteries are in properly with the door closed all the way, clean spray openings, clean off battery acid if batteries were corroded, etc., I watched a YouTube video. It said to take acetone based nail polish remover to the battery connectors inside the casing and let dry completely. Re-install the batteries. This worked for me! I can't believe it was just that after trying everything else! So hopefully this helps you.
Source: https://www.youtube.com/watch?v=5nlpVLRrTWI
I have put a new bottle of solution in the mop, but nothing will spray out. Suggestions?
By Jane
December 3, 2014
0

found this helpful
You can go to ehow website or youtube for tutorials on troubleshooting swiffer wetjets.
I haven't used it in awhile, so I got a new bottle of solution, new pad, new batteries and, nothing. I can hear the motor running, but nothing comes out. Am I doing something wrong? I know it's been awhile since I've used it, but it can't be that complicated is it?
By ls
February 20, 2015
0

found this helpful
The WetJet have been working fine. However last time it did not word. I reloaded the cleaner and it work. However, I am removing and reloaded the cleaner but the WetJet did not work. Help me!
I refilled my WetJet and now when I use it, it doesn't spray well. The solution only shoots out weakly a few inches. Did I do something wrong and is there any way to fix this?

Mary from Hummelstown, PA
By guest (Guest Post)
Flag
February 9, 2009
0

found this helpful
Change the batteries and make sure the bottle is in all the way.
February 9, 2009
0

found this helpful
Be careful if using the Swifferwetjet solution--I've read that it can be very harmful to small children and pets because it contains some dangerous chemicals.
February 9, 2009
0

found this helpful
Thanks, Nancy!
Oh, boy, batteries!! Do I ever feel stupid!
I never even thought about the batteries.
I just figured because I had messed with the bottle ( I cut the threads inside the cap) I had done something wrong!
It's fine now, thanks!! LOL!
And Bonnie, the dangerous solution thing is a hoax.
If it were true, they would have to recommend that it not be used in homes with children/pets.
By guest (Guest Post)
Flag
February 10, 2009
0

found this helpful
I was going to suggest batteries but see someone already has. I want to respond to the statement that the solution is harmful...FALSE ! You can check this yourself on www.snopes.com This is a rumor that's been going around for ages and simply isn't true. I have 4 cats and 2 dogs who are healthy living proof!
I recently purchased a Swiffer WetJet and when I went to use it, it is not spraying. I have the bottle of liquid in it that came with it. I must be doing something wrong. Please help.
By Sue M from Boylston, MA
September 18, 2013
0

found this helpful
I have purchased 3 swiffer wetjets and none of them spray. Have replace the batteries - still not working. It was great in the beginning and now a complete disappointment. Any clue what's wrong?