Watch and rate the videos below.
Read and rate the best solutions below by giving them a "thumbs up".
Craft Uses for Old Jeans
When jeans are past their prime and not suitable for wearing, you can recycle the fabric to use in craft projects. Denim is durable and great for making purses, quilts or sleeves to hold tools. Here are some ideas...
New Uses for Old Denim
If your family is like mine, we live in denim. From denim jeans to denim skirts. We have plenty of denim in our house. With three children, we go through plenty of clothes. Two of these children being boys, many of these clothes are worn out before grown out of. So I found myself with a lawn and garden garbage bag full of no good denim. What is a frugal mother to do?
I'll tell you what I did. I rose to the challenge and went to work researching. I found there are so many uses for this denim, that I want more worn out clothes! Here are a few items you can make with denim scraps:
QUILT:
Cut the good parts of the denim clothing into four inch squares. Sew together to form a quilt. I did this and made a "rag" quilt. I sewed the quilt and left the denim seams on the outside of the quilt. Washed and dried for a little fraying and bam .. one Christmas gift was finished.
PURSE:
Turn the jeans (I used shorts) to the inside and sew just below the bottom at the beginning of the legs. I sewed a few times for extra reinforcing. Sew on a strap using the waistband from another pair of jeans. Lace a belt or use ribbon through the belt-loops to draw closed. I also put a strip of Velcro on the inside of mine to keep shut.
PILLOWS:
I made "butt" pillows for our van the same basic way the purse is made. Except you need to close the entire top with Velcro. Put a ready made pillow form in and you can un-velcro for easy cleaning. Just toss in the washer. I used an old pillow as the pillow form and had no cost at all for my pillows.
APRON:
Use a pair of overalls for this project. Cut the seams of the legs apart and then sew both of the front legs together and then both of the back legs together. Slip over you head for a great apron. You can also use as a great overall dress. Quick and easy.
So what are you waiting for? Go clean out your closets and see what you can make.
By Roxanna Ward
Jeans Projects
Here are some projects from our archive that you can make with jeans.
If you have any more ideas, be sure to submit them on the contest page.
Jeans Quilts
Below are photos of wonderful Jeans Quilts sent in by ThriftyFun users.
More Ideas:
Chair Slipcover
Make a chair slip cover! You can even use the pockets to hold remote controls etc. I saw a slipcover made for a couch! Pretty nice and holds up very well to pets and kids. (05/19/2004)
By acraftycat
Pot Holders
Denim squares make nifty pot holders too. Cut 2 squares (8 - 10 inches), Place right sides together and sew 3 sides together. V-knotch corners. Turn inside out (so right sides are facing out) and insert cotton batting cut a little smaller, so that it fits inside. Tuck the 4th side edges in and whipstitch. You can quilt this, or just stitch an 'X' corner to corner. A belt-loop makes a nice hanger. (05/19/2004)
By Doggy
Picnic Blanket
Just one more thought about the quilt idea: My mom made a crazy quilt with leftover denim jeans. Cut big pieces in all shapes. Then we used it for a picnic blanket. It was nice because it was so heavy. (05/20/2004)
By Melanie
Welcome Mat
When you get down to the *little* scraps, cut in strips, about 1 inch by 4 or 5 inches and make a rug for wiping feet at the door. Just use a heavy fabric cut to the size you want the rug as a base, heavy muslin will work and is inexpensive. Position a row of strips crosswise so the middle of the strip is close to the left edge of the base. Sew them down, fold the strip to the left, and position the middle of the strips quite close to the first row of stitching. Repeat until your base is covered. Just shake well and throw in the washer and dryer as needed. (05/21/2004)
Notebook Cover
Make notebook covers with the denim. Put the Pocket on the front for pencils etc. (06/06/2004)
By Karen
RE: New Uses For Old Denim
O use old denim to make purses, bags, pillows, you name it. Denim is really fun to work with since it is really versatile (07/17/2004)
By JJ
In Praise of Blue Jean Blankets
I like the quilt/blanket idea. I like using the back pockets of blue jeans for the quilt also. These come in handy especially when on a picnic. A blue jean blanket is great for the beach because the sand does not stick to it. A blue jean blanket will not shrink. A blue jean blanket is very very durable. When a hole develops in it, patch it OR now make it your pet's blanket until it really is ready to throw away. I think the oldest one I have, and it is very much a dog's blanket, is about 19 years old. I have made a black and white one for my son, one with a multitude of colors for my sister for Christmas, a dark blue one, etc. I make my blankets with 5" by 7" pieces and serge the edges together. I do not add a bottom layer of flannel to make a blanket like some do, mine is a single layer only of denim. Go to thrift stores to get the additional colors YOU need for making your OWN blue jean blanket. (10/29/2004)
Denim Bookmarks
Using the leg portion of the jeans, cut into four inch wide strips however long you want your bookmark to be. Fold the strip in half and place a strip of either cardboard or a strip cut from a filing folder inside the fold and either sew or glue the edges around the cardboard strip to form a semi-ridged bookmark. You can put a hole at the top to string a piece of yarn as a tassel. You can also put a strip of folder in the middle of the jean strip and fold the fabric around and make a ruffle on the front. (01/02/2005)
By Angela Harman
Catnip Pillows
My daughter likes to make little catnip pillows for her cat with old denim scraps. I think I came up with a pretty good idea when I was at the garden center the other day. Instead of buying those plastic hanging bags that you can put flowers in, I am going to cut the bottom of the legs off some old jeans, sew up the bottoms, cut a few slices in the sides for the flowers and sew on a denim handle. Hopefully this isn't a nutty idea and will work! (03/21/2006)
By Fara
---
Craft Uses for Old Jeans
Randi from Vacaville, CA
---
RE: New Uses For Old Denim
Re: Purse made out of denim, add pockets.
To make pockets inside the denim purse, instead of using the denim shorts, use jeans with legs. When you turn the jeans inside out to do the bottom stitch, don't cut the legs off the jeans. Just pin up a leg, the left leg and right leg will be on opposite sides of the inside walls of the purse. These form the two pockets, one on each side (inside).
Cut the legs off a little taller than the top of your purse, because you will want to create a seam with this little extra denim so that the top of the "pocket" doesn't unravel. Just don't make the seam so high that it jams up a zipper. That is, if you want a zipper instead of a Velcro closure. Then you just press the legs flat and stitch up the left and right vertical sides of the legs to secure the "pocket" to the purse wall.
If you want a baggy pocket, kinda pooch and straight pin the leg pocket to the purse side and stitch up the left and right sides of the leg. This way you have pockets to hold bulky items like a cellphone or overstuffed coupon holder or checkbook with IDs/credit cards or big sunglasses, which would otherwise get squished by a skinny, flat pocket.
You will find that each jean leg forms two compartments after the left and right stitches are made. Now you have a total of four pockets in your denim bag, two on each side. If you want narrower pockets, just stitch vertically somewhere in between the left and right stitches to get more pockets (like for those narrow reading glasses, pens and pencils, lipstick or mascara, nail file, extra house keys, a penlight, a hand fan, a comb or narrow hairbrush, pocketknife, etc. You could even save a longer piece than what you saved for the top seam of the pocket and make a little snap closure or two to offer further protection of purse items. Be creative. Now, back to the beach. (08/16/2005)
By Gidget
RE: Craft Uses for Old Jeans
My next door neighbor makes rugs by cutting or ripping the jeans and other fabrics into long strips, sewing the end of the strips to make them longer and braiding them. She makes braided oval rugs, circular ones, placemats, chair pads and pads to put your hot pots on. (09/17/2006)
By Flowergirl51
RE: Craft Uses for Old Jeans
I have seen a short skirt made from jean pants, it was really cute, too. I also have saved denim for quilts. The handiest thing I've seen was when one head nurse of mine sewed together jean pockets with some edging denim and made "mail" slots for the staff. Nowthat is neat and it took only wall room, it hung up. (09/22/2006)
By 2oma
RE: Craft Uses for Old Jeans
You can cut out the pockets and make a new hunting vest. (12/06/2007)
By Alan
RE: Craft Uses for Old Jeans
I love to create junk jewelery from remnants of jeans like fly buttons, zippers, belt loops, and the leather patch behind. This is one of my favourite pendant. (12/19/2007)
By katekhwa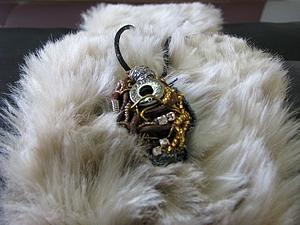 RE: Craft Uses for Old Jeans
My mother-in-law cuts up old jeans and makes quilts. The pockets on the jeans are an added bonus. To personalize the quilt, she cuts letters out of the jeans to spell out the name of the recipient, then stitches the name onto the finished quilt top. Jeans make nice purses; add bead work, or embellish as desired.
Also, you might want to tear the jeans into strips and crochet them into rugs. (12/19/2007)
By Dibbs
RE: Craft Uses for Old Jeans
At one time I had a small purse from old jeans of my son's. I used a chain for the handle. I used pockets off of several pairs on the inside and outside to separate things. I have also made a purse from placemats and used the jean pockets on the inside. I am not quite sure how I did it now as it has been awhile. I am thinking I need to get the jeans my cousins are growing out of and do it again. (07/27/2008)
By SunshineRose
RE: Craft Uses for Old Jeans
I never made one of these, but I remember reading about it, thinking what a great idea it was. Use the good part of the leg fabric from jeans to make strip blocks, whatever shape you need, whether square, rectangle, but every so often, make sure to use a piece that has the back pocket left on. Piece the pieces together to make a picnic table tablecloth. The back pockets work to hold the silverware and napkins, keeps them from blowing off, and the weight of the tablecloth helps it stay on the table. I thought it was a great idea. Good luck.
Pam (09/15/2008)
By bzladi
RE: Craft Uses for Old Jeans
I found some cool ideas too. If you take the worn-out knees off and patch the knees, you can use the threads of the worn-out part to make a funky fringe. I did it on my cousin's favorite cloth belt and she fell in love with it. I also took the seams, which are really sturdy, and made them into a bracelet that tied off with a small bit of blue embroidery thread. It hasn't broken and I've had it for ten years now.
If you don't want to look like you're carrying around a butt, no offense, you can take about ten inches off of the end of each leg and split it on one side. Then sew together both legs on one side and then the other. Remember to firmly sew the bottom so that nothing falls out. If you want the purse to be made out of denim and nothing else, use the jeans' waistband to make the handle. It works nicely and it's a bit lighter. You can sew on pockets in whatever way you like. There's a lot of really creative ideas on this page alone. (11/17/2008)
By Vera
RE: Craft Uses for Old Jeans
I've used them to make a toilet top cover, window valance, toilet paper holder, bathroom rug, and decorated even the towel all for my bathroom set. (12/28/2008)
By Crimilda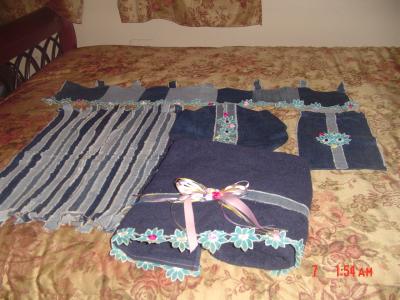 RE: Craft Uses for Old Jeans
Here's a great idea: Blue Jean Quilt
Cut the jean material into squares all the same size, fray the edges sew them together below the fray line. Make it as big as you want. What a great funky look. (01/24/2009)
By karensheart
---
Craft Uses for Old Jeans
Does anyone have any crafting ideas for old, holey jeans?
By Pattie
---
RE: Craft Uses for Old Jeans
There are lots of things you can made from old blue jeans. I recently made two blue jean potholders for my army son. Use the "Ask" link at the top of the TF website then use the search box and you'll find pages of crafts you can make from of old jeans. (12/28/2009)
By MCW
RE: Craft Uses for Old Jeans
Cut the jeans up into squares and make a quilt out of them. Very warm and durable blanket. (12/28/2009)
By olive3322
---
Recycled Jeans Crafts
I am looking for ideas for using old jeans, something besides using them for quilts and pot holders. Thanks.
By June A from Chilhowee, MO
---
RE: Recycled Jeans Crafts
Purses are very cute and also removing the pocket with the back on, I use these in my Sunday school class. I use puff paint writing on it and tack it to the wall with markers or post it notes in it. Very cute! (02/14/2010)
By peachynptc
RE: Recycled Jeans Crafts
I made really nice work aprons with a pocket band across the bottom. I can stuff a lot of "stuff" in them. I am going to make backpacks to give our local school for homeless and disadvantaged children. You can get a pattern online. You can also make shopping bags.
Pat (02/14/2010)
By desertgal
RE: Recycled Jeans Crafts
You can also use them to make strong dog plushies or even for ruff kids! The back pockets make cute little bags for little girls with the addition of some beads or even rhinestones. (02/14/2010)
By ReineJ
RE: Recycled Jeans Crafts
I have seen rag rugs made of denim. They are adorable and last forever. I have no idea how to make them, but am sure someone here could get you a pattern. (02/15/2010)
By lostinthe
RE: Recycled Jeans Crafts
I make jeans purses and sell them. I get used jeans at the thrift store for a couple of dollars. Get a women's size 8 or 10 unless you want a huge bag. When I get them home the first thing I do is lay them flat and cut the legs off right at the crotch. I cut the french seams off to use as handles (some people prefer I make a standard handle).
Turn the jean top wrong side out. If you want to use a fringe across the bottom baste it between the layers, then sew across the bottom. I line my purses by freehand drawing on my lining fabric leaving enough to turn over at the top. Next I sew the handles on, then the lining. You may have to do a little adjusting to make the lining lay smoothly, but it looks really nice. The last thing I do is make a scarf to go through the belt loops and tie in front. You could even use rope. I hope this has been of help to you.
I tried to upload a picture, but don't know how. I could email it to you if you like.
Judy in Alabama (02/15/2010)
By bjptl
RE: Recycled Jeans Crafts
I made seat covers for several of our cars. Just sew together enough pieces to cover the top with about 4 - 6" plus hem for all the sides. Thread a piece of heavy string in the hem. Easier if you round the corners. Put the piece on the seat, tuck around sides and back, draw up string tight, tie in large bow, tuck in excess string. Later it will be possible to get string untied again more easily than if you had tied a knot. (02/20/2010)
By DeBushe
RE: Recycled Jeans Crafts
Make grocery shopping bags. Use a paper bag for a pattern and add handles. Or use one of the reusable bags that the stores are all selling for about a dollar for a pattern. If you need a stiffener for the bottom, cut a piece from the side of a large bleach bottle. (02/20/2010)
By DeBushe
RE: Recycled Jeans Crafts
One year I made vests for all the guys in my family. Cut strips about 2-3" wide and sew together end to end with light and dark contrasting. Sew strips together side by side so it looks like a brick wall then cut out the vest pattern from this "fabric." Cut a lightweight lining. Bind armholes and other edges. Or you could just sew the strips on to the lining then bind. You can also place the strips on the diagonal. I get jeans from the dumpster nearby or you can ask your friends for donations. (02/20/2010)
By DeBushe