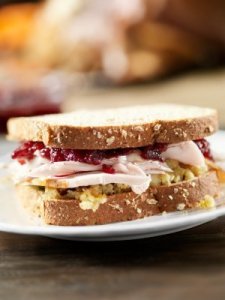 Don't let that yummy leftover Thanksgiving turkey go to waste. From pot pies to turkey sandwiches, there are a multitude of ways to use up that leftover turkey. This page contains recipes for using leftover turkey.
Recipes
Read and rate the best recipes below by giving them a "thumbs up".
Of course you should use the turkey carcass to make turkey broth for future use but here are some more ideas using your own favorite year round standard recipes, simply by substituting the beef, pork, chicken and even tuna with leftover turkey :-) Grind, chop, shred or cube accordingly:
Meatloaf, casserole, stroganoff, stuffed bell peppers, meatballs, chili, burgers, tacos, lasagna, omelets, pot stickers, pizza, mac and cheese, sandwiches and don't forget pot pies, soups and salads ;-)
By Deeli from Richland, WA
Since Thanksgiving is coming, thought I would start offering some good leftover turkey recipes. This one is very good!
Ingredients:
2 cans green beans
4 cups turkey or chicken, diced
1 can water chestnuts
2 cans cream of chicken soup
1 cup mayonnaise
2 tsp. lemon juice
1/2 cup Mozzarella or Farmer's cheese, shredded
Directions:
Arrange beans in 9x13 inch baking dish. Place meat and water chestnuts over beans. Mix soup, mayonnaise, and lemon juice; spread over meat. Sprinkle with cheese. Bake at 350 degrees F for 40 minutes.
By Robin from Washington, IA
Another great recipe to help you use up any leftover Thanksgiving turkey you may have!
Approximate Time: about 60 minutes
Yield: 12
Ingredients:
2 1/2 lb turkey ($2.50)
1 can cream of mushroom soup ($.99)
1 can cream of chicken soup ($.99)
1 can canned milk ($2.00)
1 large can chow mein noodles ($2.50)
Steps:
Cut turkey into bite-size pieces.
Mix soups and milk and add to turkey, mixing well.
Add noodles and mix.
Put in well greased pan and bake at 350 degrees F for 45 minutes.
You may use crushed potato chips or bread crumbs over the top, if desired.
By Robin [1375]
Great way to use leftovers. Very tasty!
Ingredients:
8 slices bread
2 cup chicken or turkey, cooked and chopped
1 cup diced celery
1/2 cup minced onion
1/2 cup salad dressing
3 eggs
3 cup milk
1 can cream of mushroom soup
salt and pepper, to taste
cheddar cheese
Directions:
Break 4 slices of bread into 9x13 inch pan. Mix meat, celery, onion, and salad dressing together; spread on top of bread. Break up the other 4 slices and put over the top.
Mix eggs and milk together and pour over top. Cover with foil and refrigerate overnight. Bake at 350 F for 1 hour. Remove from oven and cover with soup and cheese. Return to oven and bake 15 minutes more.
By Robin from Washington, IA
Great way to use leftover turkey.
Ingredients:
3 cups turkey, diced and cooked
1 (4 oz.) can mushrooms
1/2 cup celery, diced
1/4 tsp. onion, diced
1/4 cup green peppers, diced
1/2 tsp. sage or poultry seasoning
1 can cream of mushroom soup
1 can cream of celery soup
3 oz. Chow Mein noodles
Directions:
In buttered casserole, combine turkey, drained mushrooms, celery, onions, green pepper and seasoning. Blend together the soups and the liquid from the mushrooms. Pour over turkey mixture. Sprinkle chow mein noodles around edge of casserole. Bake at 325 degrees F for 40 minutes.
By Robin from Washington, IA
Ingredients:
1/4 cup margarine
1/2 cup diced onion
1/4 cup flour
1 tsp. salt
1/4 tsp. pepper
1/2 tsp. poultry seasoning
2 cups milk
3/4 cup shredded cheddar cheese
2 Tbsp. chopped pimento
1 can mushroom pieces and stems
3/4 lb. lasagna noodles
2 cups cooked diced turkey or chicken
Directions:
Melt margarine in saucepan and saute onions. Add flour and seasonings, remove from heat and add milk. Cook til sauce thickens, stirring constantly. Add half of the cheese and pimento, let cheese melt. Add mushrooms that have been drained. Place a layer of cooked noodles in a 9 inch square pan. Cover with layer of turkey, then sauce. Repeat, ending with noodles. sprinkle remaining cheese over top. Cover and bake at 400 degrees F for 20 minutes. Garnish with green pepper strips if desired. Makes about 6 servings.
By Robin from Washington, IA
Not Your Usual Turkey Sandwich
Now if you are like me, you cooked a turkey that was way to big for your family. Ours was a gift from our son in law, Jose. He bought us a twenty three pound bird and it was way too big, even though we fed a crowd. So for the last couple of days, we have been experimenting with turkey sandwiches. Now my husband Leo loves turkey sandwiches but he is a generic kind of guy and likes just plain turkey with mayo. My son in law David loves sandwiches with the whole dinner on it; turkey, gravy and stuffing and mayo. But my daughter and I are sick of turkey the next day. So here are some recipes that we tried that turned out pretty good.
Turkey Sub
Leftover Turkey cut into chunks
One soft hoagie roll
Lettuce
Cranberry sauce
Cut the hoagie roll in half and spread the cranberry sauce on both sides. Next put the lettuce on both or one half. Layer on the turkey. Great sandwich especially if you had a lot of cranberry sauce left over.
Barbeque Turkey Sandwich
This is a quick and easy sandwich. We made in them in the microwave.
Leftover Turkey cut into chunks or slices
Barbeque Sauce (your favorite)
Coleslaw
Onion Hamburger bun
Put your turkey and barbeque sauce in a microwave safe bowl. I would use glass rather than plastic as it has a tendency to stain when cooking tomato based anything. Cook until the barbeque sauce is hot. Pile on to a bun and top with the coleslaw. Yum! And it was fast and filling.
Turkey Salad
We made these just like our favorite chicken salad.
Turkey
Mayo
Half of an onion chopped
2 stalks of celery chopped
Lettuce
Tomato
Wheat sandwich bread or bread of your choice.
Put all of your ingredients except for the lettuce and tomato in a food processor and process until you have the consistency that you like. We like ours chunky but some people like theirs smoother. Pile the salad on your bread and add lettuce and tomato or your favorite toppings.
Open Faced Hot Turkey Sandwich
Turkey cut into chunks
Leftover gravy
1 small can of mushrooms
Bread of your choice (We used the wheat sandwich bread again)
Put turkey in the gravy and add the mushrooms now you can drain them if you have a lot of gravy or add the can juices to stretch the gravy if you don't have a lot left. You can also use canned turkey gravy if you had none left over. When heated through pour over your choice of bread.
I hope this helps you get rid of some of those turkey leftovers and I hope your family loves your sandwiches as much as my family did.
Editor's Note: Sorry that we didn't get this up in time for Christmas leftovers. Hopefully some of you have a bargain turkey in the freezer that needs some inspiration.
By Debra Frick
During Thanksgiving time is the best time to buy turkeys because they are so cheap, about $7-8 (turkey breast alone is sold for that price). I have an extra little freezer in another room and I fill it with turkeys that i have bought (about 10) during the thanksgiving sales. I let them defrost a bit and I chop them up into smaller manageable sizes for uses throughout the year. The bones do not get discarded until I have cooked them in a crock pot for about 8-10 hours making my own inexpensive turkey broth.

With the buying of my own whole turkey, I get lots of cuts of turkey, broth and smaller bits of turkey that I combine into other foods like 1 pot dinners, soups or the filling out of other recipes (because the piece are too small for a meal on their own). I spend a bit more for the turkey sales but i save in the long run throughout the year in buying turkey.

By soyzick from Chinatown, HI
This recipe is a combination of recipes from friends and family.
Ingredients:
3 slices bread (white or wheat)
1/4 cup milk
2 1/2 cups coarsely chopped turkey
1 cup coarsely chopped onions
2 eggs
1 tsp. thyme
dash Worcestershire sauce
1 1/2 tsp. curry powder
salt and pepper to taste
2 cups seasoned bread crumbs
3 Tbsp. fresh chopped parsley
2 Tbsp. paprika
3 Tbsp. melted butter/margarine
1-2 eggs (for second coating if desired)
For Frying:
1 cup vegetable oil
3 Tbsp butter/margarine
Directions:
Cut crusts off bread and reserve for another use. Soak bread in milk for 10 minutes. Squeeze dry and shred. In a separate bowl, combine 1 1/2 cups chicken or turkey, bread, onions, eggs, thyme, curry, Worcestershire sauce, salt and pepper. Toss well. Place mixture in a food processor with the steel blade. Using pulse action, process until mixture is well blended but not pureed. Fold in remaining cup of chicken or turkey. Cover and chill for 1 hour.
Combine bread crumbs, parsley, paprika and melted butter in a pie plate. Stir well with a fork. Shape chilled turkey mixture rolls. Coat in bread crumb mixture and return, covered, to refrigerator for 1/2 hour (or one hour if not adding additional coating).
Coat in beaten eggs and cover in crumb mixture once again. I found using my hands to coat instead of rolling them out works a lot better. Place 1/2 cup oil and 3 Tbsp butter in skillet over medium heat. Cook croquettes, 3 at a time, 3-4 minutes, and roll. Cook all sides 3-4 minutes. They should be golden. You can freeze the extras, and reheat in an oven/toaster oven.
Serves: 4 - 6
By Connie from Cotter, AR
To use cooked turkey leftovers: shred turkey, chop 8 fresh tomatoes, slice 6 spring onions (I think they are called scallions in USA) and cut up 10 mushrooms. Fry all, but turkey, in olive oil and butter gently for 5 minutes, add some chopped garlic or garlic salt to taste. Add turkey and a jar of Passatta (tomato puree). Simmer for 5 minutes then add some vegetable or chicken stock (made from a cube is ok). Simmer for 10 minutes and serve with pasta.

By Silver from Wirral, England
Ingredients
1 2/3 cup frozen mixed veggies(thawed)
1 cup cut up chicken or turkey
1 can (10 3/4 oz) cream of chicken soup
1 cup bisquick mix
1/2 cup milk
1 egg
Directions
Heat oven to 400 degrees F. Mix veggies, soup and meat together in 8x8 pan. Stir together remaining ingredients with fork until blended. Pour over mixture in pan. Bake 30 minutes.
I double the amount of soup i added when i made mine and used a whole package of mixed vegetables (16 oz.) And put it in a 9x13 pan for my family. This is so good and was so easy to make it. Wish i had the recipe years ago.
By imaqt1962 from illinois
Share Your Feedback: Have you tried this recipe? Do you have your own variation which you would like to share? Click "Share a Recipe" above!
Questions
Here are questions related to Recipes Using Leftover Turkey.
I am looking for leftover turkey recipes.
By padufresne
---
Most Recent Answer
By Penny Stoehr [22]05/21/2009
I make creamed turkey. My husband loves it.
Cut turkey in bite size pieces.
Make white sauce. (recipe below)
Add turkey.
I also add peas to this.
Simmer until hot stirring continuously so as not to burn.

White sauce
3 TBLS. margarine (heaping)
3 TBLS. flour (heaping)
2 cups of milk.

Melt margarine. Take off stove and add flour. You should have a thick paste. Return to stove and add milk. Use a whisk to take out lumps. Cook over high heat stirring constantly until you get a creamy white sauce. 5-8 minutes.

I always double my recipe because we love this so much.
Hope this helps.
Archives
Thrifty Fun has been around so long that many of our pages have been reset several times. Archives are older versions of the page and the feedback that was provided then.
I'm looking for good recipes for leftover turkey. I have good ones for chili, soup, enchiladas, and tacos, but want some variety.
You don't have to stuff yourself with all that turkey right away. Cut it up into bite sized pieces, and measure the turkey into individual freezer bags. Divide the turkey into the amounts you normally use turkey or chicken in recipes. Next time you want to make a casserole or something, your turkey is all cooked and measured for you, and you just have to toss it in with the other ingredients for a quick dinner. And it isn't as boring as two weeks of turkey sandwiches!
By Lynn
Post your ideas below.
---
RE: Leftover Turkey Ideas
I'm looking for a turkey and noodle recipe. I have turkey stripped to the bones, almost. I remember my grandmothers boiling the ham bones in the past and making ham and beans, so how do i boil the turkey bones etc, and make turkey and noodles (11/25/2005)
By Brett
RE: Leftover Turkey Ideas
I always do this too. I think that's why we love turkey so much and never seem to tire of it. The only thing that I do differently is, after I make stock, I put the leftover meat into rigid pint freezer containers and pour stock over it. It keeps the meat juicy and prevents it from getting freezer burn. The meat seems to keep in the freezer a lot longer this way too. When I'm ready to make a casserole, I already have the stock, so I just thicken it instead of using cream soups, etc. Or, if I don't need it, I save it for soup or gravy at a later time.
How to make the stock (Brett)? Just put the skin, meat, bones, scraps of leftover stuffing and all in a large pan, cover with water, bring to a boil, and simmer a while. I usually add a tablespoon or two of vinegar to draw the calcuim out of the bones. You can add carrots, celery, onion or spices like bay leaves, peppper corns, etc, at this time too if you want. Once it's cooked for a couple of hours, I strain all the bones and stuff out, and pour the stock in a clean pan. I skim off the fat--some cool it in the fridge to do this. I pour it into individual containers for soups, gravies, etc, and place them in the fridge to cool, than transfer them to the freezer till needed. (11/19/2006)
By susanmajp
RE: Leftover Turkey Ideas
To Brett, The instructions for stock by susanmajp are very good. The only thing I would add is to start the stock with cold water, set the burner on low and let it come to a simmer slowly. This brings more good stuff out of the bones. I usually have a pot with cold water on the stove and start throwing bones in there right after dinner adding leftover raw celery and carrot sticks, etc.
Susan from ThriftyFun (11/19/2006)