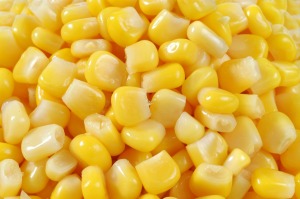 Crisp kernels of corn sauteed with peppers and onions and a little bacon, mixed into a creamy custard - what could be better? The flavors combine and make a really delicious dish. You can vary this up with the kind of peppers you use, different colors, using sweet or hot, and with adding herbs. I like the pure flavors of the veggies, but chili powder and or cilantro for a southwestern taste, or nutmeg all taste good.
Ingredients:
3 cups corn cut from the cob, 3 - approx. 4 ears
2 slices bacon
2 Tbsp. bacon fat
1/2 cup finely chopped peppers
1/2 cup finely chopped onion
2 cups half and half
5 eggs, lightly beaten
salt and pepper, to taste
1 Tbsp. minced chives
Directions:
Spray a casserole with oven spray and set the oven to 350 degrees F.
Cut the bacon into small pieces with kitchen shears (the easiest way). Fry the bacon until crisp, then remove from the fat and drain on paper towels. Reserve 2 Tbsp. of the fat, adding butter to make 2 Tbsp. if you don't have enough.
Saute the onion and peppers in the bacon fat until soft but not browned. Add the corn, and saute over med low for about 5 minutes.
While the corn is cooking, mix the half and half, eggs, salt, and pepper and beat till mixed.
Mix the veggies into the custard mixture and pour into the casserole dish. Top with the chives. Put in the oven and bake for about 30 minutes, until a knife inserted into the middle is almost clean. The custard will continue to cook for a bit after you take it out of the oven.
Cover loosely with foil or the lid and let it set for 10 to 15 minutes before serving. This makes the custard come out a lot smoother and nicer.
By Free2B from North Royalton, OH