Eggplant Casserole Recipes
Solutions
Share on ThriftyFunThis page contains the following solutions. Have something to add? Please share your solution!
I have a lot of eggplant in my garden, so I am looking for various ways to prepare it. This was served as a side dish in the recipe, but I served it as a meatless main dish over brown rice.
I omitted the olives since I had none and they were very expensive in the store. I will look for them on sale when I make this dish again.
Prep Time: 10 minutes
Cook Time: 50 minutes
Total Time: 1 hour
Yield: 8 side servings and 4-6 main servings

Ingredients:
1 medium onion, chopped
2 cloves garlic, minced
1/3 cup oil (I used less)
3 cups chopped eggplant
3/4 cup sliced mushrooms
1/2 cup chopped green pepper
6 ounces tomato paste
1/4 cup water
2 Tbsp wine vinegar
1/2 cup chopped olives
1/4 tsp basil
1/4 tsp oregano
salt and pepper to taste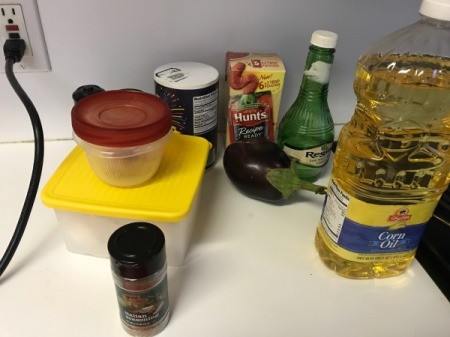 Steps:
Saute onion and garlic.
Add eggplant, mushrooms and green pepper. Mix well. Cook for 10 minutes, stirring occasionally.
Add tomato paste, water, vinegar, olives and seasonings. Simmer for 30 to 40 minutes or until you get the consistency you like.
I was never brave enough to try eggplant until a dear friend of mine served it in her home. I tried it an fell in love with it. This recipe is great!
Ingredients:
4 cups diced eggplant
1 cup milk
1 can cream of mushroom soup
1 egg
1/2 cup chopped onion
3/4 cup bread crumbs or cracker crumbs

Topping:

1/2 cup cracker crumbs
2 Tbsp. melted butter
grated Parmesan cheese
Directions:
Cook eggplant in salted water until tender (10 minutes); drain and stir in milk and soup. Blend in egg, onion, and bread crumbs.
Put in greased casserole. Top with mixture or cracker crumbs, butter, and grated cheese. Bake at 350 degrees F for 20-30 minutes.
Cooking Time:
20-30 Minutes
By Robin from Washington, IA
I like the crunchiness of the veggies in this casserole.
Read More...
Peel eggplant and slice. Sprinkle slices with salt & put in strainer. Saute onion and garlic in oil; add ground beef and brown.
Read More...
Even if you aren't sure you like eggplant, you should try this casserole. Very hearty and the cheese makes it great!
Read More...
I learned to like eggplant a few years ago and this recipe is definitely a good one and easy to make.
Read More...
Preheat oven to 350 degrees F. Peel eggplant; cut into 1/2 inch cubes. Cook in small amount of boiling salted water in saucepan for 5-8 minutes or until tender; drain.
Mix with remaining ingredients in bowl. Pour into 10x12 inch baking dish. Bake for 30 minutes.
Read More...
Use long eggplant slices to make these versatile roll-ups. This page contains eggplant roll-up recipes.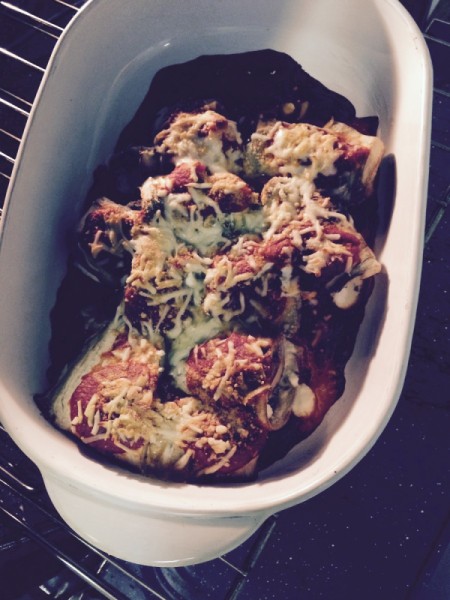 Archives
ThriftyFun is one of the longest running frugal living communities on the Internet. These are archives of older discussions.
Ingredients
2 cups peeled and diced eggplant
1 tsp. sugar
1/2 cup chopped onion
1/2 cup grated cheese
1/4 cup mayonnaise
1 egg
2 Tbsp. butter
1/2 cup cracker crumbs
Directions
Cook eggplant until tender in water. Drain and mash. Add remaining ingredients in order listed. Mix well and pour into a 2 qt. casserole dish sprayed with non-stick spray. Top with cracker crumbs. Bake uncovered for 30-35 minutes at 350 degrees F. Makes 5-6 servings.

By cookiemom1 from Gilmer, TX
Ingredients
1 large eggplant
1 medium onion
2 medium tomatoes
1 can mushrooms
1 green pepper
1 lb. Mozzarella cheese
Directions
Peel and slice eggplant. Roll in seasoned flour. Fry until browned. In medium Corningware-type dish, layer eggplant, shredded cheese, chopped onion, sliced tomato, mushrooms, green peppers. Repeat layers. Cover and bake 45 minutes to 1 hour in 350 degree F oven.
By Robin from Washington, IA
Pare one medium sized eggplant. Cut in 1/4 inch slices. Cook in salted water until tender. Drain and mash.
Add:
1/4 cup butter or margarine
1/4 cup bread crumbs
2 eggs, well beaten
1 tsp. minced onion
1/2 tsp. salt
1/8 tsp. pepper
Mix well. Bake in a moderate oven until thoroughly heated and browned. (about 45 minutes) This can be prepared ahead of time and baked before serving.
By Robin from Washington, IA
Ingredients
1 med. eggplant (peeled and cubed)
Salted water
1 stick margarine
1 1/4 cup soft bread crumbs
1/2 tsp. salt
2-3 eggs (beaten)
cheese (shredded)
cracker crumbs
Directions
Cook eggplant in small amount of salted water until tender; drain. Melt margarine in skillet and cook bread crumbs a few minutes. Add salt and cool. Add beaten eggs and cooked eggplant to crumbs. Pour into a buttered casserole and cover top with shredded cheese. Cover cheese with cracker crumbs. Bake at 375 degrees for 30 to 40 minutes until brown and crusty.
By Robin
Answers:
Eggplant Casserole
Hmmm, I wonder if I could replace the eggplant with yellow squash? (08/25/2006)

By Maryeileen
Eggplant Casserole
Maryeileen, I'll bet you could replace the eggplant with yellow squash and it would probably be delicious! (08/25/2006)

By Tina Nobles
Eggplant Casserole
Just what I needed the eggplant crop is coming in strong now and we just love it. Thanks for the new recipe. (10/02/2008)

By RITA SMITH