Healthy Pumpkin Muffins
Solutions
Share on ThriftyFunThis page contains the following solutions. Have something to add? Please share your solution!
This is the perfect time of the year to make these. Pumpkin is abundant, and the squash is still in season. They are moist, delicious and freeze well.
Prep Time: 5 minutes
Cook Time: 20-25 minutes
Total Time: 30 minutes
Yield: 12

Ingredients:
1 1/4 cup all-purpose flour (I used whole wheat)
3/4 cup granulated sugar (I used Truvia blend)
1/2 tsp baking powder
1 tsp baking soda
1 tsp ground cinnamon
1/4 cup milk (I used whey)
1/3 cup oil
1 egg
1 cup pumpkin puree
1 cup grated zucchini (I used summer squash)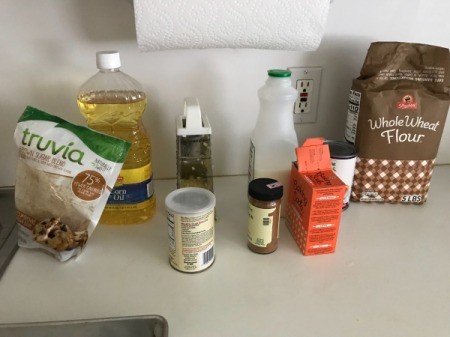 Steps:
Preheat the oven to 350 degrees F.
Combine the flour, sugar, baking soda and baking powder in one bowl.
In another bowl combine the cinnamon, milk, oil, egg, pumpkin and zucchini.
Add the wet ingredients to the dry ingredients.
Fill the muffin cups.
Bake for 20-25 minutes. Test with a toothpick for doneness at 20 minutes. Cool on a wire rack.
I have so much pumpkin puree from my roasted pumpkin. I will be submitting the recipes I am using it. This muffin is delicious and filling.
Yield: 10 muffins
Source: Cookie and Kate
Link: http://cookieandkate.com/2014/healthy-maple-pumpkin-muffins/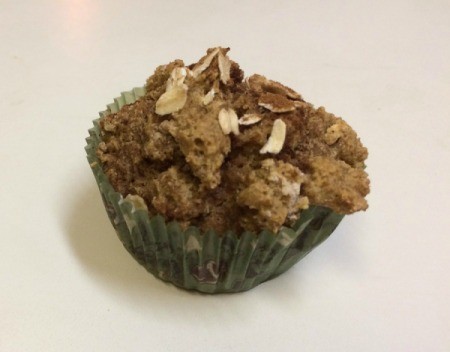 Ingredients:
1/3 cup melted coconut oil or extra-virgin olive oil
1/2 cup maple syrup or honey (I substituted 1/4 cup Stevia)
2 eggs at room temperature
1 cup pumpkin puree
1/4 cup milk
1 tsp baking soda
1 tsp vanilla extract
1/2 tsp salt
3/4 tsp cinnamon
1/2 tsp ground ginger
1/4 tsp nutmeg
1 3/4 cup whole wheat flour or whole wheat pastry flour
1/3 cup old-fashioned oats, plus more to put on top of muffins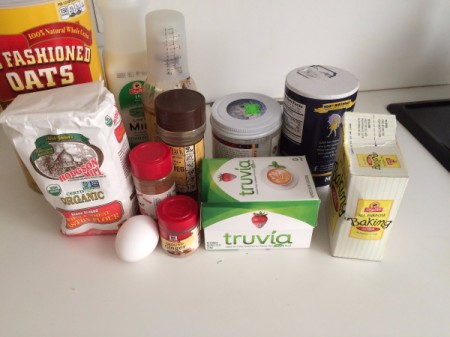 Steps:
Preheat oven to 325 degrees F.
Line muffin pans with liners or grease them well. Note: Since this makes 10 muffins, fill the empty portions with water.
In a large bowl, beat the oil and maple syrup or honey together with a whisk. Add eggs, one at a time, and beat well. Mix in the pumpkin purée and milk. Then add the baking soda, vanilla extract, salt, cinnamon, ginger and nutmeg.
Add the flour and oats to the bowl and mix moistened.
Divide the batter evenly between the ten muffin cups.
Sprinkle the tops of the muffins with a small amount of oats.
Finally, sprinkle the muffins with cinnamon.
Bake muffins for 23 to 26 minutes, or until a toothpick inserted into a muffin comes out clean.
Let them cool, then remove. The recipe says they can stick to the pan until they are cooled off, so that's why I chose to use the muffin liners.
These delicious, healthy muffins are a great way to use over-ripe bananas. I wanted to make these as low calorie as possible. You can sprinkle cinnamon-sugar on the top and add a pecan to each one. You can also add golden raisins or craisins to the batter.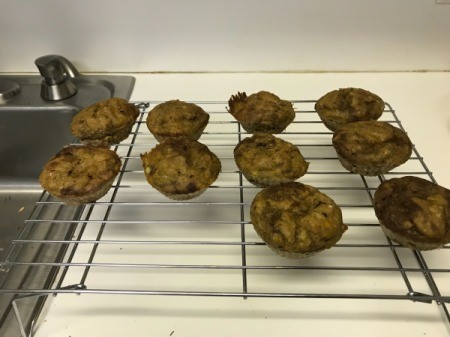 Read More...
This is a page about making cranberry pumpkin muffins. Cranberry and pumpkin dishes spell fall. Take advantage of sales on fresh or frozen cranberries at this time of year to make these delicious muffins.