November 8, 2015
0

found this helpful
I've been doing a lot of reading online about home decoration. Some ideas popped to mind when I read your post. 1. one interior designer advised us to use curtains/drapes in the same shade as the walls. 2. Another professional decorator said, if you room is dark and you need more light, use white (or cream) curtains. LIght colors reflect light from the window better. I like this suggestion for you because your decor sounds dark. 3. Designers also gave the tip to not be too matchy matchy. They told me that when you introduce a color into a room, you should have various shades of that same color distributed all around.
So you should be able to add pinks, reds, and all shades of your magnolia color anywhere you want to use them. Be sure to note whether or not your reds are yellowish or bluish based. Anything warm or yellowish will go together and vice versa. You'll know right away! 3. Today's decor requires whites and creams in a room. All professionals tell us to add white liberally. Again, don't feel like you need to match your whites. But when you add one dark, like black, you need to add one white to balance that darkness. It sounds harder than it is. I wouldn't use the deep olive, but thats just me. Its your home. Love it. do what pleases you!
November 8, 2015
0

found this helpful
I googled the color 'Magnolia'. British Standards places this color at Hex triplet:#F8F4FF. It looks more like a pale lilac to me.
COLOURlovers gives 'Magnolia' a value of #F9F6E5, while other sources agree with British Standards.
If your wall color is similar to COLORlovers magnolia, I think deep olive green curtains would be a good choice. If your wall color is similar to British Standards magnolia, you may want to get some more opinions. I wouldn't put the two, together.
But, then, color choices are subjective, aren't they?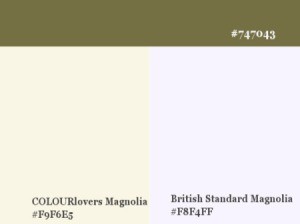 November 9, 2015
0

found this helpful
If magnolia is a pale creamy white, then here is what I would suggest. I would only go with a deep olive green if your red couch is a very deep, muted, dark red. If it is red -- scarlet, christmas red, orange red -- and you put a green, even a dark green, it is going to look pretty gaudy, I think. It could look like you have decorated for Christmas all year round. If you have trouble matching colours, the best route to go is to stick with a monochromatic colour scheme. That is, go with a curtain that matches the carpet & wall colour. I like to have curtains and drapes that match the wall colour, as I think that it makes the room look larger.
The colour of the curtain, in this room, depends entirely on how well it matches or contrasts with the red couch. Since red and green are opposites on the colour wheel, they are not often used together in their primary tones. Another option would be to find a print curtain that contains the same red as the couch along with some other colours. if the pattern appeals to you, than someone else will have made the colour matching for you. I have a lovely throw that has olive green, dark wine red, and cream in it, and that matches very well, so it is possible to combine them, but it is a very burgundy, wine red.
November 10, 2015
0

found this helpful
Thank you, Louise. The thought of Christmas came to my mind as well.
I think you explained the whys and wherefores rather nicely.