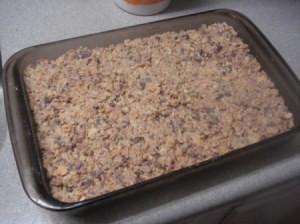 What I do is I take the crackers and put them in a ziplock bag (I leave them in their bag), then close the ziplock, and use a rolling pin to squish them down right in the bag. Then open and remove the packaging, reseal the ziplock, and use the rolling pin again to roll out any large clumps. I then have my prepared pan with my greased bottom and pour the cracker in the pan. I add the other ingredients, stirring right in the pan, and bake. It is so easy and there is no mess. Hope you find it helpful.
Ritz Bars:
Ingredients:
2 tubes of Ritz crackers, crushed (see above)
1 can sweetened condensed milk
1 pkg. of Heath caramel chips
Directions:
Mix ingredients and bake at 350 degrees F for 20 minutes. It is easy to double the batch. This recipe is for a 9x9 pan.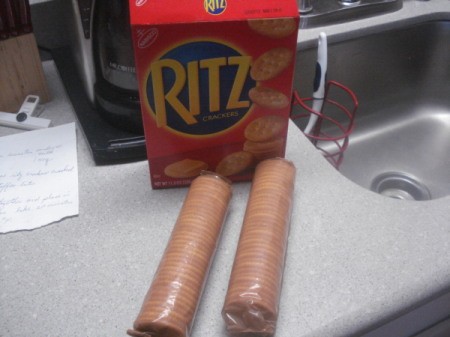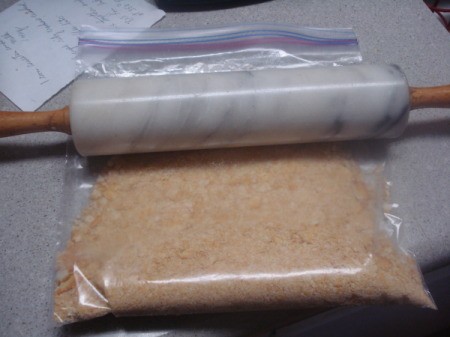 By Bonnie from Brownsville, TX
Recipe for Ritz Cracker Dessert. Beat egg whites stiff, add 1 cup sugar gradually, add baking powder and continue to beat. Add one-fourth tsp. vanilla. Fold crackers and nuts into egg mixture. . .
Read More...
I am looking for a recipe for White Chocolate Ritz crackers.
By carol from Kansas City, MO

Answers
December 14, 2009
0

found this helpful
A couple weeks ago, I bought a box of mini Ritz peanut butter sandwiches, and dipped them in melted chocolate Candyquik. It was super easy to do, and they were well-received by the grown-ups at my daughter's school.
They also have a vanilla flavor. I'm going to use some of that with pretzels and put Christmas sprinkles on them. Perhaps this would work with what you're wanting to do, too.
December 14, 2009
0

found this helpful
I have a recipe for Ritz Thin Mints. You take 1 package(8 squares) Bakers Semi-Sweet Chocolate, 1/4 tsp. peppermint extract, 1 sleeve Ritz crackers(36) crackers and 1 candy canecrushed.Make it: Mix chocolate and extract. Dip crackers in chocolate, turning to completely coat each cracker. Carefully scrape off excess chocolate. Place crackers in single layer on waxed paper covered baking sheets. Sprinkle with crushed candy. Refrigerate for 30 minutes or until chocolate is firm. You can also make Chocolate-Peanut Butter Cookies. Omit peppermint extract and candy cane. Spread each cracker with peanut butter before dipping in chocolate.
January 8, 2010
0

found this helpful
My niece, Tiff, makes these; Ritz crackers, Chunky Peanut Butter, White or Chocolate Bark.
Spread crackers w/ peanut butter-top with another cracker-dip in melted bark (micro)-cool on greased wax paper (1 sleeve crackers=4-5 squares bark - Yum!
Answer

this Question