Troubleshooting a Kenmore Refrigerator Ice Maker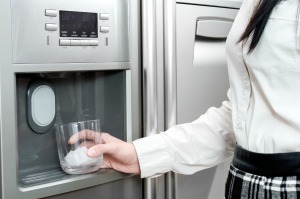 My 5-year-old Kenmore refrigerator is dispensing water, but no longer making ice. I have read that I could use my blow dryer to defrost the water fill spout, but I am not sure where it is. Is it on the icemaker itself or on the opening under it that connects it to the freezer or somewhere else in the freezer? Some guidance would be much appreciated.
By Vivian from Falls Church, VA
Answers
December 22, 2010
1

found this helpful
Best Answer
You may just need to change the filter. This is usually the first sign for us that it is changing time. They run about 45 dollars. The filter is normally located on the bottom of the fridge where the vent is. It is pretty simple to replace, check your manual to be sure.
January 18, 2011
0

found this helpful
Best Answer
I changed my filter and ice maker did not work. I read all these posts and did try the blow dryer trick but then noticed my receptacle that holds the water where it freezes the cubes was not filled so I took a little water and started pouring it down the white spout and as soon as some water reached the compartment that holds the water the water started coming out in the normal manner and arm started moving, was I surprised! So I am not sure the blow dryer trick worked or my inserting some water manually to get it going but thought I had to post this anyway. Check your ice/water compartment that holds the water to see if there is any water in it and if not try pouring a little water manually.
September 17, 2011
0

found this helpful
Best Answer
Use your blow dryer on your fill cup. Sometimes, the fill cup will get frozen up with water. Once you melt the ice in the fill cup; should work fine. Give freezer time to get cold before new ice starts.High Humidity was my cause for build up.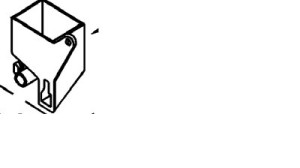 Answer

this Question
11 More Questions
Ask a QuestionHere are the questions asked by community members. Read on to see the answers provided by the ThriftyFun community or ask a new question.
I have Kenmore refrigerator model number 253.70319211, with French doors. The ice maker is in refrigerator and makes ice great except the ice clumps in tray. There are no visible leaks. It seems to clump in the center of the bin.
Could this be a defrost terminator (thermostat) issue? I tried adjusting template up and down. No change. I replaced the water valve in back of the unit. No change; it was still clumping ice. Any suggestions?
Answers
May 11, 2020
0

found this helpful
Best Answer
You are correct when you say it is a temp problem in the ice tray. It appears that the ice is starting to melt then freezes up again which is causing it to clump like it does. You may need to check on this more often and move the ice around to keep it out of the middle of the bin and more around the sides.
May 12, 2020
0

found this helpful
Best Answer
This sounds liike a warning to me that maybe the freezer isn't working as well as it ought.

This is worrisome in case you have meat, seafood, or other highly perishable items in there; you do not want those things to defrost and refrost, ever.
Is there a way you can make sure the rest of the freezer is not doing that? Did you check the seals around the door?
Answer

this Question
I have a Kenmore model #106.57368700. The ice maker was leaking and causing big a chunk to form in the ice bin. We replaced the water inlet valve, but that did not work so we replaced the ice maker. Now the water will not shut off. Any idea what need to do I need to do to fix it?
Thanks.
Answers
April 13, 2020
0

found this helpful
It sounds like you have a leaky hose that fills the bin up that also needs to be replaced. The seals in these ice makers go bad from time to time and a lot of time the complete unit and hoses need to be replaced. Once they're replaced you should normally reset the program on the refrigerator in order to get them to work correctly again.l If it is not reset the water can continue to run all the time.
April 13, 2020
0

found this helpful
Since this is a Kenmore I would suggest you contact Sears Service Center (your zip code) and see if they have any suggestions.
It's possible it needs a good defrosting and all hoses cleaned.
Have you tried talking with anyone at the store where you purchased your parts? Sometimes they know of how to fix problems like this.
Try resetting it and make sure the door is closing snugly.
Answer

this Question
My Kenmore ice maker is getting too much water. This ice maker was working fine then it started freezing up and now it getting too much water. Suggestions please?
Answers
February 25, 2019
0

found this helpful
Try replacing the water valve. If that doesnt work, the ice maker itself has to be replaced.
Answer

this Question
Since changing the filter the ice maker isn't making ice regularly. It is very slow and makes just a few cubes a day.
Like I said it has a new filter and the water seems to dispense fine. It is just slow in making ice.
Answers
April 1, 2019
0

found this helpful
The thermostat in the ice maker may be defective.
April 3, 2019
0

found this helpful
worked fine on old filter? Filter may be defective, or you bumped the settings on the ice maker.
Answer

this Question
The in door flap does not open to let the ice drop into your glass. The grinder will turn in the correct direction, but the flap don't open to let the ice out.
I had this problem before and the repair man had to reconnect something with his hand (not electrical).
Answers
August 10, 2017
0

found this helpful
Normally when an ice maker door won't open it is because the door is frozen or iced over. This is common when an ice door isn't closed completely and the ice shavings accumulate or hang the door slightly open. The warmer air caused the ice to melt and when the door shuts again it freezes.
Take a cloth with warm water and clean the unit. You may have to do this several times to unstuck the door and melt the ice that is freezing it shut. However, if this doesn't work you could have another problem such as switch failure, motor failure, board failure, or door motor failure. In such a case a service rep will need to visit your home.
August 11, 2017
0

found this helpful
You could try to thaw the door with a blow dryer. If that is not a permanent solution, you could have a board failure, door motor problem or switch failure and will need to call a service person.
Answer

this Question
I have a 7-year old Kenmore Elite side-by-side refrigerator 795.5137. Ice is being made, the ice maker auger turns, but the flap does not open.
The flap motor was not running so I replaced it, but the new one isn't running either. Any thoughts?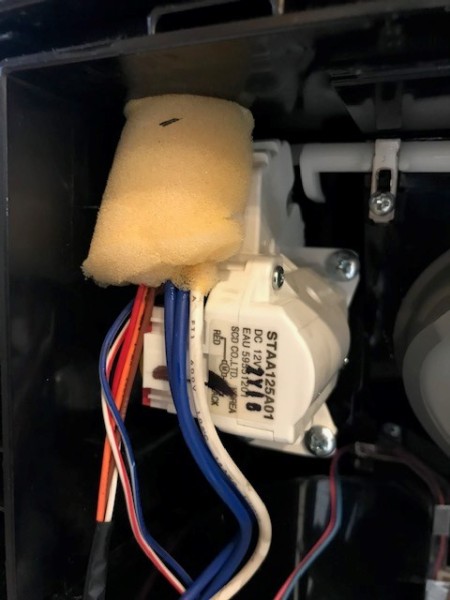 Answers
April 6, 2020
0

found this helpful
If you have replaced the flap motor and the flap still isn't working you should check the inside and see if the flap is stuck or something is preventing it from opening. If you can't find anything that is preventing this from opening you may need to replace this part on your refrigerator also.
Answer

this Question
The ice maker on a Kenmore side by side will only harvest ice about twice in a 24 hr. period. I have replaced the ice maker and water filter. The water line is OK and the ice maker will freeze water.
By Paul from Raleigh, NC
Answer

this Question
If your ice maker has stopped dropping ice, it may just be stuck and need some minor repair. This is a page about Kenmore Elite icemaker not dumping ice.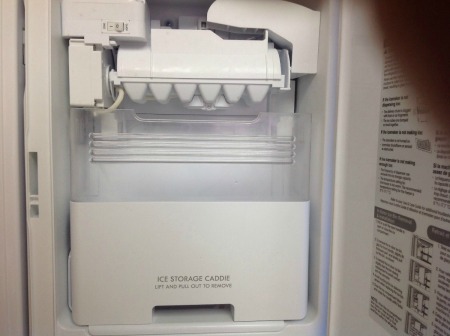 If there are plastic bits mixed with the ice in a Kenmore refrigerator's ice maker, there is likely a gear or motor that needs to be adjusted or replaced. It should be easy to tell which with some general troubleshooting.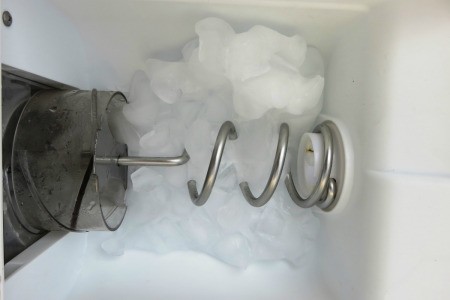 Archives
ThriftyFun is one of the longest running frugal living communities on the Internet. These are archives of older discussions.
My Kenmore ice maker is not working and my water dispenser is working. There was only one cube of ice dropped and that's it. Please advise.
Read More...
Published by ThriftyFun.
© 1997-2020 by Cumuli, Inc. All Rights Reserved.
https://www.thriftyfun.com/Troubleshooting-a-Kenmore-Refrigerator-Ice-Maker.html