My 5-year-old Kenmore refrigerator is dispensing water, but no longer making ice. I have read that I could use my blow dryer to defrost the water fill spout, but I am not sure where it is. Is it on the icemaker itself or on the opening under it that connects it to the freezer or somewhere else in the freezer? Some guidance would be much appreciated.
By Vivian from Falls Church, VA
Answers
December 22, 2010
0

found this helpful
Best Answer
You may just need to change the filter. This is usually the first sign for us that it is changing time. They run about 45 dollars. The filter is normally located on the bottom of the fridge where the vent is. It is pretty simple to replace, check your manual to be sure.
January 18, 2011
0

found this helpful
Best Answer
I changed my filter and ice maker did not work. I read all these posts and did try the blow dryer trick but then noticed my receptacle that holds the water where it freezes the cubes was not filled so I took a little water and started pouring it down the white spout and as soon as some water reached the compartment that holds the water the water started coming out in the normal manner and arm started moving, was I surprised!
So I am not sure the blow dryer trick worked or my inserting some water manually to get it going but thought I had to post this anyway. Check your ice/water compartment that holds the water to see if there is any water in it and if not try pouring a little water manually.
September 17, 2011
0

found this helpful
Best Answer
Use your blow dryer on your fill cup. Sometimes, the fill cup will get frozen up with water. Once you melt the ice in the fill cup; should work fine. Give freezer time to get cold before new ice starts.High Humidity was my cause for build up.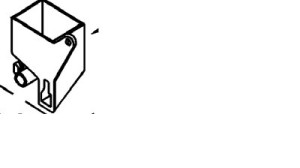 Answer

this Question

...
April 29, 2008
0

found this helpful
My ice maker in my 2 year old Kenmore refrigerator stopped making ice. The troubleshooting section of the owner's manual was no help. Any suggestions?
David from Phila, PA
Answers:
Troubleshooting Kenmore Refrigerator Ice Maker
Did maybe you replace a pipe in your house somewhere? We have had ours clog after some gunk/pipe dope break away and traveled with the water to the icemaker. That was an expensive lesson to learn. Maybe try unhooking the water supply and check to see if anything is plugging it. Also, now whenever anything stops working (this new electronic technology), I unplug it for a few minutes and plug it back in and it works perfectly. Not sure that would be it, but worth a try before you call a serviceman! Good luck! (01/29/2008)

By
Troubleshooting Kenmore Refrigerator Ice Maker
We had 2 different problems with our fridges icemaker-possibly one of these will be your issue.
The first time, my sons friend thought it was funny to turn up the fridge and freezer controls to the max. It caused the water line to freeze (in mine you can see the water line inside the fridge). Once I turned it back down it thawed out and was fine.
The second time, our copper waterline sprung a small leak. You should be able to trace the line from the fridge to where it comes in. It is usually easy to see where there would be leakage.
Another thought might be to take out the storage bin and scrub everything you see with warm soapy water. Maybe you would notice something that could be a problem.
Good luck! (01/29/2008)

By Kathy
Troubleshooting Kenmore Refrigerator Ice Maker
This will sound obvious, but make sure the wire arm that tells the icemaker it's full is DOWN. As the ice bin fills, the arm goes up to tell the machine to stop making more until some is used. But you can also just push the arm up to stop the icemaker. Maybe that happened by accident? (01/29/2008)

By Katie
Troubleshooting Kenmore Refrigerator Ice Maker
My Whirlpool stopped making ice one time. I took out the container that holds the ice and looked at everything I could see. There was an ice blockage at the end of the water tube. Wrapped warm, wet dish rag around the end of tube, until it thawed and I could pull the piece of ice out. Hasn't happened since. (01/29/2008)

By lkoenig
Troubleshooting Kenmore Refrigerator Ice Maker
I don't remember if mine was a Kenmore, but mine stopped working. I investigated and lo and behold there was an "on/off" switch way up where I could barely see. Something must have bumped it.
It's worth taking a look. (01/30/2008)

By Anna
Troubleshooting Kenmore Refrigerator Ice Maker
Take out the ice bin, turn freezer temp. to the least cold dial possible. Turn hair dryer on high and go to town on heating up the ice maker section of your freezer. It works. (02/07/2008)

By Judith Walker
June 16, 2009
0

found this helpful
My Kenmore ice maker is not working and my water dispenser is working. There was only one cube of ice dropped and that's it. Please advise.

Anna

Answers:
Troubleshooting Kenmore Refrigerator Ice Maker
Do as the other person said. Take a hair dryer & defrost the water line. I have a Maytag and if the temp gets too cold, my ice maker and the cold water will freeze. The first time this happened, I called the repair man, now, I do it myself. I have had to do this several times and it does work. (04/30/2008)

By Wanda
Troubleshooting Kenmore Refrigerator Ice Maker
I have a Kenmore Elite and the ice maker quit working after my water had been turned off by the plumbers. We forgot to turn the ice maker off and it froze. I got my hairdryer out and blew warm air on the ice maker unit itself for a few moments. Now it works just fine. Anytime you lose your water supply to fridge, remember to turn ice maker off so it doesn't freeze up. (08/09/2008)

By Daury
Troubleshooting Kenmore Refrigerator Ice Maker
I have a 5 year old Kenmore side by side fridge that had an in the door water/ice dispenser. The water works fine, but I notice that the ice tray is not receiving water. We also had our house water shut off/drained while a new water heater was installed and now I suspect the problem is related. I see some of you suspect the water line in the fridge got frozen up during the plumbing work, so many have suggested to heat up the supply line with a hair dryer. I see a small water outlet which fills the ice tray. Is this the only area to heat up or would I need to get the heat anywhere else? It seems that supply line is simply 1 inch of tubing that hangs down from the ceiling of the freezer. I can't imagine the heat helping much. (08/28/2008)

By Craig
Troubleshooting Kenmore Refrigerator Ice Maker
My Kenmore ice maker stopped releasing the ice. Half of the ice is almost completely out and the other half remains lower in the mechanism. I have taken it out completely and flushed the water line. When I reinstalled ice came out the same way. The section that remains in the mechanism is closest to the water inlet. (10/08/2008)

By Karen
Troubleshooting Kenmore Refrigerator Ice Maker
I changed the filter on mine and it fixed this problem. If the water is being dispensed slower than normal, this is probably the problem. The filter is not letting enough water through the system to fill the ice tray. (10/26/2008)

By Brian From Michigan
Troubleshooting Kenmore Refrigerator Ice Maker
(posted via email)

We have a Kenmore elite side by side bought in 2002. The water line was freezing up, we would defrost the line. Now we are not getting water to the ice maker. We replaced the entire ice maker unit for $125.
KIM (01/22/2009)

By Sally
Troubleshooting Kenmore Refrigerator Ice Maker
Defrost the ice maker. It will fix the problem. (01/30/2009)

Troubleshooting Kenmore Refrigerator Ice Maker
Thanks to those who said to use the hair dryer on the ice maker. Our Kenmore had also stopped making ice but yet we could get water through the door. The hair dryer did the trick! (04/23/2009)

By Rori
Troubleshooting Kenmore Refrigerator Ice Maker
Although I usually don't respond or comment when I get answers to a question someone else has asked, I just had to comment on this one.

I have a used Kenmore refrigerator that the seller did not guarantee the ice maker would work. I had some repair work done and the repairman hooked up the water line, etc. Four days later I got some dirty ice and then nothing. Oh, well, repairman told me to jiggle the handle, nothing. Read this area, hooked up the blow dryer and guess what...it worked! Repairman wanted $175 to put in a new ice maker. Thank you, thank you, thank you!

Oh, I forgot, landlord told me it was the timer and that I could get a new ice maker at Wal Mart for $25 and he would install it. I don't know what planet he lives on but the cheapest one I found was $50 and I'm not even sure it's the one for my refrigerator. (Should I also mention that every time the landlord "fixes" something, it has to be redone once if not twice - need I say more?) (06/12/2009)

By Marilyn