Tuna Noodle Casserole Recipes
Solutions
Share on ThriftyFunThis guide contains the following solutions. Have something to add? Please share your solution!
Total Time: 45 minutes
Yield: 8 servings
Source: Campbell's Kitchen
Ingredients:
2-10.75 oz cans cream of mushroom soup
2-10 oz cans of tuna
2 cups frozen peas
1 cup milk
4 cups cooked egg noodles
2 Tbsp bread crumbs
1 Tbsp melted butter
Steps:
Put first five ingredients in a 3 quart baking dish and mix well.
In a small bowl mix the bread crumbs and melted butter. Put on the top of the casserole.
Bake at 400 degrees F for 30 minutes.
Ingredients:
2 large cans chow mein noodles
2 cans tuna, drained
2 cans peas, drained, or 1 cup chopped celery
2 cans diluted cream of mushroom soup
Directions:
Mix together. Bake at 350 degrees F. Can crumble up potato chips to put on top before baking. Bake for 30 minutes.
By Robin from Washington, IA
You can substitute crab, lobster, salmon, chicken or turkey for the tuna with equal results.
Ingredients
1 Tbsp. butter or olive oil
1/2 cup diced onion
1/2 cup diced celery
1 can cream of mushroom soup
1/2 cup water or milk
8 ounces frozen peas
1 (6-ounce) can tuna packed in water or oil, undrained
1 cup buttered bread crumbs or crushed plain potato chips
8 ounces packaged wide noodles, cooked al dente
Directions
Preheat oven to 400 degrees F. Spray a glass casserole dish with vegetable oil or lightly grease. In a large saucepan, saute onion and celery in the butter or olive oil until vegetables are barely soft, but not mushy. Add mushroom soup, water, and peas. Bring to a simmer, stirring to dissolve soup. When it begins to boil, turn off heat and gently fold in tuna with liquid. Add cooked pasta noodles and toss to coat with sauce. Pour into prepared casserole and top with bread crumbs or potato chips. Bake 30 to 40 minutes until heated through and topping is lightly browned. Yield: 4 to 6 servings
Variations:
This basic recipe has so many variations that it is difficult to describe them all. If you don't have celery, use all onion, and vice versa. Broccoli can be substituted for the peas. Chicken or clam broth can be used instead of water or milk. Any canned or cooked seafood can be substituted for the tuna, and it also works with leftover or canned poultry. Some folks like to add cheese to the sauce or as a topping. Low-fat, low-calorie, and/or low-salt products may be used with equal success. Feel free to modify to suit your own tastes.
By Christi from Paducah, KY
Kid and mushroom hater friendly! 15 minutes to prepare.
Ingredients
1 box (7.25oz) Mac And Cheese, cooked and prepared to box directions.
1 can (6oz) drained tuna
1 can (14.5oz) drained diced tomatoes
1 cup of thawed frozen peas*
*Pour the hot water after cooking mac over the peas to thaw
Directions
Combine all ingredients above in a casserole dish. Let your kids help, my 3 year old grandson does the stirring for me!
In the summer we have this cold or, in the winter, I put it in the microwave and warm it up.
This serves 2 adults and 1 kid, or double it for 2 adults and 3 kids.
Source: Give the credit to my kids and husband who hate cream of mushroom soup in the tuna casserole recipe. This is like a tuna melt casserole.
Tuna Puna is a very colorful dish with the yellow, red and green.
By Debi from Cincinnati, OH
May 24, 2016
0

found this helpful
This page contains tuna and macaroni casserole recipes. Many of us have a favorite recipe for tuna and macaroni casserole.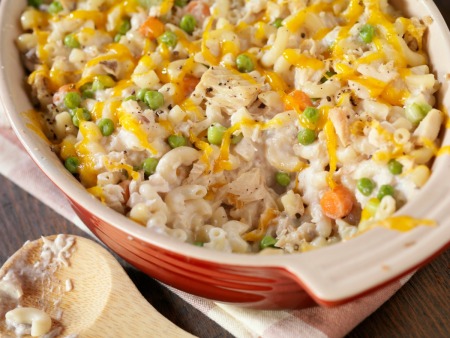 A combination of canned tuna, pimento or red bell peppers with cream of celery soup mixed with pasta. This is a family favorite, an easy and delicious meal. Serve with a salad and biscuits makes a complete meal.
Read More...
Saute' onion and celery in butter until celery is soft. Combine undiluted soup and water. Add onions and celery, soy sauce, pepper, Tabasco and tuna.
Read More...
Recipe for Baked Tuna and Noodles. Soak the bread crumbs in the milk. Dilute the soup with the above mixture, blend with the beaten eggs. Combine all ingredients and pour into a greased casserole.
Read More...
January 15, 2005
0

found this helpful
Combine noodles with tuna, onion, celery, mayonnaise, pimiento, and salt. Mix soup and milk together in a 2-quart saucepan over medium low heat until heated through. Add cheese and stir until smooth and cheese is melted.
Read More...
Questions
Ask a QuestionHere are the questions asked by community members. Read on to see the answers provided by the ThriftyFun community or ask a new question.
I need a recipe for a tuna noodle casserole, regular or any with a new spin. Thank you.
By cranberry
Answers
August 8, 2011
0

found this helpful
I always used my mother'r 'recipe', feel free to add or change any of the ingredients.
One box of mac and cheese, one can of cream of chicken soup, 2 cans tuna (drained well), one can peas with carrots (drained well), salt, pepper, onion powder, garlic powder, milk and butter/margarine.
Cook the mac noodles and drain well. In a large bowl, mix the cheese powder that came with the mac and cheese, the can of soup, and one can of milk. You can add the butter/margarine in the amount on the mac and cheese label if you like. Stir all of these well, then add the seasonings to taste. Then mix in the tuna and peas/carrots.
Pour all into a greased casserole dish. If desired, top with well crushed saltine crackers or corn flakes cereal.
Bake uncovered at 350 degrees for 30-45 minutes, till bubbly and topping is golden.
You can add canned mushrooms, corn, green beans, etc, whatever your family likes. The soup can be any of the cream soups, even the low salt or low fat types.
August 9, 2011
0

found this helpful
Here's how I've always made it and sometimes add half of a 4 ounce can of diced jalapenos or diced green chilies to spice it up ;-)
1 can Condensed Cream of Celery Soup
1/2 cup milk
1 cup celery, finely diced
2 (5 ounce) cans water packed tuna, drained
8 oz egg noodles
2 cups sharp cheddar cheese, shredded, more for topping if desired
Preheat oven to 375 degrees.
Cook pasta al dente according to package directions, drain, and mix with the other ingredients in a baking dish and bake, uncovered, for 30 to 35 minutes.
August 11, 2011
0

found this helpful
I boil egg noodles, drain, and in the same pan, add cream of mushroom soup, milk and two cans of tuna and a half bag of frozen peas, pour into a glass baking dish and top with crushed potato chips. Bake, uncovered, for 30 minutes or so until bubbly and chips are slightly browned. Enjoy.
August 14, 2011
0

found this helpful
I kind of came up with my own recipe because I am lactose intolerant and my son cannot have eggs. Everyone loves it.
Tuna Noodle Casserole with cheese
1 lb pasta ( I usually use elbow or tubitini, but you can use any shape you want).
1 lb frozen peas, thawed (or 1 can peas
3 to 4 cups of milk
3 tbs. butter or margarine
3 to 4 tbs. corn starch and milk or water (equal portions)
Onion, parsley, and vegetable sea salt to taste (you can substitute season salt)
2 cans tuna, drained
2 to 3 cups shredded cheddar cheese (reserve 1/2 cup to sprinkle on top of casserole if desired)
Cook pasta according to package, add peas the last 5 minutes of cooking time, drain. At the same time bring milk to a slight boil. Add margarine and spices to milk. Mix equal parts corn starch and cold milk and add to hot milk stirring constantly for about 1 minute, remove from heat add cheese and stir until cheese is melted. In large pot or bowl mix pasta/vegetable mixture, tuna, and cheese sauce. Bake in 350 oven for about 30 min (until hot and bubbly) sprinkle with reserved cheese and bake additional 5 min (until cheese melts).
August 19, 2011
0

found this helpful
Thank you all for the recipes. Never dreamed there were so many. Thank you again.
Answer

this Question

...
March 7, 2015
0

found this helpful
I'm looking for a recipe for tuna noodle casserole made with condensed tomato soup that my mom made every Friday during Lent in the 1960s. Anyone remember that one?
By LU
Answers
April 19, 2015
0

found this helpful
Answer

this Question

...
Related Content