Noodle Casserole Recipes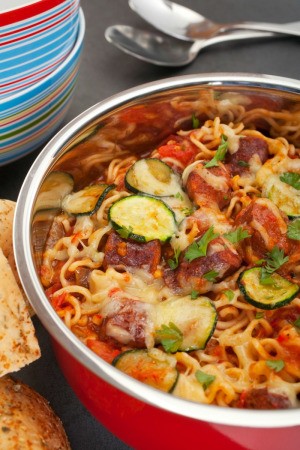 This pasta can be combined with many different kinds of foods to make a delicious baked dish. This page contains
noodle casserole recipes
.
Solutions
Share on ThriftyFunThis guide contains the following solutions. Have something to add? Please share your solution!
Ingredients:
1 can whole kernel corn-drained
1 can cream style corn
1 cup uncooked spaghetti
1/2 cup margarine melted
1 cup Mozzarella cheese grated
Directions:
Combine all ingredients. Pour into a 1 1/2 quart casserole dish. Bake at 350 degrees F. for 1 hour. Serves 8-10.
By Sandy from Graettinger, IA
Ingredients:
1 (8oz.) pkg. noodles
1 lb. ground beef
1 tsp. salt
1/4 tsp. garlic salt
1 (8 oz.) can tomato sauce
1 carton cottage cheese
Topping:
6 green onions, chopped
3/4 cup cheddar cheese, shredded
Directions:
Cook noodles in salted water. Rinse and drain. Brown meat and drain off fat. Add salt, garlic salt, and tomato sauce and simmer 5 minutes. Combine sour cream, cottage cheese and onions. Layer ground beef, noodles, and sour cream mixture. Top with cheddar cheese and onions. Bake at 325 degrees F for 25-30 minutes.
By Robin from Washington, IA
Ingredients:
1 lb. ground beef
small onion, diced
1 cup rice (uncooked)
2 cans chicken noodle soup
3/4 can water
celery, chopped (opt.)
pepper
Directions:
Brown hamburger and drain. Add onion to hamburger and brown also. Put all ingredients in casserole and bake at 350 degrees F for 1 1/2 hours. Serves 6.
By Robin from Washington, IA
Fish is very healthy, and this is a great meal.
Ingredients:
1 pound fish fillets, fresh or frozen
1 (11 oz.) can mandarin-orange segments
1 (10 1/2 oz.) can condensed mushroom soup
1 cup sliced celery
1/2 cup onion chopped
1/2 cup chopped salt peanuts
1/2 tsp. salt
1 (3 oz.) can chow-main noodles
Directions:
Thaw fish if frozen; pat dry with paper towel. Cut into 1-inch pieces.
Drain orange segments; save 1/4 cup syrup. Save 1/4 of orange segments for garnish.
Combine soup, reserved syrup, remaining orange segments, fish, celery, onion, peanuts, salt, and 1/2 of noodles; mix. Spread mixture into shallow 1 1/2-quart casserole. Cover with aluminum foil; crimp it to edges of casserole. Bake in 350 F oven for 30 minutes. Uncover; sprinkle with remaining noodles. Cook about 10 minutes, until hot and bubbly and fish flakes easily. Garnish with orange segments.
Source: United Church Cookbook
By Raymonde G. from North Bay, Ontario
Ingredients:
1 lb. Italian sausage-cooked and drained
8 oz. pkg of wide egg noodles; cooked, drained, rinsed
4 oz. of pepperoni slices
2 (10 3/4 oz) cans of cheddar cheese soup
1 (28 oz) jar of spaghetti sauce
1 lg. onion chopped
12 oz. of Mozzarella cheese grated
Directions:
In large bowl mix all ingredients except Mozzarella cheese. Turn mixture into a greased 9x13 inch pan. Sprinkle top with Mozzarella cheese. Bake at 325 degrees F for 25 minutes. Serves 6-8.
Source: from church potluck
By Sandy from Graettinger, IA
Makes a large amount and freezes so well. A great dish to take for funerals and family get-togethers.
Ingredients:
1 lb. Velveeta
1/2 cup margarine
1/2 cup flour
1 can celery soup
1 Table. mustard
1 quart milk
12 oz. dry noodles
2 lbs coarse ground ham
Directions:
Combine all ingredients but ham and noodles and heat to melt the cheese while cooking the noodles. Drain the noodles then top them with the ham and cheese sauce. Stir slightly. Pour into two greased 9x13 inch pans. Bake or freeze and bake later.
Bake 1 1/2 hours at 350 degrees F
Makes two 9x13 inch pans, may be cut in half.
Servings:
15
Time:
15 Minutes Preparation Time
90 Minutes Cooking Time
By latrtatr from Loup City, NE
Cook noodles according to package instructions. When cooked add the rest of the ingredients and bake at 375 degrees F for 30 minutes.
Read More...
April 19, 2006
0

found this helpful
Cook pasta according to package directions; drain. Rinse with cold water and drain; set aside. Melt 2 Tbsp. butter in a heavy saucepan over low heat; add flour, stirring until smooth. Cook 1 minute, stirring constantly. . .
Read More...
March 1, 2014
0

found this helpful
This page contains tuna noodle casserole recipes. There are many delicious variations of this popular inexpensive baked dish.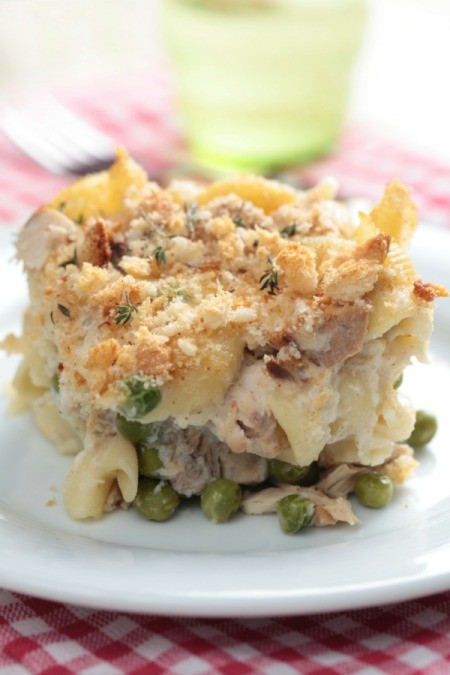 October 28, 2012
0

found this helpful
This page contains chicken noodle casserole recipes. Chicken noodle casseroles are a great hearty dinner meal.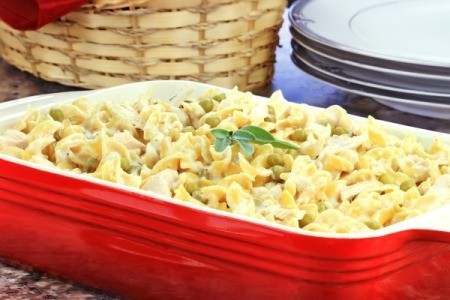 In a Dutch oven, bring water to a boil. Add noodles, carrots, and zucchini. Cook for 7-8 minutes or until noodles and vegetables are tender. Meanwhile, in a large skillet, combine cream, milk and salt; bring to a boil.
Read More...
Related Content