Monterey Jack turkey burgers are one of my favorites. I can't get enough of them. I make them for dinner, then eat one more patty as a late night snack, then a couple patties for breakfast, and finish them off for lunch the next day. It's an addiction!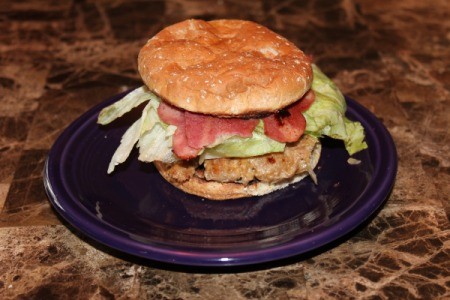 Read More...
In large bowl, combine turkey, scallion, soy sauce, ketchup, garlic powder and pepper; mix well. Add cheese, and stir to mix well. Shape turkey mixture into 4 equal patties.
Read More...
In a large nonstick skillet over low heat, cook onions in butter and oil for 1 hour or until tender, stirring occasionally. Sprinkle with sugar, salt and pepper; cook over medium low heat for 45-60 minutes or until golden brown, stirring occasionally.
Read More...
How do you make the best tasting turkey burgers? Mine always seems like it has no seasoning even after I season it with salt and pepper and always fall apart. I also add 1/2 cup bread crumbs, salt, and pepper, (kids don't like onions and bell peppers).
By Onesummer
December 7, 2009
0

found this helpful
My parents taught me to add an egg to bind everything together. I have a recipe from Emeril Lagasse. It uses minced garlic and horseradish. I add a bit of soy sauce and Worcestershire sauce to it. I make my burgers with beef, but I imagine it'd make turkey tasty, too!
December 7, 2009
0

found this helpful
You certainly need an egg to bind it together. Ground turkey or chicken is pretty bland on it's own. It needs some seasoning. I puree a small onion along with the egg in a small mincer/chopper I have. The onion is not visible but gives a lot of flavor. I add a good tsp. of Montreal Steak seasoning but you can use garlic pepper seasoning or something like that. I also add about 1/2 cup of seasoned breadcrumbs. Gives the mixture some more substance.
Or try a little steak sauce, BBQ sauce or ketchup if you think that will be better received.
December 7, 2009
0

found this helpful
My children were just as pickey, so I would use garlic powder, onion powder, seasoned or regular salt and pepper along with some olive oil to bind it and keep them moist. Then I would grill them and once I flipped it I would slather on BBQ sauce and as soon as that side was done, I would top it with cheese letting it melt alittle. BBQing was the tastiest to us but I'm sure frying them in a pan would turn out just as good.
December 9, 2009
0

found this helpful
This is the one I use. Came from MayoClinic.com
Grilled Turkey Burger
1 pound ground turkey breast
1/4 cup dried bread crumbs
1/4 cup chopped onion
2 tbs. fresh parsley (I use the equivalent of dried)
1 1/2 tbs. Worcestershire sauce
1 tsp. Tabasco sauce
Mix and divide into 4 equal portions. My husband grills them. They are not spicy, but the Tabasco sauce gives it good flavor. Yummy! Just leave out the onion, or if you want it, add it to your patties.