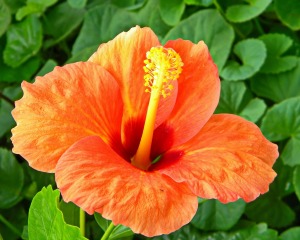 Question:
I have a hibiscus plant that will bloom, but the blooms will not open up completely before they die. I have planted it in the ground and fertilized it. I water it everyday, but nothing seems to work. What should I try next?
Hardiness Zone: 9a
Keri from Houston, TX
Answer:
Keri,
What kind of hibiscus do you have? There are hundreds of varieties available, many with curious flower forms. For example, the variety "Flower of an Hour" (Hibiscus trionum) has 2 inch wide white to pale yellow flowers with dark centers that typically only bloom for a couple of hours each day.
Is it possible you have a "Turk's Cap" (Malvaviscus penduliflorus)? This flower is isn't technically a hibiscus, but it's closely related. The fact that it is often referred to as "Sleeping Hibiscus" only adds to the confusion. The flowers resemble those of a "wilted" hibiscus. They never fully open, but hang down in a tubular fashion from the stems of the plant (this is a clever adaptation by the plant to encourage pollination by hummingbirds, which are typically attracted to bell-shaped flowers. Here is a picture for reference:
If what you have turns out to be a Turk's Cap, it will bloom off and on throughout the year, usually looking its best in early winter.
Another possibility is bud drop (leaves start to open then dry up and fall off). This is common with hibiscuses, and is caused by stress from improper watering (not enough), too much fertilizer, extremely hot weather, or insect damage from the likes of aphids or thrips. Double flowered varieties of hibiscus seem to be particularly susceptible to bud drop.
Ellen